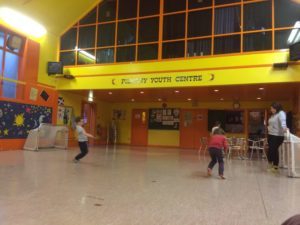 We found a local 'Junior Club' which is 6:30p-8p on a Tuesday night, normally I wouldn't let the kids do something so late, but hell we'll take any kind of activity right now. Alpha has been going by herself and has made a few friends and LOVES it. It's for ages 7-11 and we sent Lennox, because he met Shiloh.
Shiloh is a boy Lennox bonded with over video games at the library a couple of weeks ago, we saw him in the neighbourhood and I randomly spoke to his mum while waiting at the Mix it Up club (that's not the actual name) when picking up Alpha.  That was followed by going to the library and Shiloh happened to be there again and I realised that I'd just been speaking to his Mum the night before.
Lennox and Shiloh gelled over Star Wars, being home schooled, Lego, robots, mullets and wrestling. I chatted to Dee his mum and we bonded over sewing, crafting, schooling etc. Since Shiloh goes to Mix it Up Club on Tuesday's (he's 7) we reckoned Lennox will be able to squeeze in too.
We took him, and Lennox boldly lied to the organisers when he was asked how old he was  "I'm 7!" he said. 'Nearly 7' we corrected and had a conversation about white lies.
Shiloh didn't end up making it that night but Lennox still had fun. In fact he won the "Best Mullet" award! Come on that was a total given, his mullet is breathtaking.
This was the second time we've had time away from them in 5 months and 22 days. The last time was when the kids played at the neighbours for the afternoon in Toberchurn (Culbokie, Inverness way). We were so busy with deadlines that day we didn't notice. This time we actually went and got a drink and bought wrapping paper for Alpha's birthday. 90-mins without children! WOW. It was the FIRST time we've been out at night by ourselves since….. leaving Auckland. We did manage some time on our drive down from Auckland to Blenheim so I guess that counts.
Luckily there is a bar close to the hall so we didn't have to go far. Well actually there's a bar on every corer in this neighbourhood so we could've done a very quick pub crawl. But no we stayed for a drink. It was quiz night at the bar, but we had to leave before they started. The bar was filled with older men there were only 4 women in the bar (the bar tender included). Quite strange really.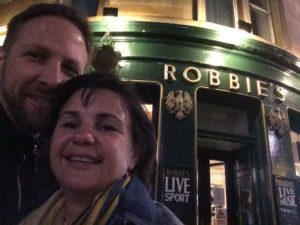 So yes they will both be going this week too, but this will be the last week since we're leaving the next Monday. Crazy!
What's so typical, is Alpha. That girl knows everyone. We'll be walking down the street and she's yelling "Hi Ashley" "Hi XYZ" and kids are yelling at her "Hi Alpha!" Feels very much like being in Auckland: Everyone knows Alpha.
The following two tabs change content below.
Latest posts by Alice Rae-Flick (see all)