We said goodbye to Tirana, Albania in the morning and after two non-eventful flights (yay!) we got our luggage and took a cab to our apartment in el Centro Storico of Florence.
Wow.
I managed to book the taxi, waiting for us in the taxi line, much more mellow than in Rome! in my broken Italian (but getting better!) Our driver was listening to the local oldies and top 40 station "Radio Nostalgia" (Nos-tal-gee-uhh), so I wrote this down for later. Wait, I think Alice remembered it, not me. Ha. I tipped the driver because he was so mellow and good, and he was well and truly shocked, in his mellow way.
This mellowness has come to embody Florence itself for the most part, so different to Rome in that respect.
Anyway, we were met at our apartment, we're always so grateful when this goes well as it always does. We were told where both circuit breakers were (good to know!) given the keys and were left to it. After putting our stuff down and having a snack we ventured out at dusk and were just blown away.
Our apartment is on the Centro Storico side of Florence, the other side is the Ultro Arno, or, "across the Arno" side; a bit "rougher" and more creative and gritty than our side. Our kind of place! Walking through the streets, heaving with New Year's Eve revellers, we regretted the fact we had to go shopping.
We hit the most expensive dairy/convenience store we could because we couldn't be bothered actually finding the supermarket (we found a Carrefour later, but it was picked clean and full of other tourists). We walked across the bridge just north of Ponte Vecchio and marvelled at the simple, graceful grandeur of this place.
This feeling never gets old, the feeling of truly appreciating a place and breathing in all its history and its stories.
We put the kids to bed and snuck out for an hour to walk around. Every window display is simple but dramatic and artistic at the same time. Check out this flatware display – the shapes are simple, functional and inspirational: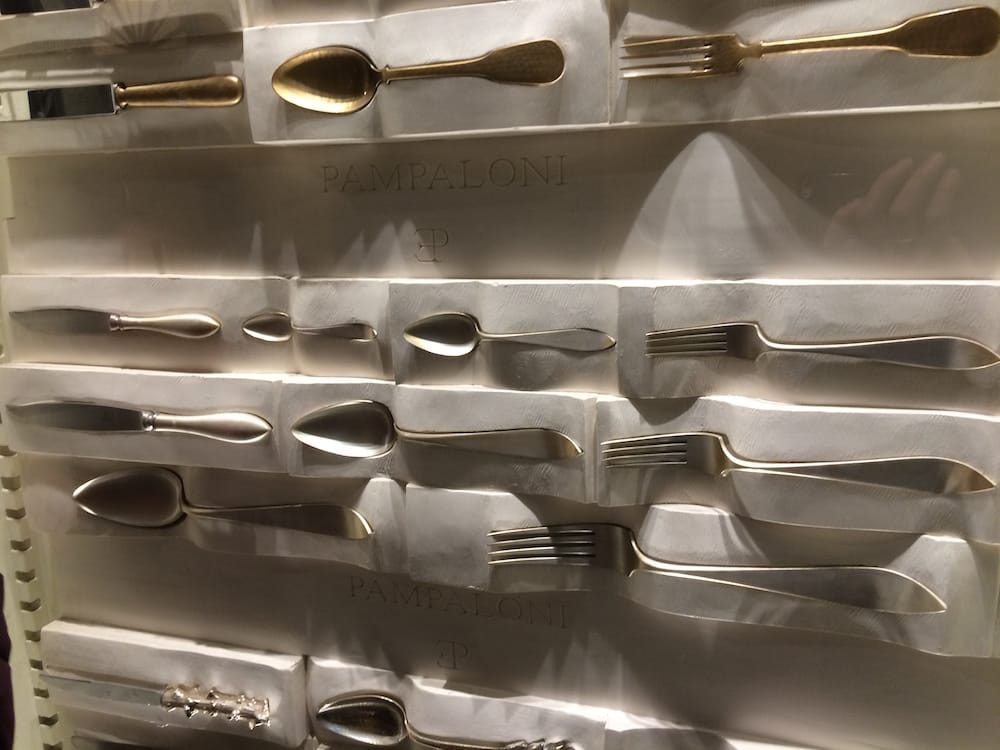 The closest boulevard to us is the Via de Tornabuoni, think 5th Avenue in New York City without the cars. All the big italian brands, high fashion! Normally I don't get into this much, but being surrounded by it, in this setting, I'll make an exception: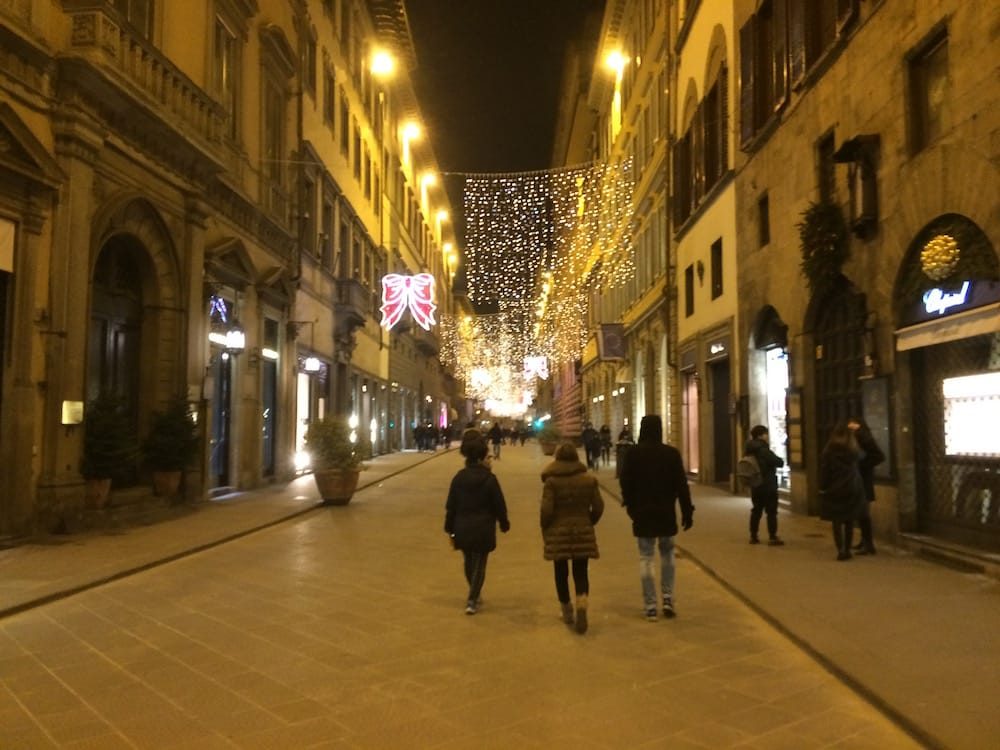 To commemorate our first night in Florence, and the last night of the year, I give you our New Year's Eve selfie!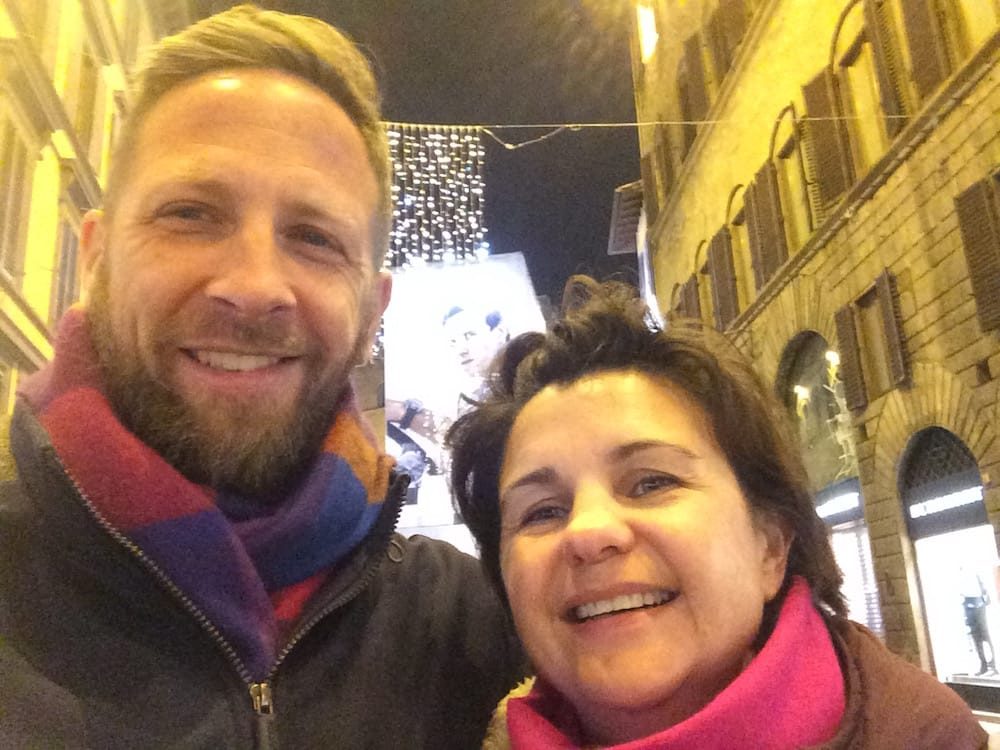 Around every corner we found things happening; all activity simmering, not calling too much attention to itself:
Then we kept going north and rounded a corner and there was the Cathedral della Santa Maria del Fiore. We had watched some Rick Steves' videos before arriving so this wasn't a surprise (sometimes this is good, but sometimes surprise is better like when we saw the Metropol Parasol for the first time in Seville).
That's all white and green marble with some rose coloured marble thrown in. The place is covered in it, and it all matches. What craftsmanship: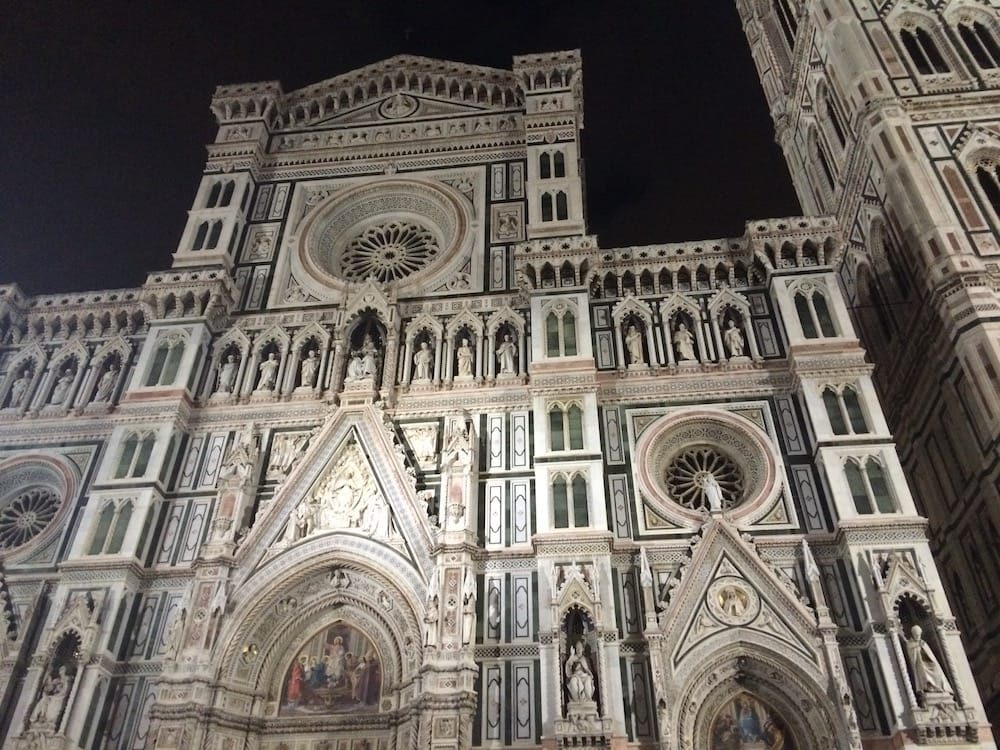 But the things we love best are seeing what the people do. Here we noticed a family having a late night snack on a bench in the Piazza, with people quitely walking to and fro around them: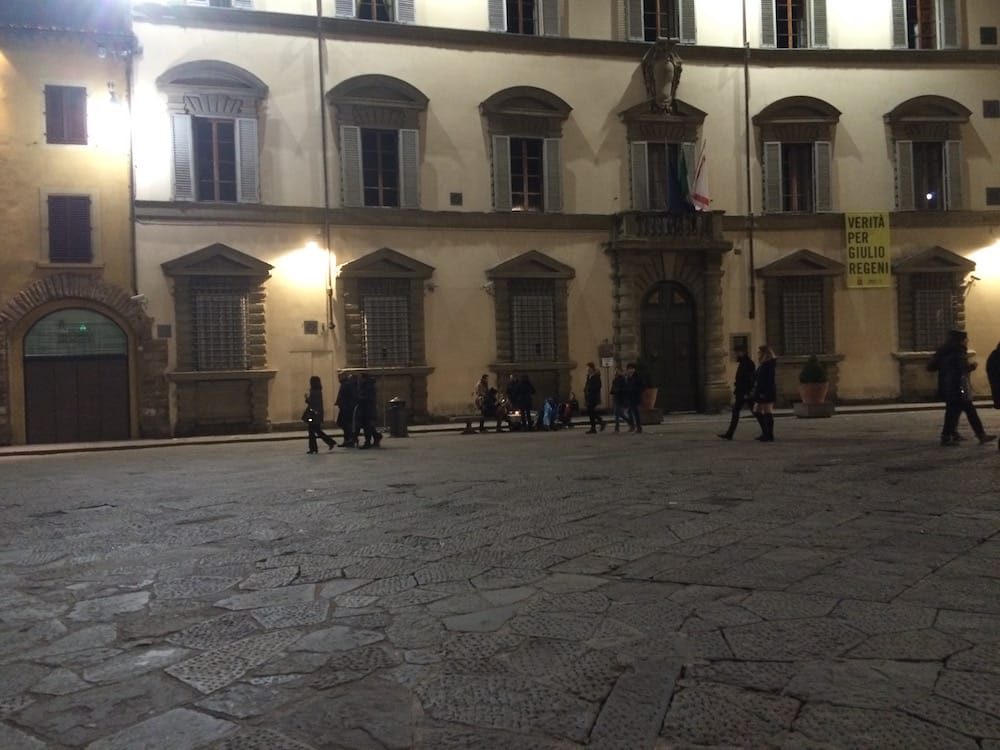 On the other side again after having walked around we heard a bit more noise, but not much, people having some quiet fun on the Piazza del Duomo: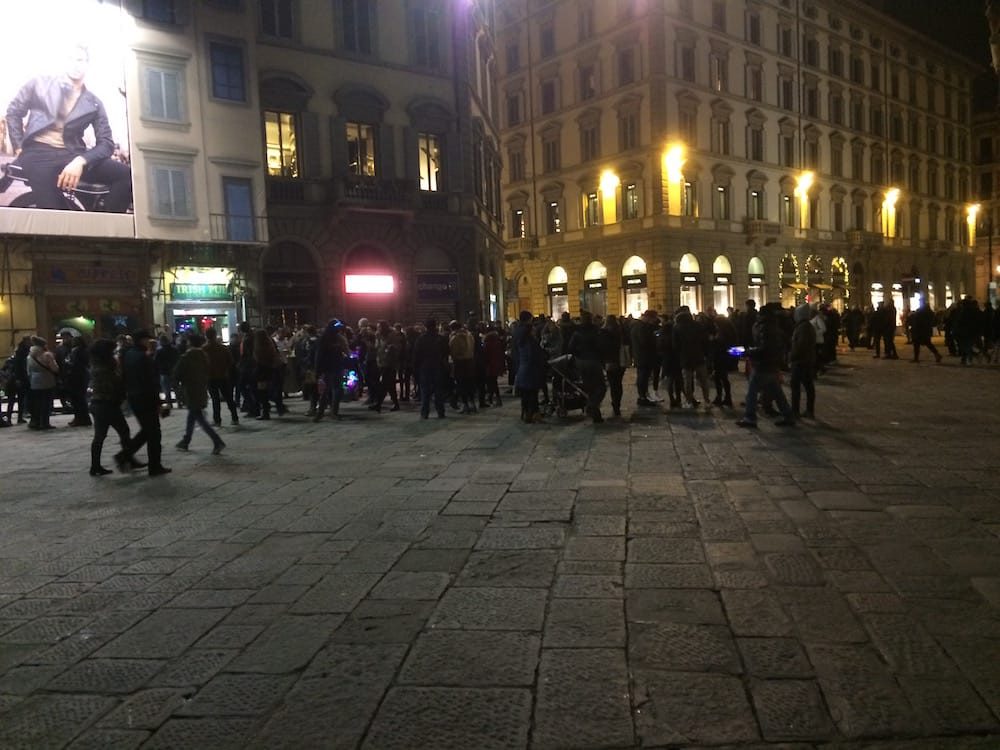 Alice and I realised we better not return home empty handed so we bought what is most certainly the most expensive chocolate we've ever bought (I won't tell you how much!) and then walked a few meters into this square, lit by the merry-go-round and the laughing of kids up late, and parents and young people all having a great time: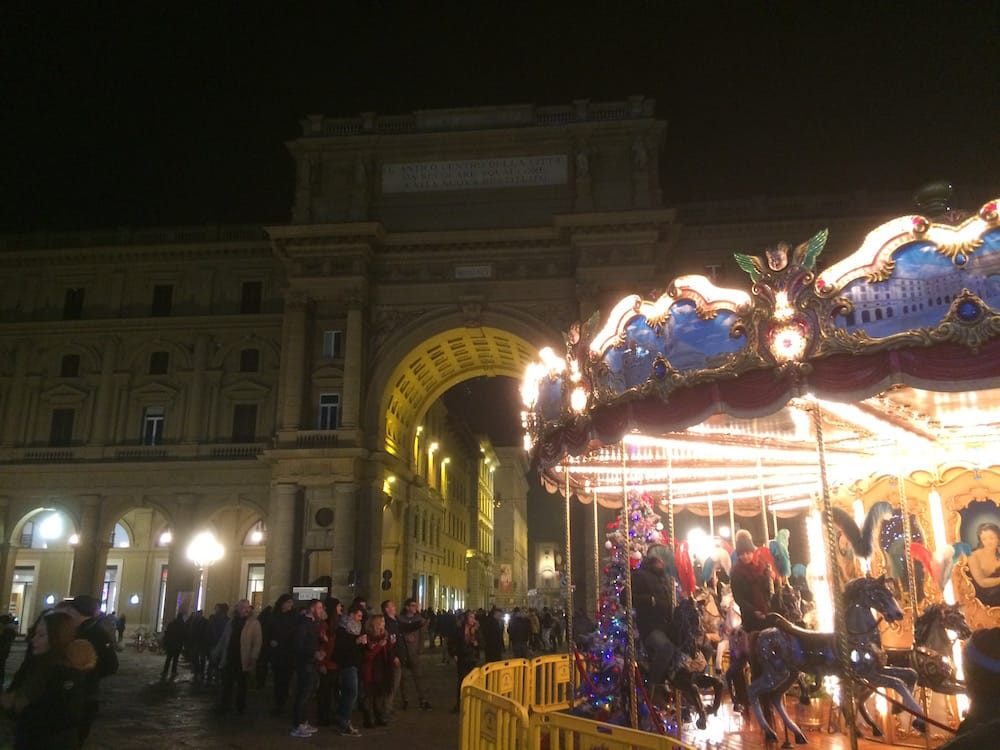 The next day we set up our apartment (we always unpack our essentials like the ceramic cups we bought in Plovdiv and the corkscrew we got in Budapest, and trudged off on the boring errand to find the nearest laundromat; our place doesn't have a washing machine. 🙂
Things are definitely good when you can wander for a few minutes and end up in the Piazza della Signioria! The palace here was where the Medici's ran commerce in Florence and were patrons of the arts. One standout piece here is the statue of Perseus holding the head of Medusa. It served as a warning to all what would happen if you crossed the Medici family, or broke the laws of Florence. This bronze work is a marvel: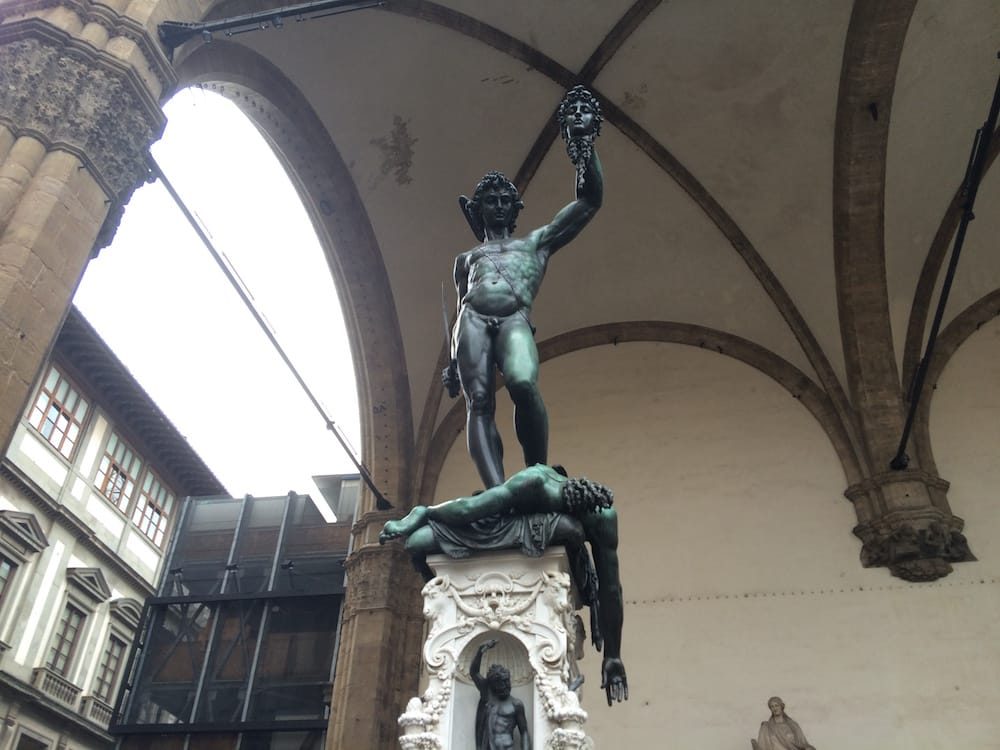 Every now and then as we're walking around we can see the Duomo. It helps us keep our bearings when we can't see the Arno River: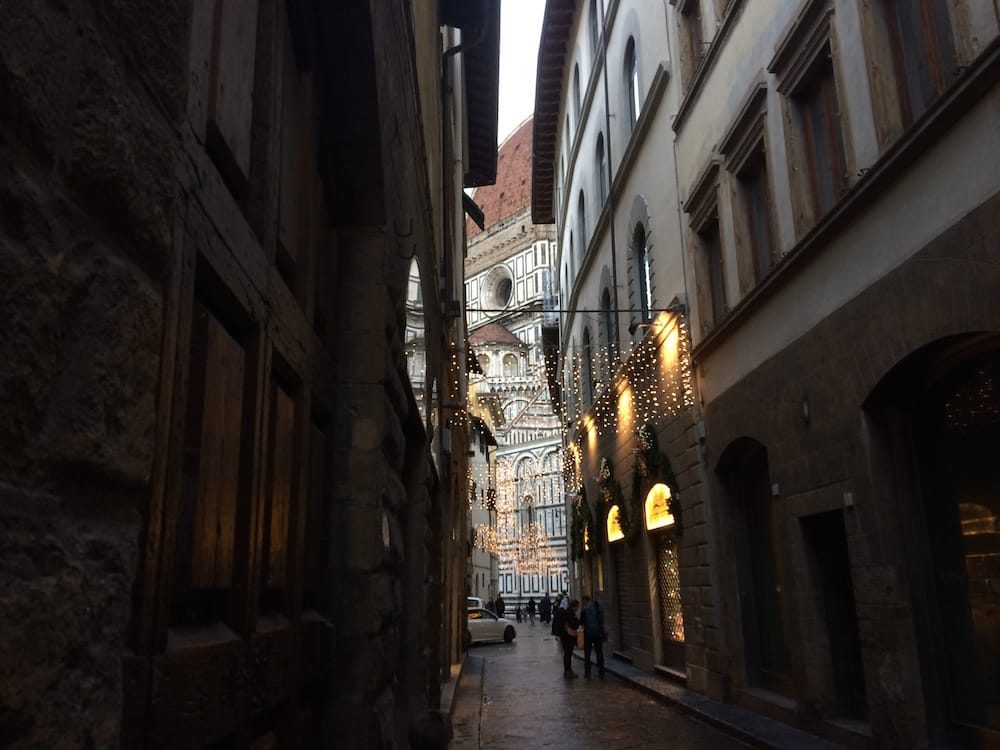 And what I find most amazing are the small details, like all the street signs in el Centro Storico, our neighborhood, being carved out of marble: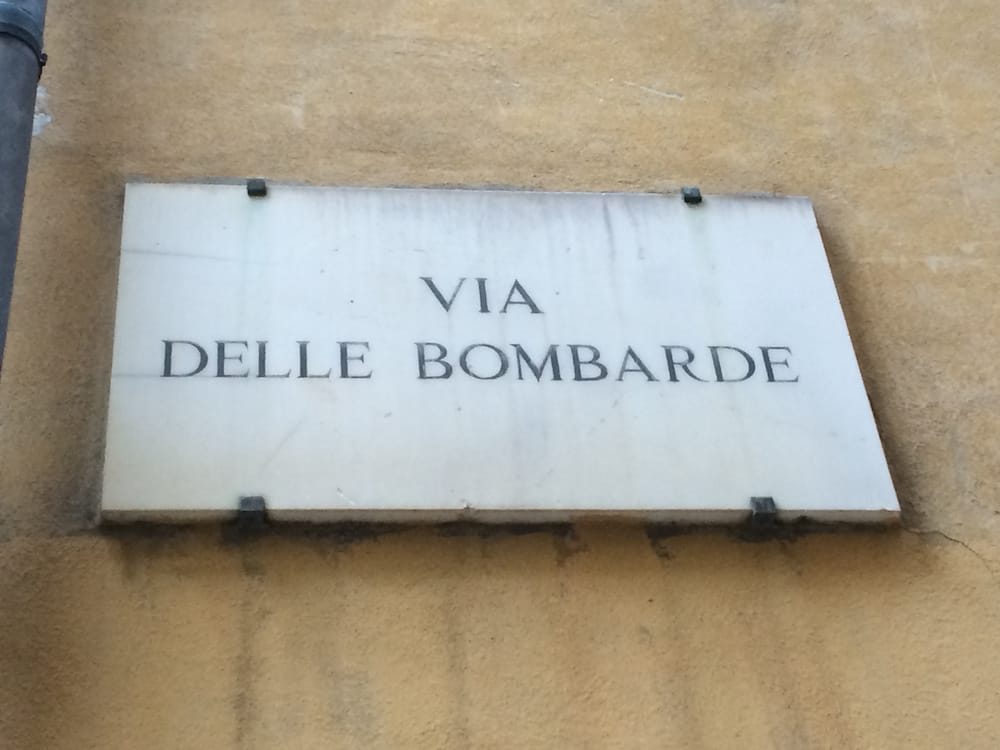 We are so ready to explore more of Florence. The first 24 hours have been amazing, even looking at the tiled roofs reminds me how fascinated I was with the Medici's patronage of the arts way back in the Renaissance and how this spirit still echos today.
And pinch me we're in an amazing place, and I feel blessed.
The following two tabs change content below.
Latest posts by Nathaniel Flick (see all)