Bye Kotor! We hired a transfer from M Rent-a-Car Montenegro and could not have been happier! Thanks to you and the driver you sent to pick us up – he is a champion! Here we come, Tirana, Albania.
I arranged the booking in late October but didn't have to confirm till early December, all it took was an email and our apartment location. The drive from Kotor to Tirana was about 5 hours, the longest part being getting through the border checkpoint, but that was pretty painless as it was only waiting, really.
I highly recommend Kotor, and Montenegro in general as a travel destination. If I'm honest it's probably the most fun in the summer, but if you're creative you can have fun anywhere, anytime, I reckon.
Our hotel wasn't the easiest to find, and neither our driver our I had any internet or phone service, so the driver asked two local policemen and they pointed us to a small sign down the street that said "Hotel Alen". That's it!
Hotel Alen Bar is where we stayed and it was fantastic. Here's their booking.com page and you can find my review and their photos of the hotel, in case you ever want to stay there. And here's a shot of the entrance courtyard; it's small, but warm and welcoming.
We got settled in to our room and then set out for dinner. The place we wanted to go was hosting a private party, it had all natural gluten-free food! so we settled for some fruit from an outdoor market and bought some things from the local market next door to our hotel. We got picklesl Our love affair with pickles started in Latvia.
We settle in wherever we go pretty much the same way – it doesn't take long!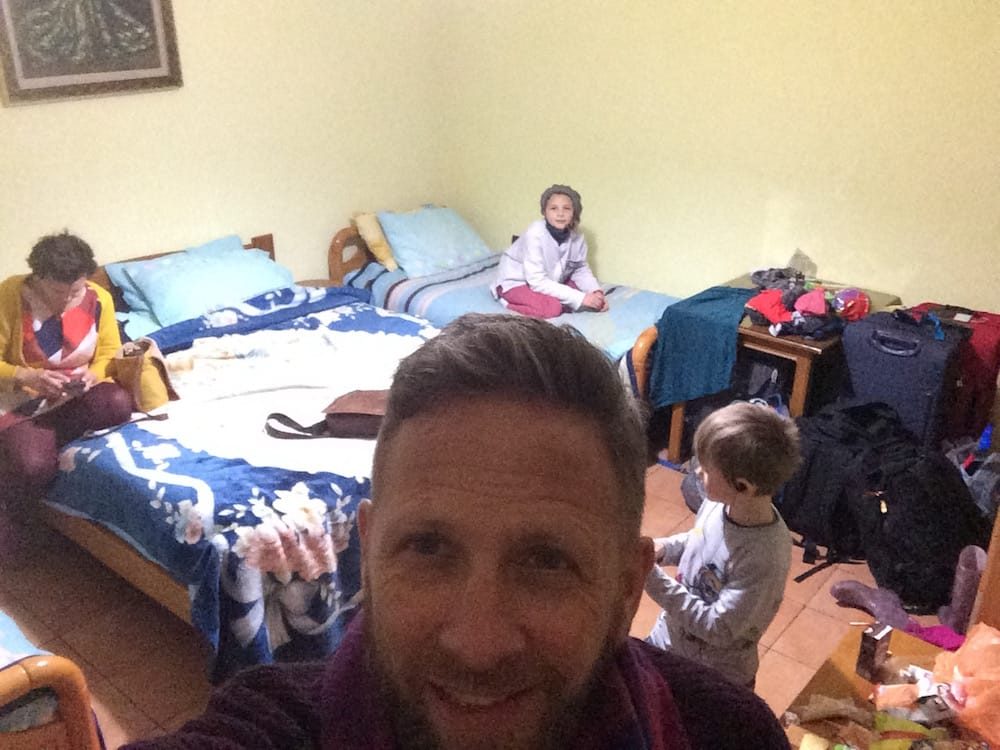 The next day we were in full tour mode! I can highly recommend the Tirana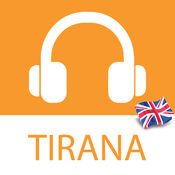 AudioGuide4U app which I used every day we were in Tirana. It comes with honest audio/text descriptions of the sights, many of which document their troubled past with the oppressive dictator, Enver Hoxha. It's interactive map and content work without an internet connection which is very handy, my Greek Vodafone SIM card didn't work in Albania.
The owner of the Hotel Alen Bar treated us to honey and jams from his farm outside Tirana, and even though he spoke no english, and my Google-translate-fueled Albanian, through gestures, smiles and "thank you" we managed to have a wonderful breakfast.
We walked from our neighborhood to the downtown centre and we stopped at the Tirana Bazaar along the way, this was the centre of town in the old days, and all roads lead here: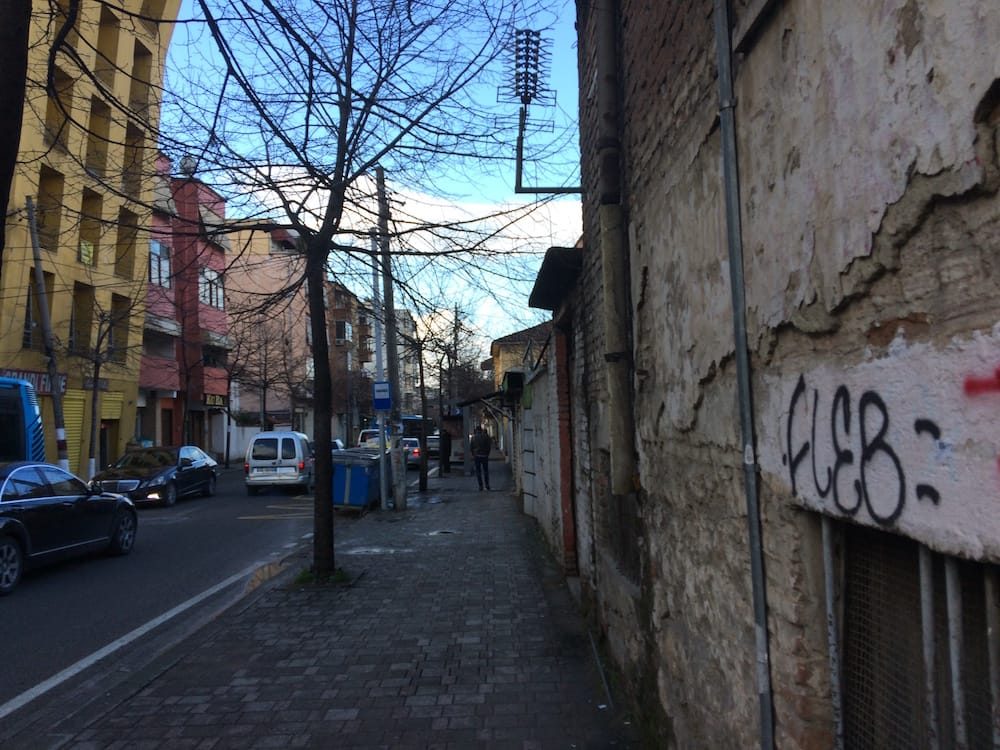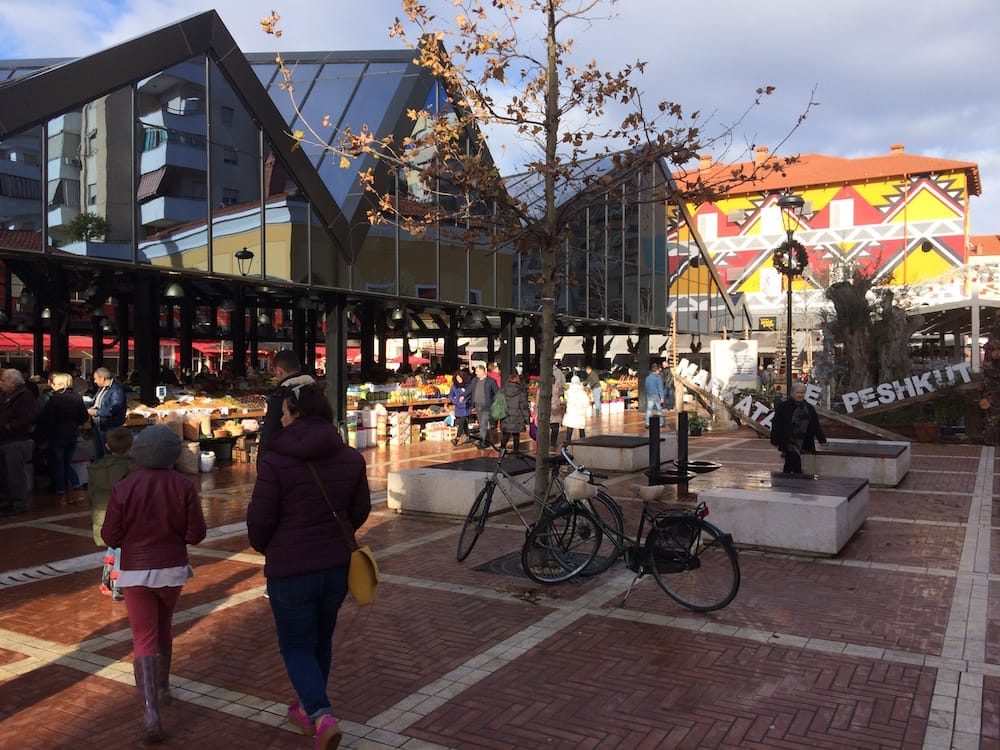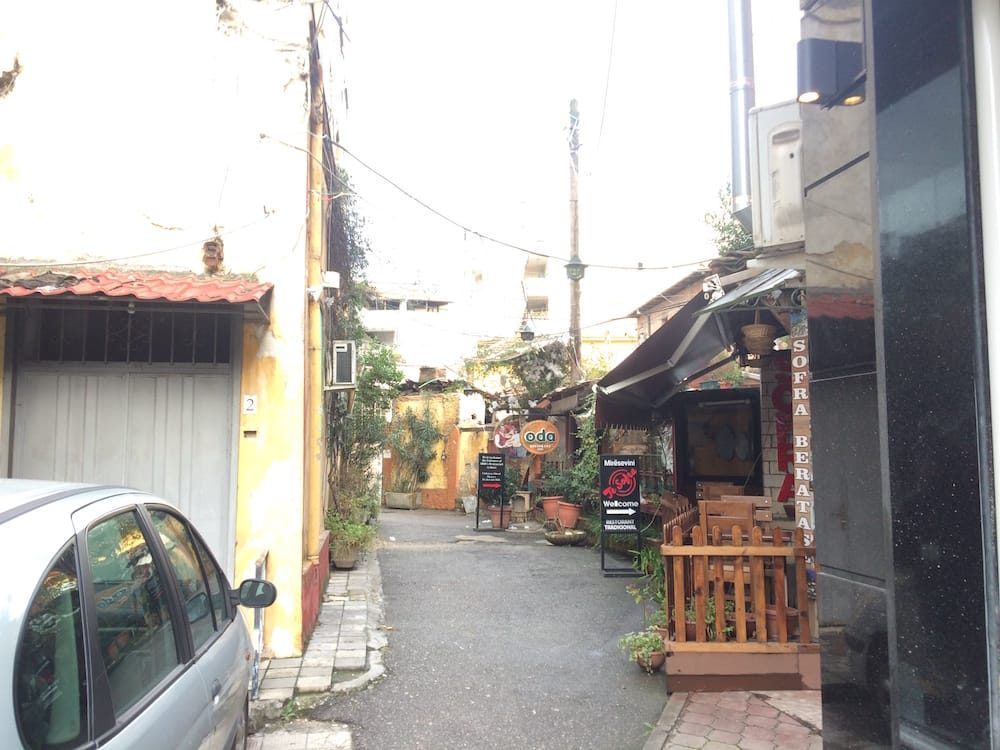 Skanderberg Square
We went up the Clock Tower to get a better view of the downtown district called Skanderberg Square: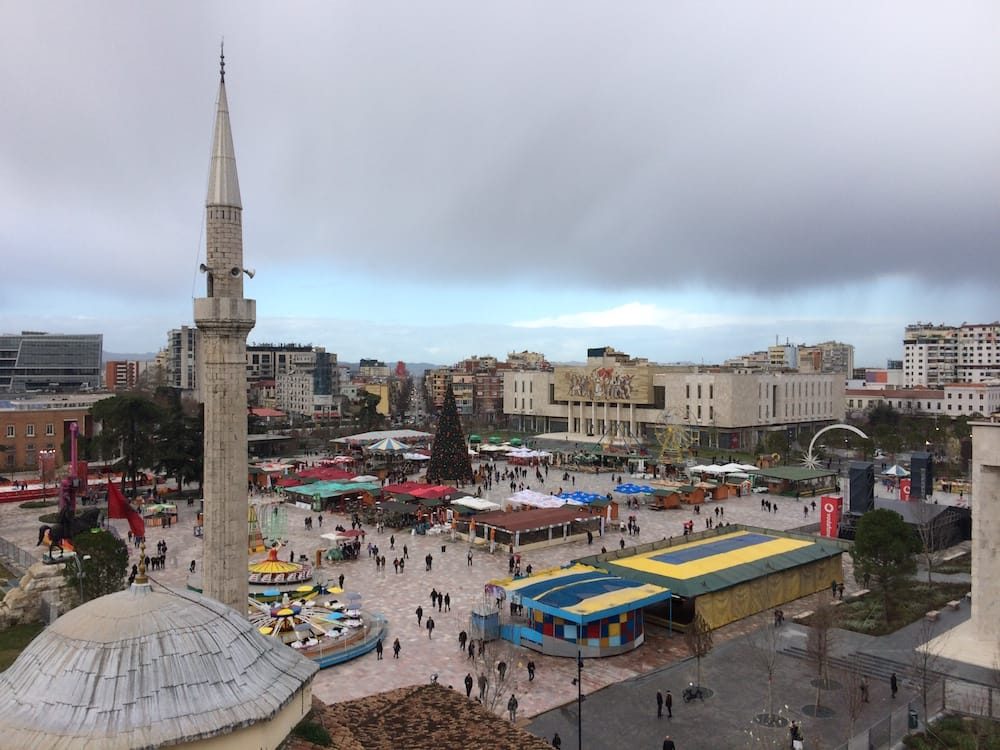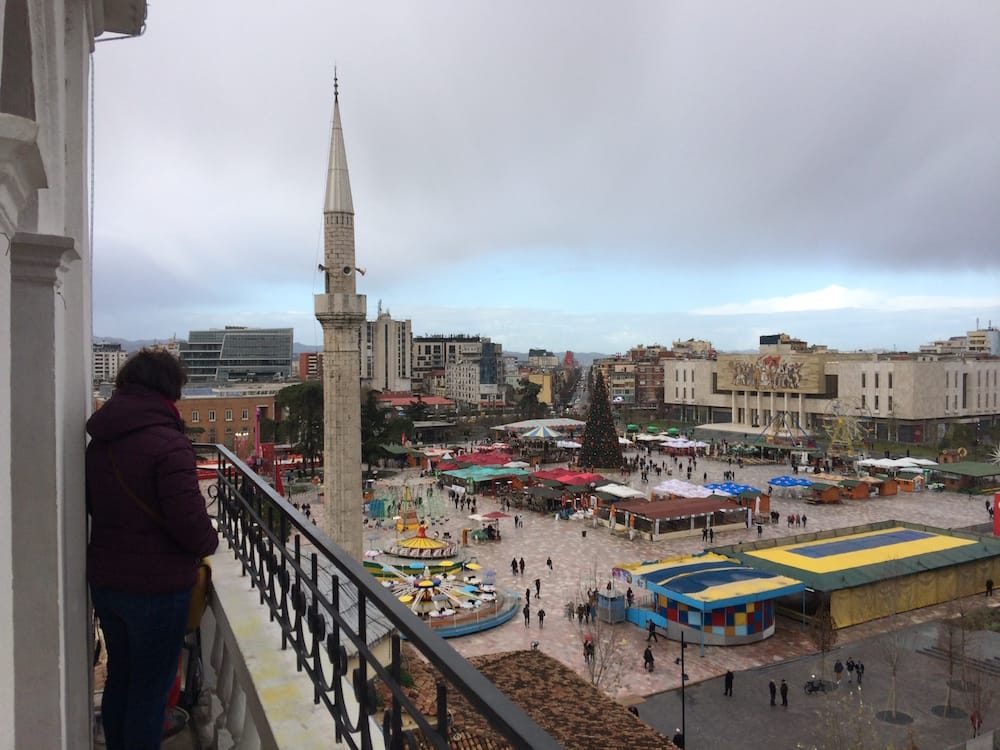 Check out this view:

Then we checked out Skanderberg Square, lots of Christmas cheer going on, with a huge tree as a centre piece: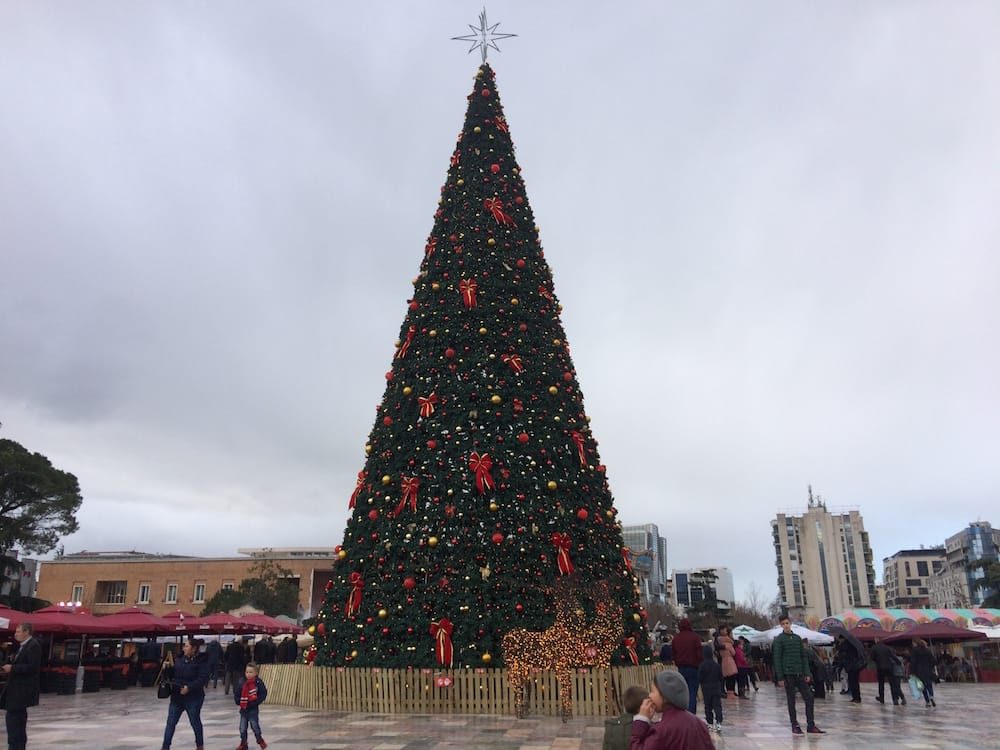 To me, the facade of the National Museum shows Albania's past struggles and its determination to move toward a bright, positive future, already in progress: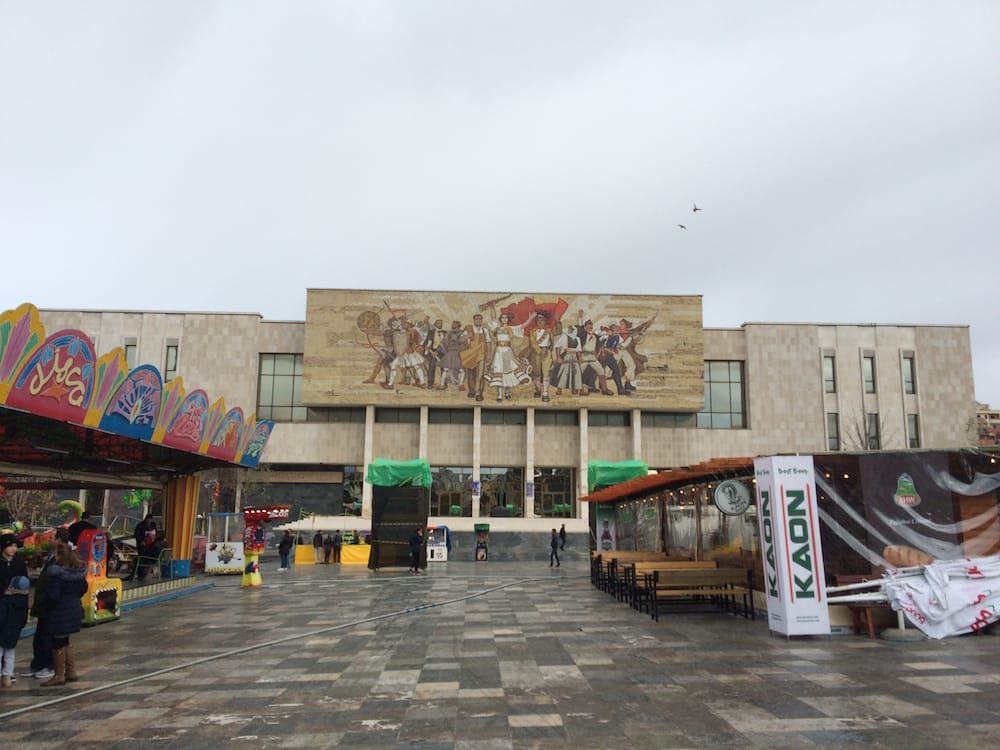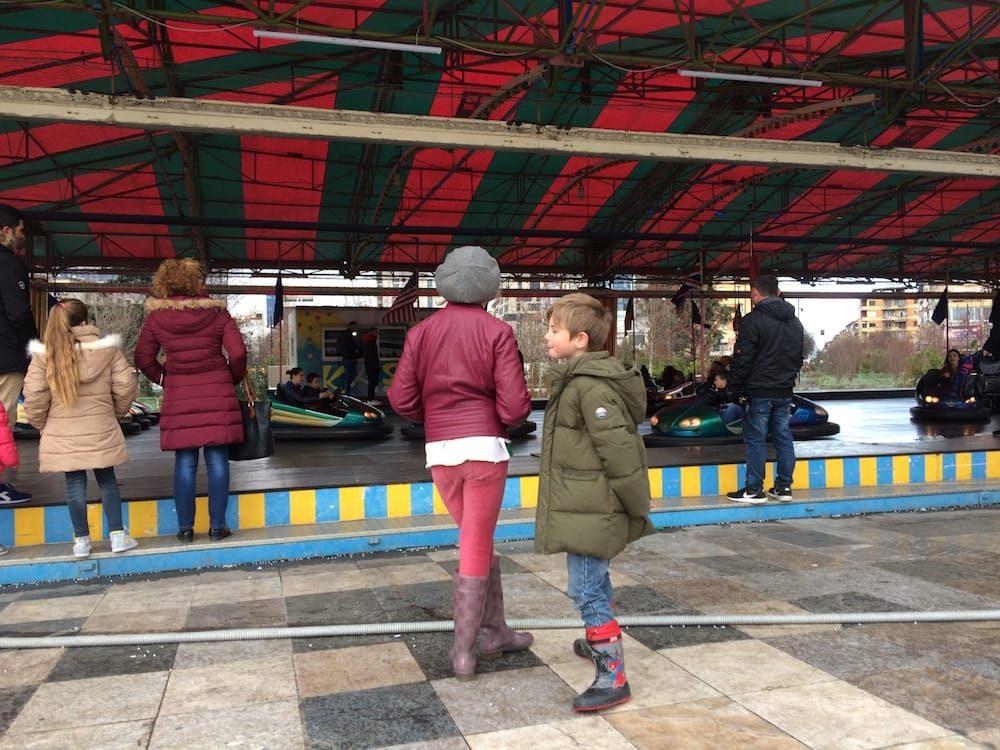 Skanderberg liberated Albania from the Ottoman Empire in the 1400s and is revered: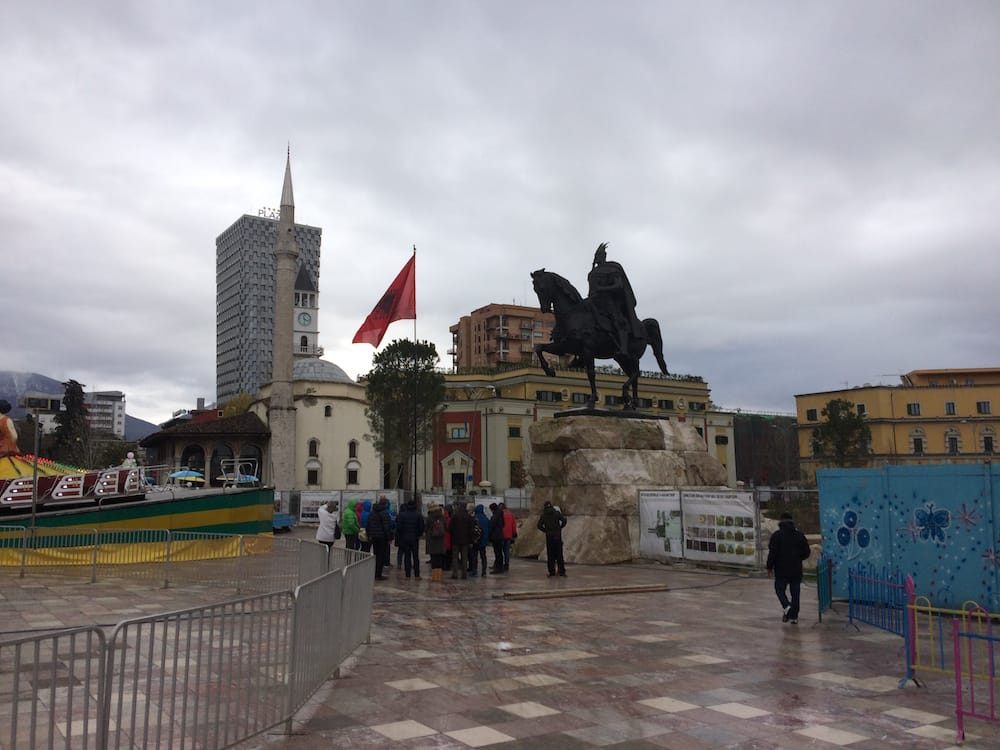 Bunk'Art 2 Museum
Bunk'Art 2 Museum is an in-depth look at Tirana's oppressive past between the end of World War II and 1985, when the communist dictator, Hoxha, died. It combines art and historical facts to give a very clear impression that things were very brutal during this period. The entrance is similar to the over 700,000 other bunkers Hoxha built around Albania: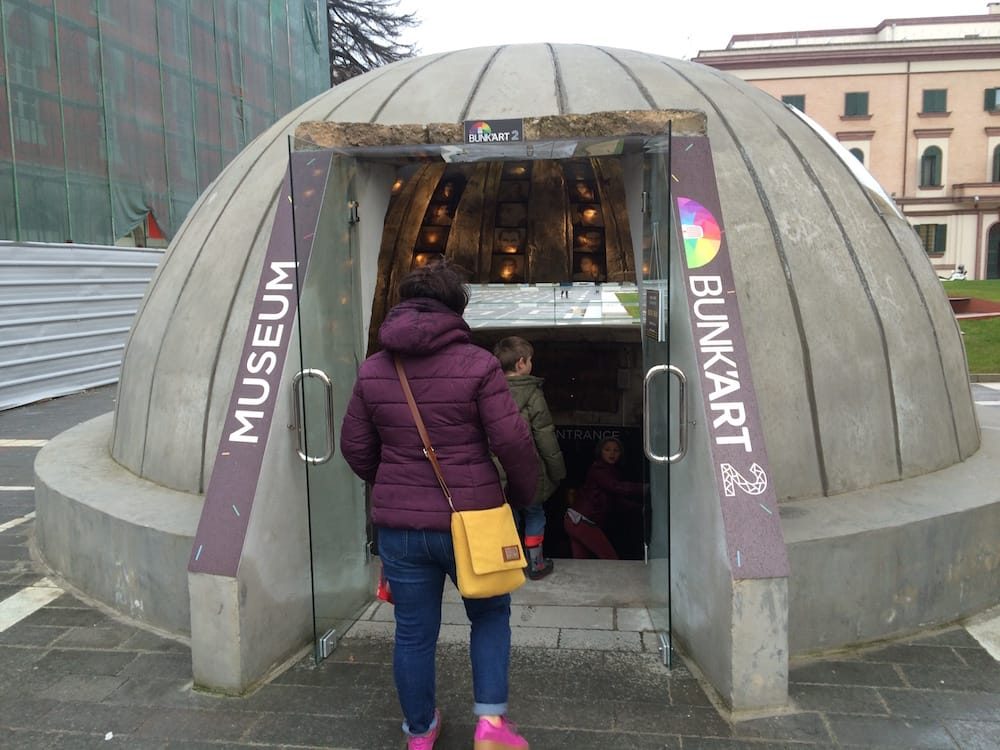 No tour of ours would be complete without investigating the dunny. This one while in the Bunk'Art is obviously not original: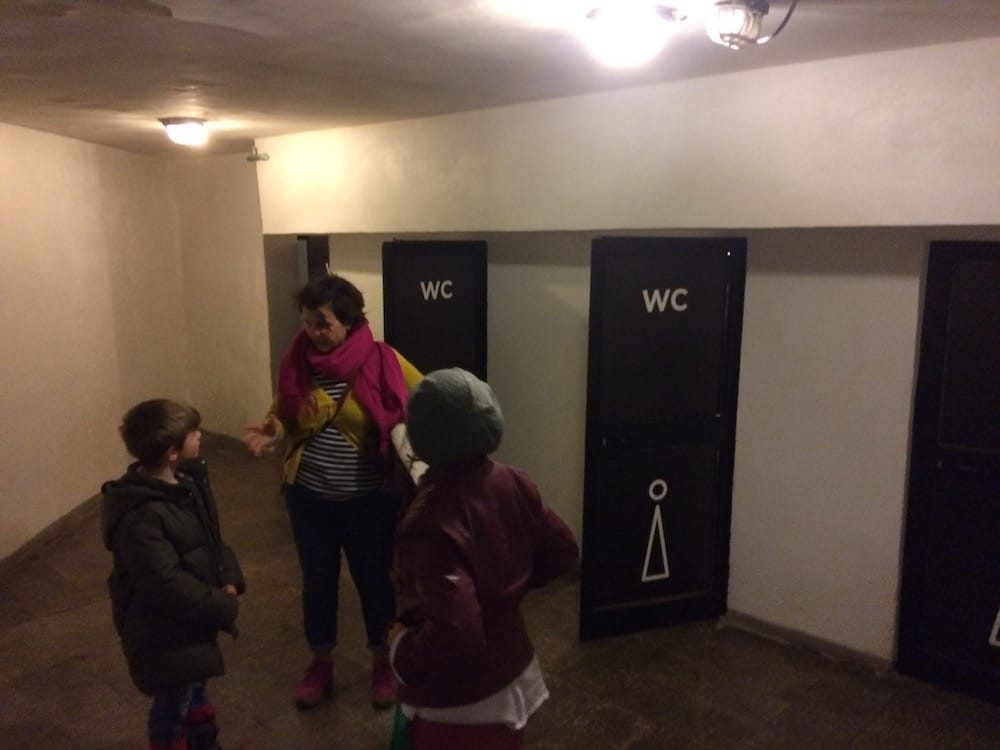 The hallways have historical quotes and facts as well as actual items used to repress the people; free-thinkers, intellectuals, and teachers were especially at risk because they were seen as a threat to the state.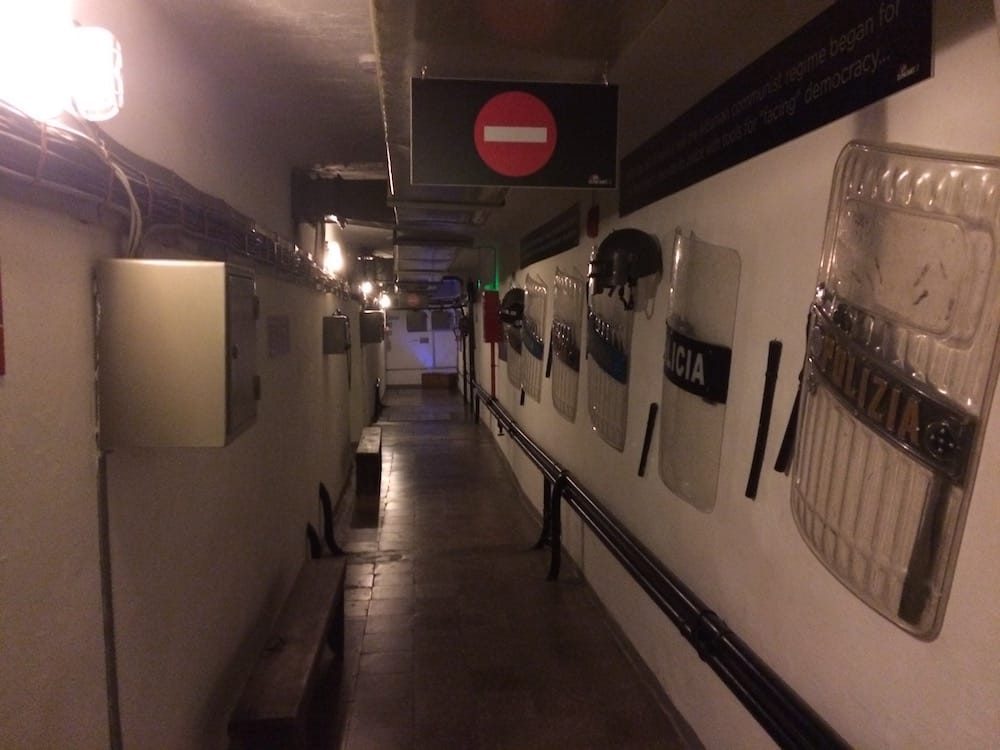 Fear and paranoia of attack meant this bunker was equipped with a decontamination chamber that was never used: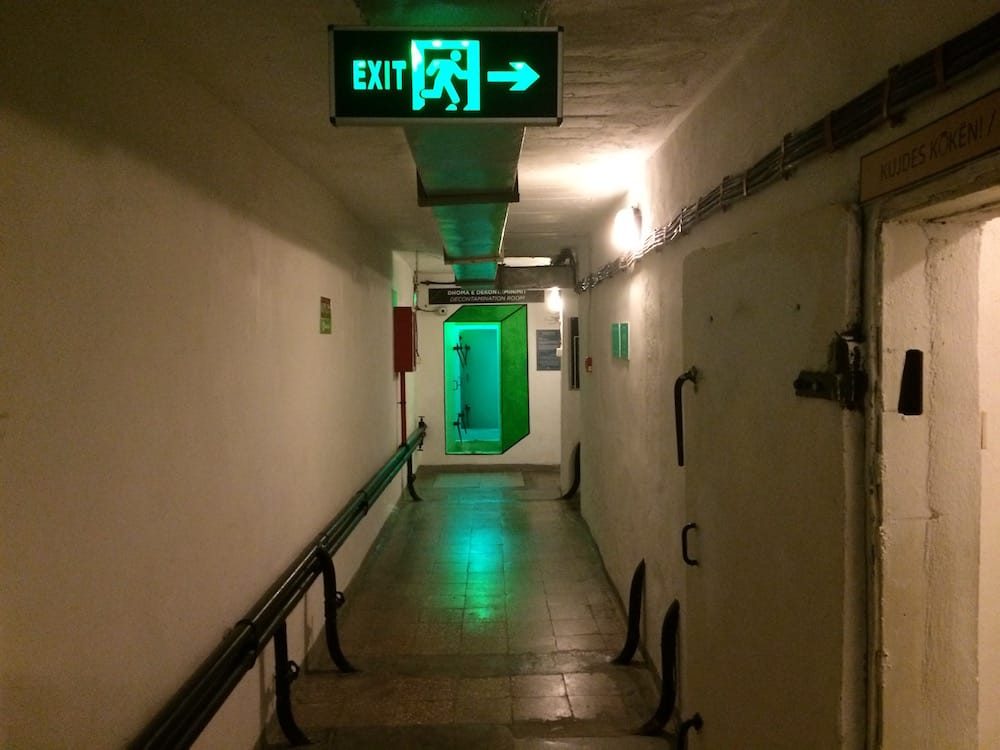 There's a room for presentations, daughter took advantage of the pulpit to give us her message of hope: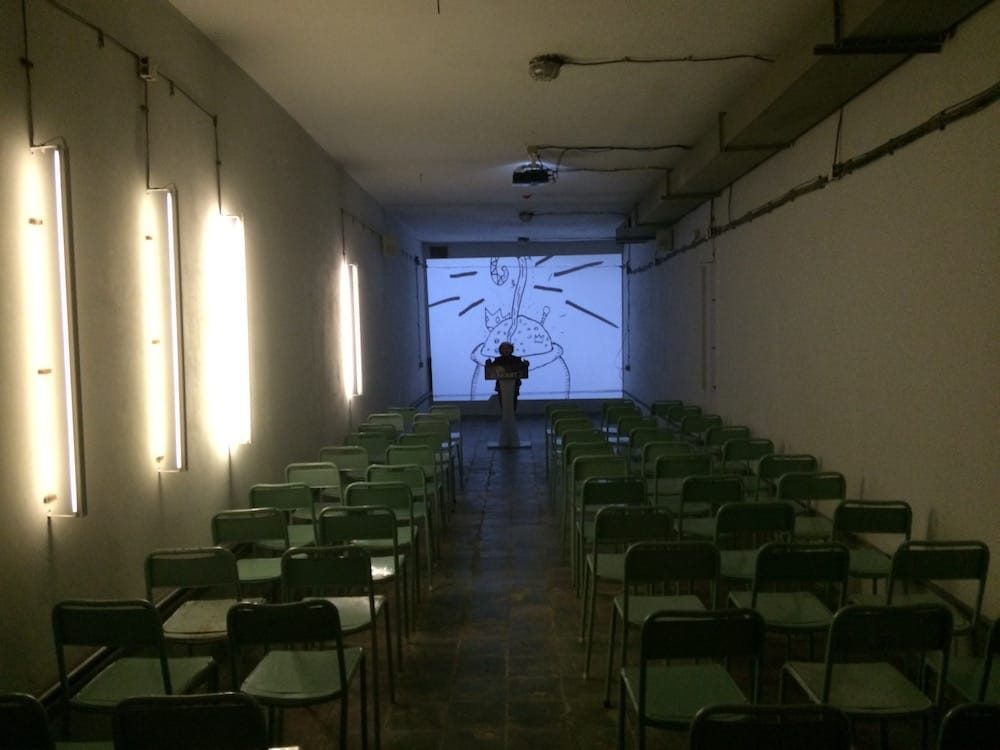 Cloud Pavilion and Toptani Mall
The Cloud Pavilion outside the National Art Gallery was installed by Japanese architect Sou Fujimoto, and you can walk inside and climb up some stairs so you become part of the art.
We had a look, and when I asked if it was ok for me to take pictures, the security guard took it upon himself to take snaps of us. Thanks security guard! Lennox hid so he's not in the photo: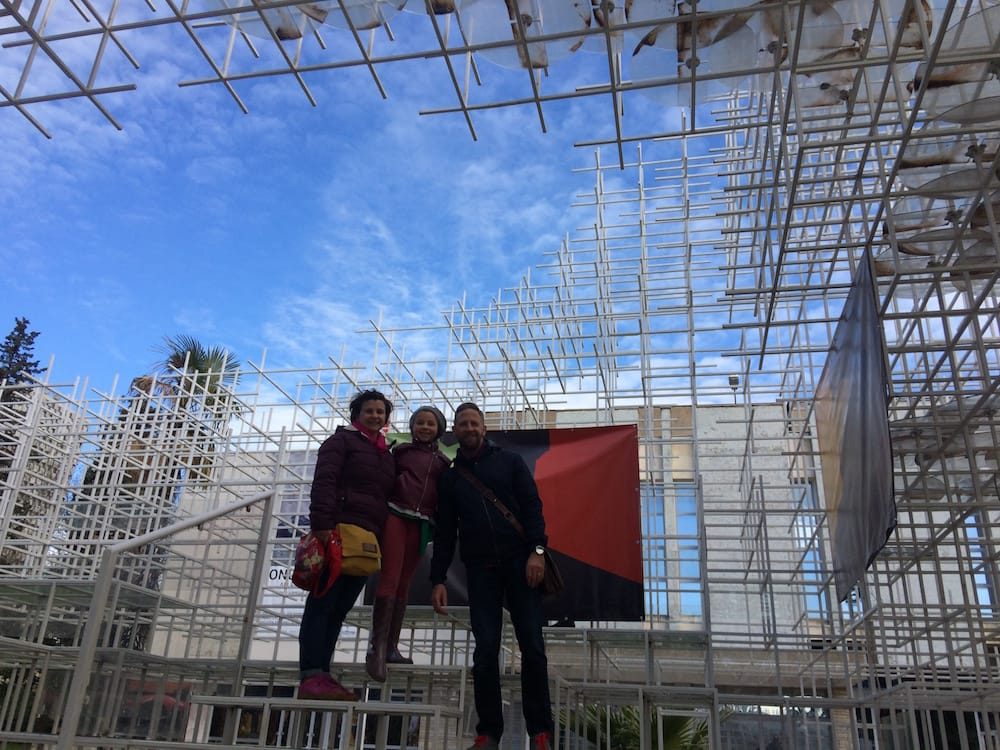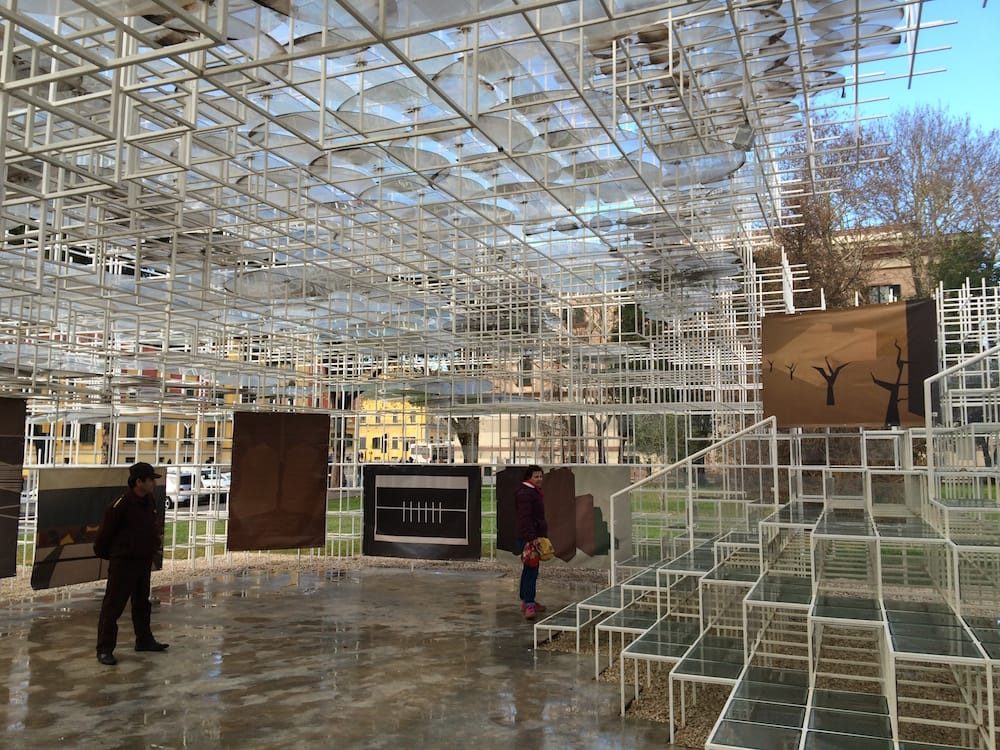 Toptani Mall via the pedestrian-only walk: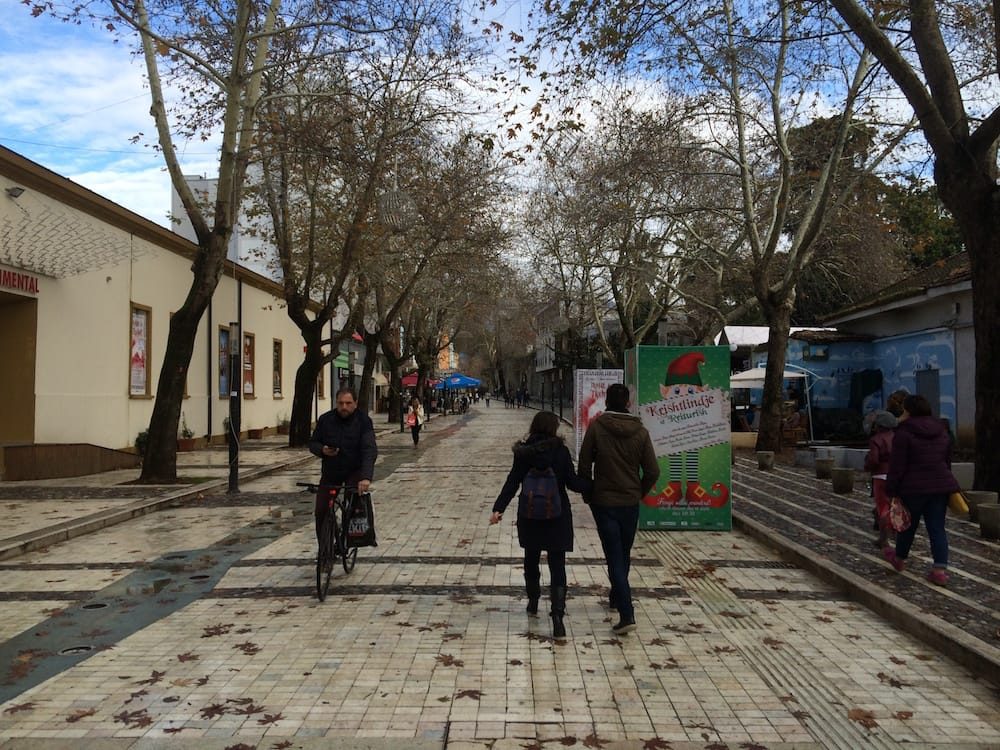 I love street wisdom. Here's some I really take to heart, "Don't let your mind bully your body."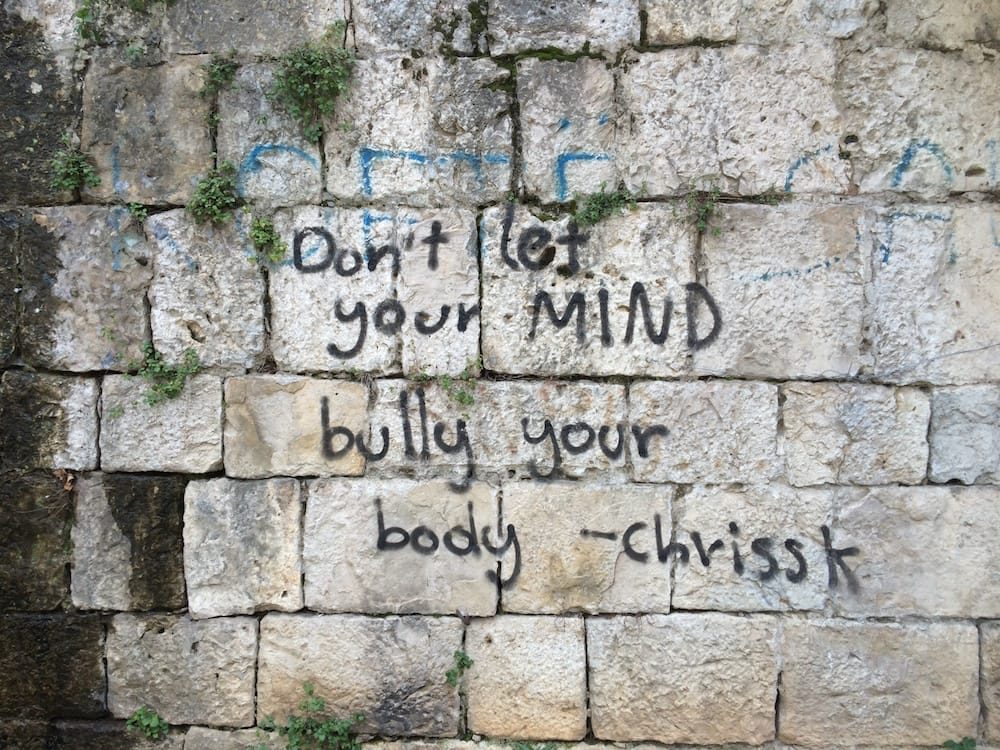 The Toptani Mall looks brand-spankin new, and has lots of clothing shops (I was tempted by a blue jacket but held off; I already have a jacket, ha ha).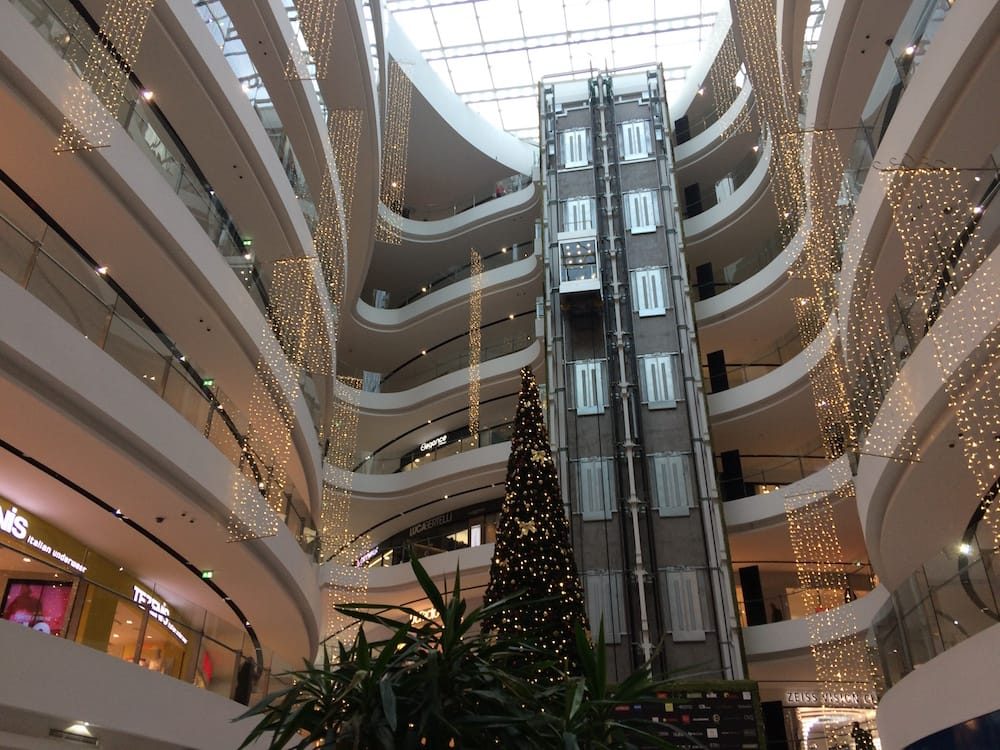 We were amazed to see this view at a cafe in the mall, and the largest mosque in Tirana was on full display, so amazing. You can hear calls to prayer from this and other mosques throughout the day, as is customary: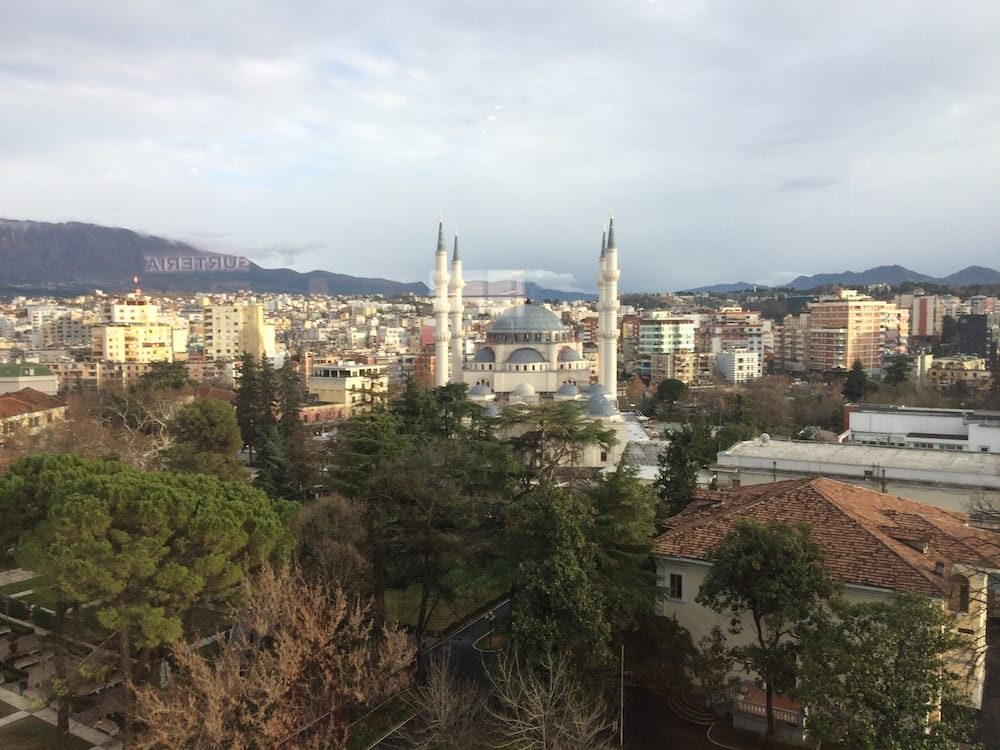 Anytime we see street art in a city we know there's a good vibe, and lots of room for free expression (eg. this is good!) In our neighborhood we saw several of these sunflowers, and they have a great message, be yourself; you are valuable. I reckon!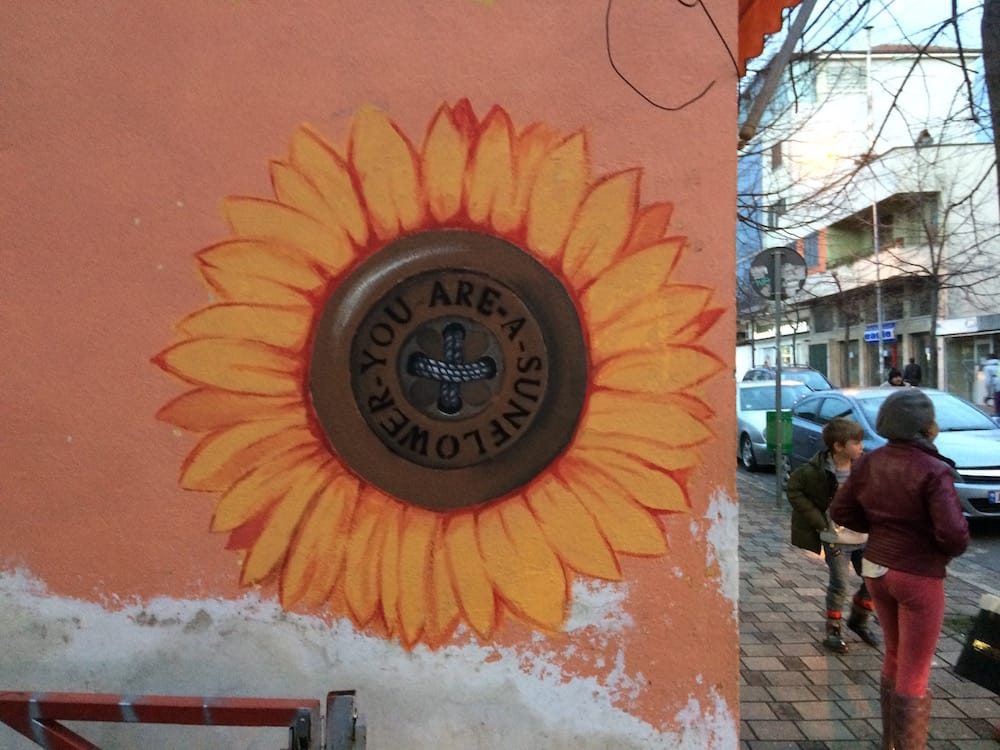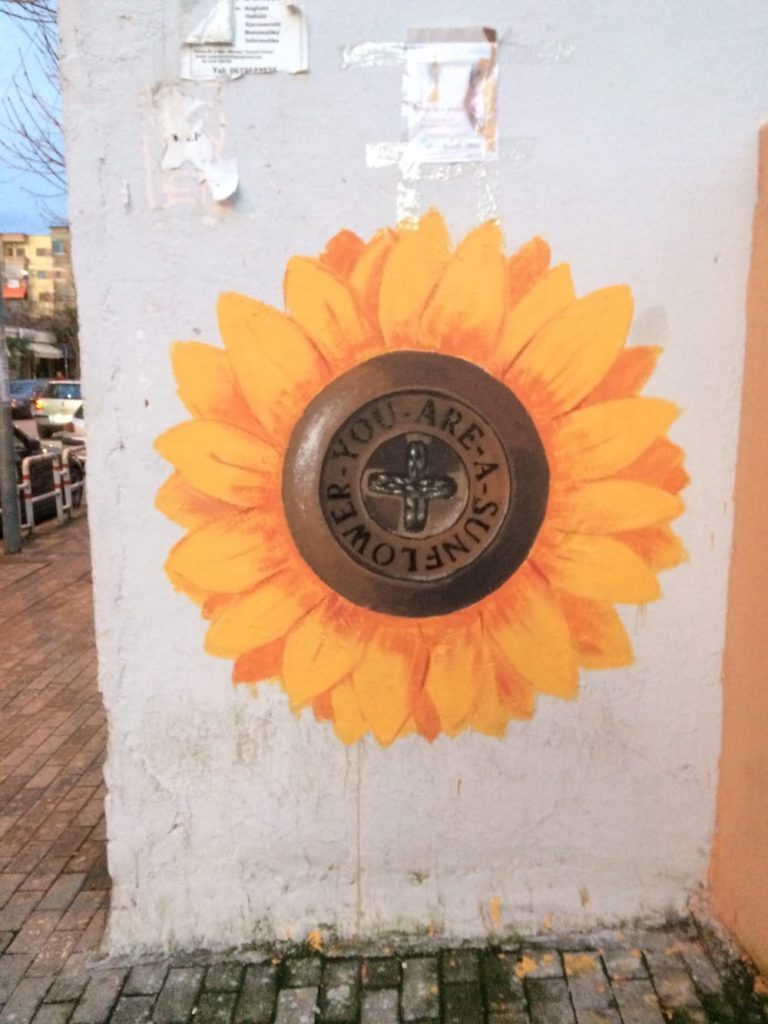 We headed back to our apartment and ate the dinner we bought at the market in Toptani Mall (yay gluten-free bread!) and after only one day I love Tirana.
The following two tabs change content below.
Latest posts by Nathaniel Flick (see all)