Our last week in Prague and a weekend trip
Prague, week four and our last week in Prague; bittersweet! We made friends, we had unlimited use of public transport and an apartment in a sweet area, Praha 6; what more could we ask for!
Our weekend trip we planned for Svaty Jan pod Skalu, a small town west of Prague near Beroun, with a magnificent old church and a small town with one icecream shop and one hotel. Sounded perfect for us.
More public transport adventures on our last week (bus and tram)
But first some adventures around Prague. We took a train jaunt looking for the 15 train we though went east from our central stop at the Castle, but alas construction thwarted that plan. But, we had a nice walk on the waterfront and got to a bridge we hadn't crossed yet, and there was the 15. Oh well, keep going. 🙂
We shopped and I replaced the water bottle I lost on the plane at Bucharest (left it in my seat in a rush to get off the plan; the "mad dash" we like to call it) and carried on further and found a great square with another big mall with a Mexican festival raging outside. Some real Mexican food, in Prague! The kids got their faces painted: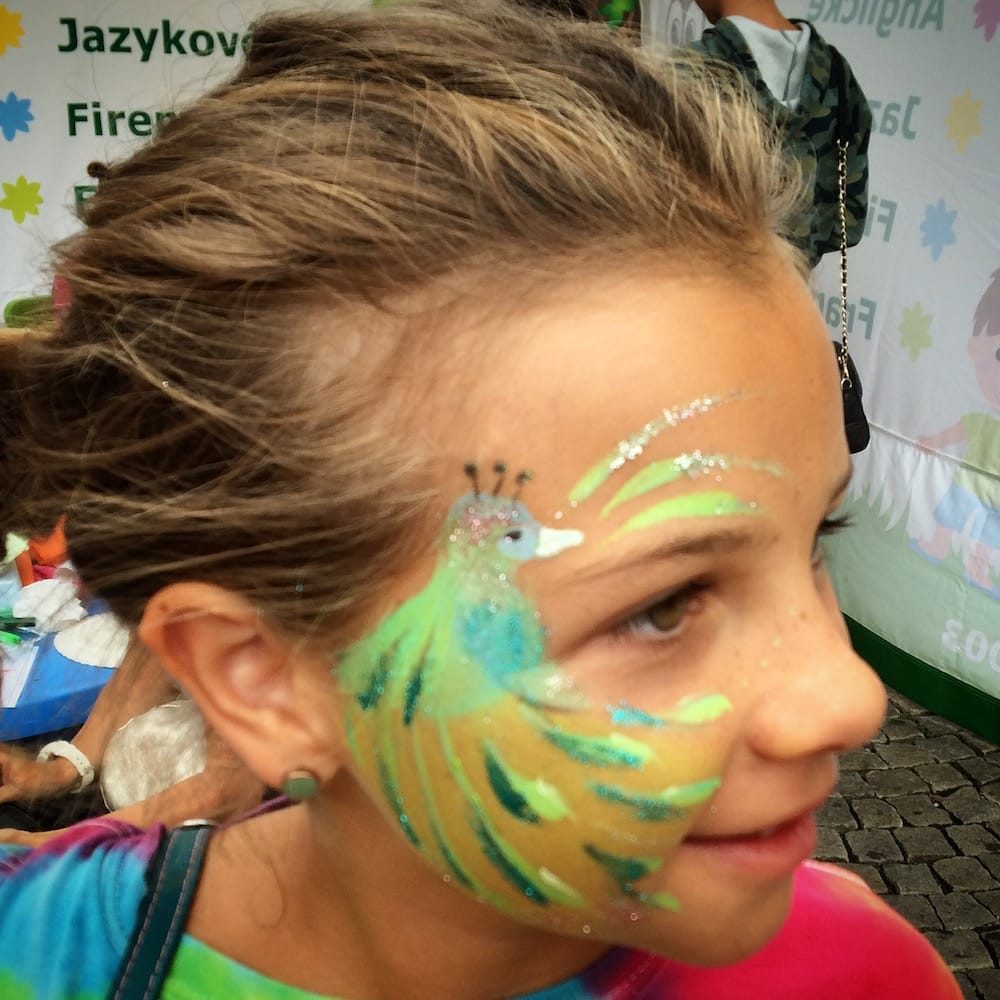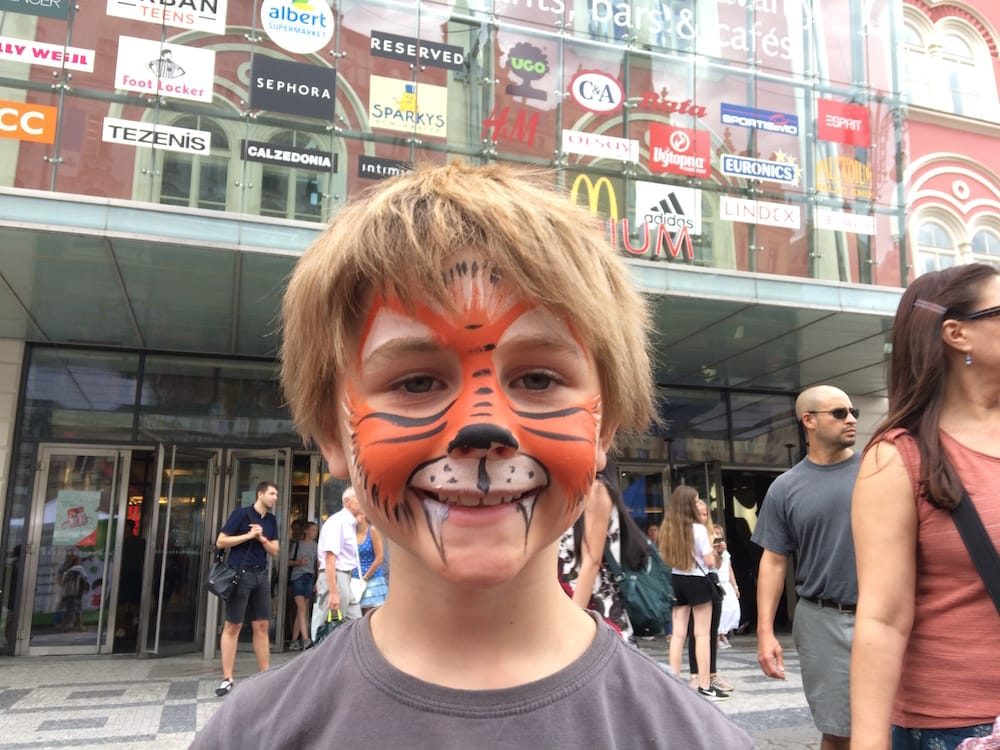 And Ms10 suited up for battle: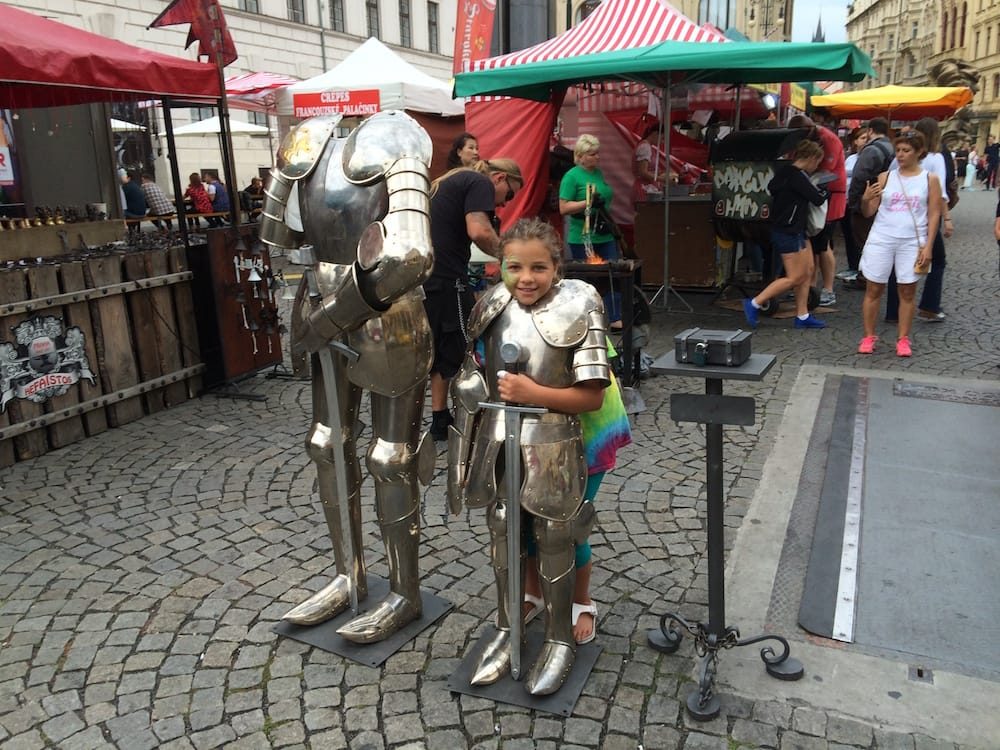 Svaty Jan pod Skalu ("St.John below the Rock" in English)
Svatý Jan pod Skalou (St. John under the Cliff), a delightful village deep in the forest nearby famous Karlštejn Castle, is a true hidden gem of the Central Bohemian region. Its history dates back to the 9th century when, according to legend, the first Czech Christian hermit, Ivan, settled down in a cave under a large cliff and it's known for the run-down St John Benedictine Monastery and the attached baroque Church of St John the Baptist, which has a spectacular cross once located on Charles Bridge in Prague. – Credit
Getting there was pretty straightforward: grab a bus to the western train station just south of us, then a train to Beroun and back up by bus, then another bus. Ok, it wasn't straightforward but wasn't hard to figure out. For the most part transport in Prague works like clockwork.
Here we are outside the train station in Beroun waiting for our bus. It was a Saturday so there was hardly anyone around.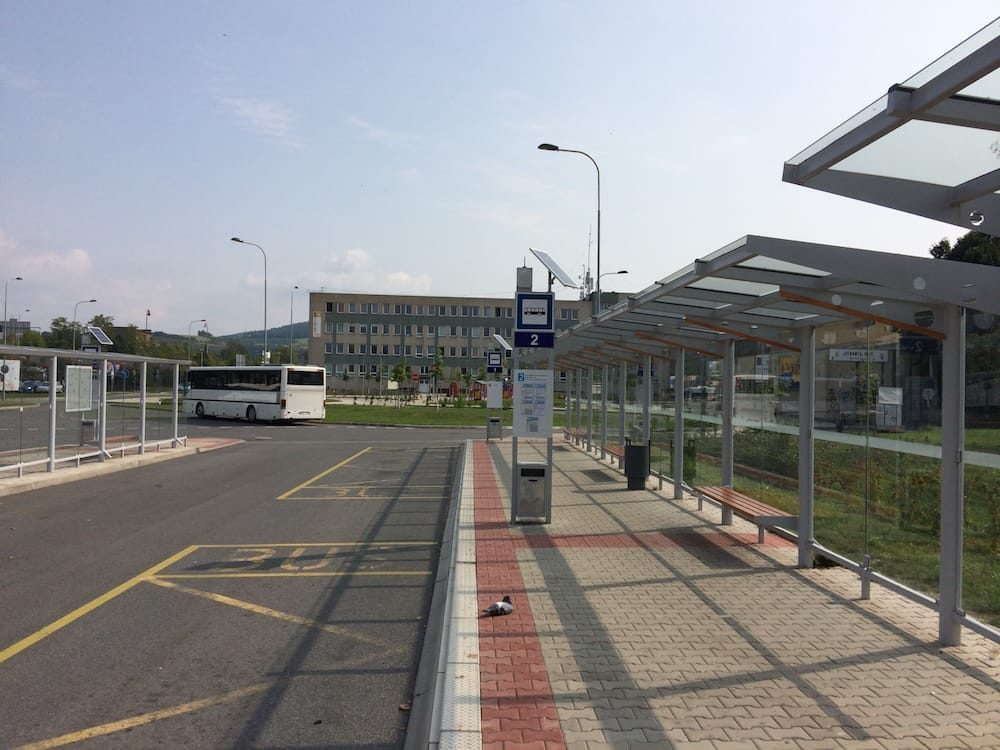 After the first bus we caught another one at a small town just 3-4 kms from our destination. This is a kebab shop with a small covered bus stop. Some backpackers were here with us, the three had big packs on; I was a little jealous! It would be fun to sleep outside, Prague's forests are truly beautiful.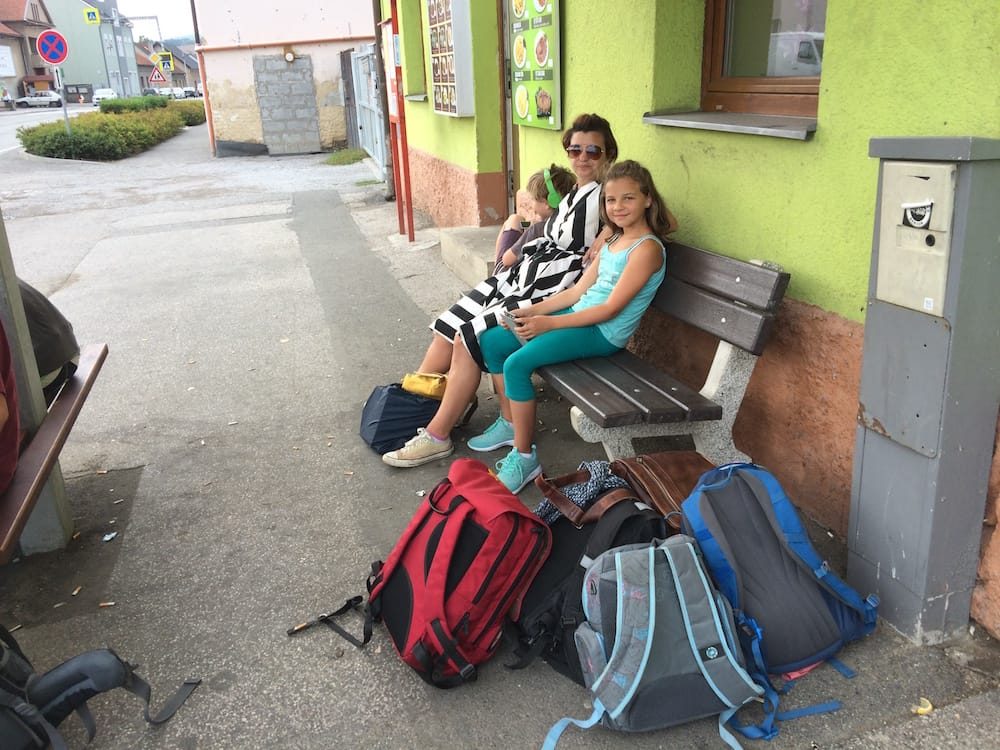 We checked in at the hotel, a pretty casual affair, credit card run, then we walked around and checked out the town, first stop icecream shop, naturally, then back to the hotel pub for dinner. Beef goulash! It was the only item on the menu I could eat, so I had it for all my meals but it was so good I didn't mind!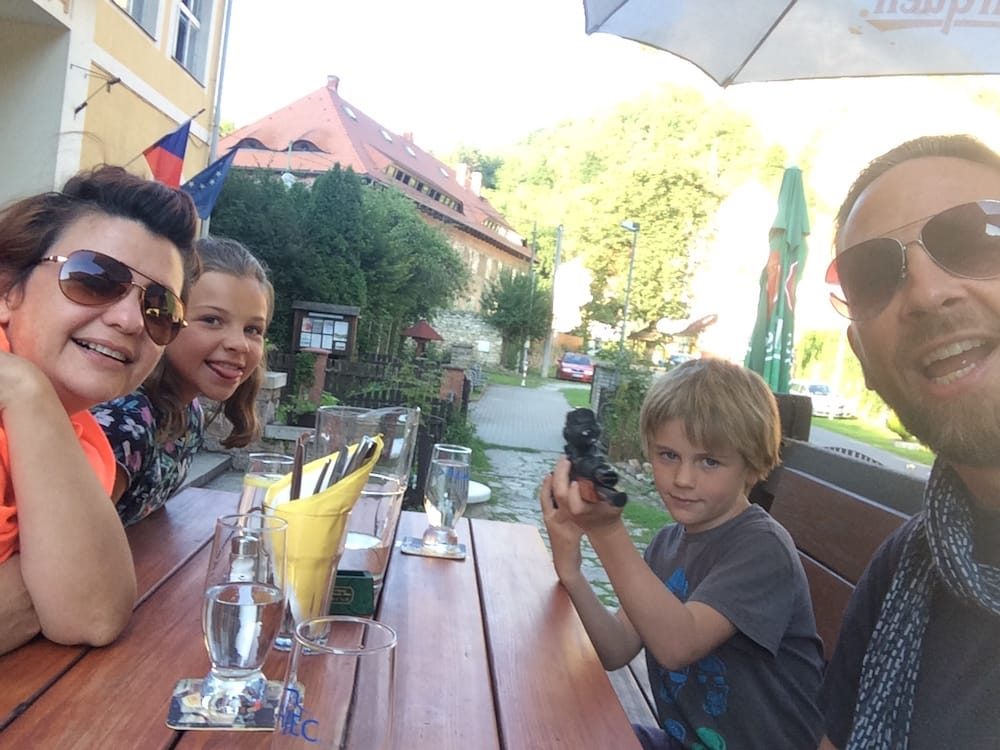 Our big walk up the mountain to see the cross perched at the top, and the view of the valley below, was stunning. Thick with trees and wildlife and even signs every so often to remind you what flora and fauna are around.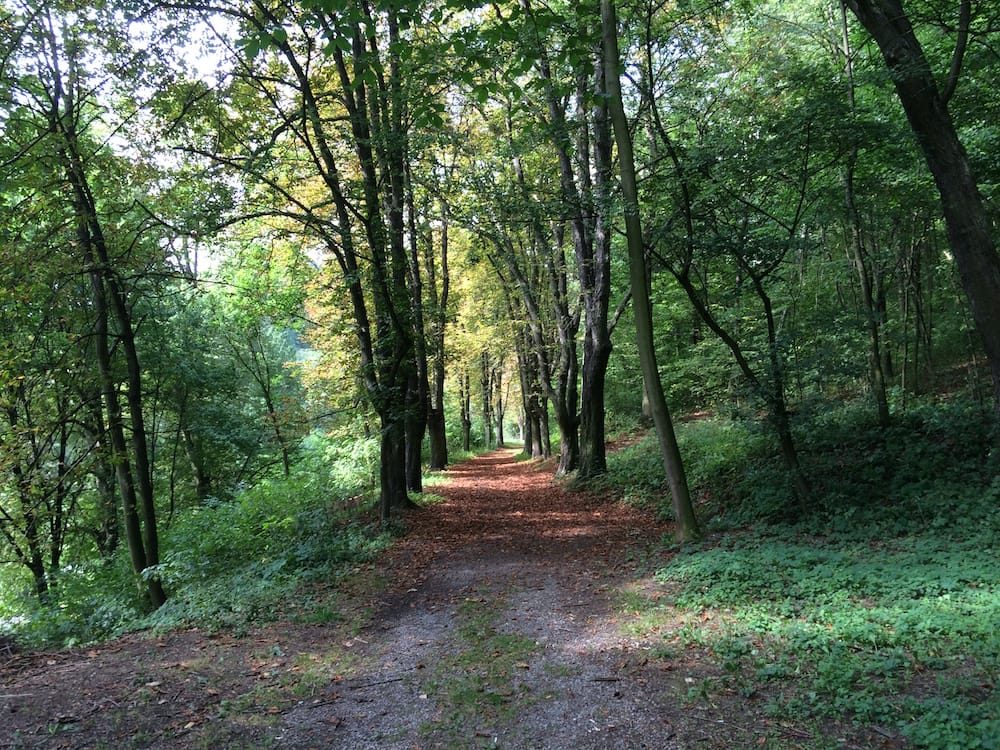 We made it to the top and got treated to this view of the valley and surrounding area: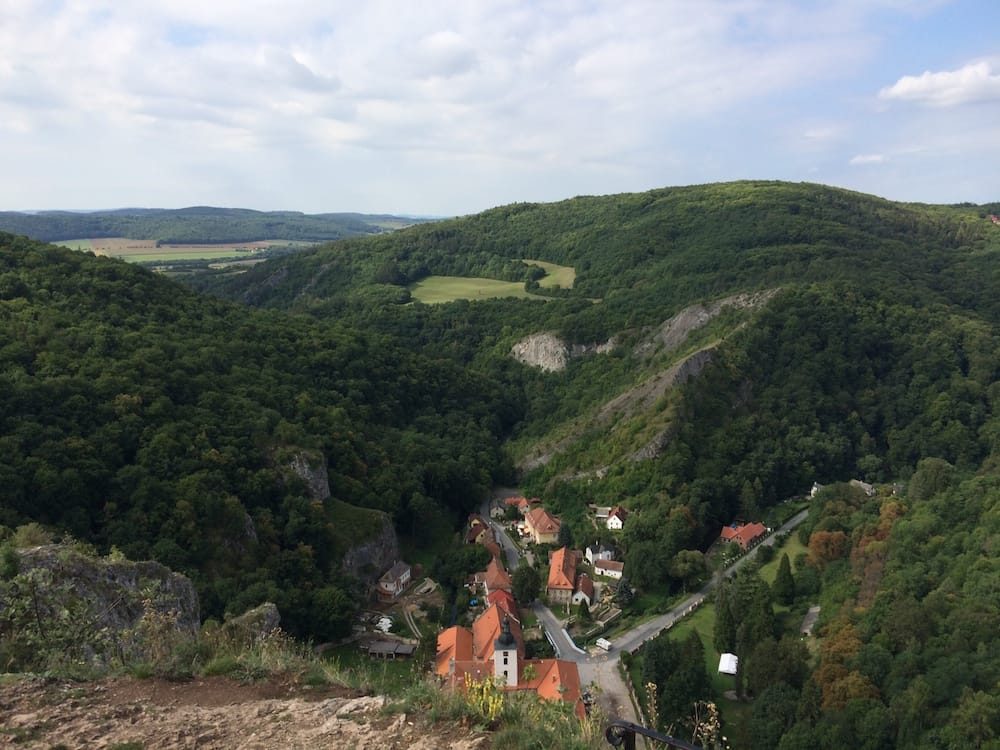 It's a steep climb but so worth it. Something about being away from the big city really agrees with us.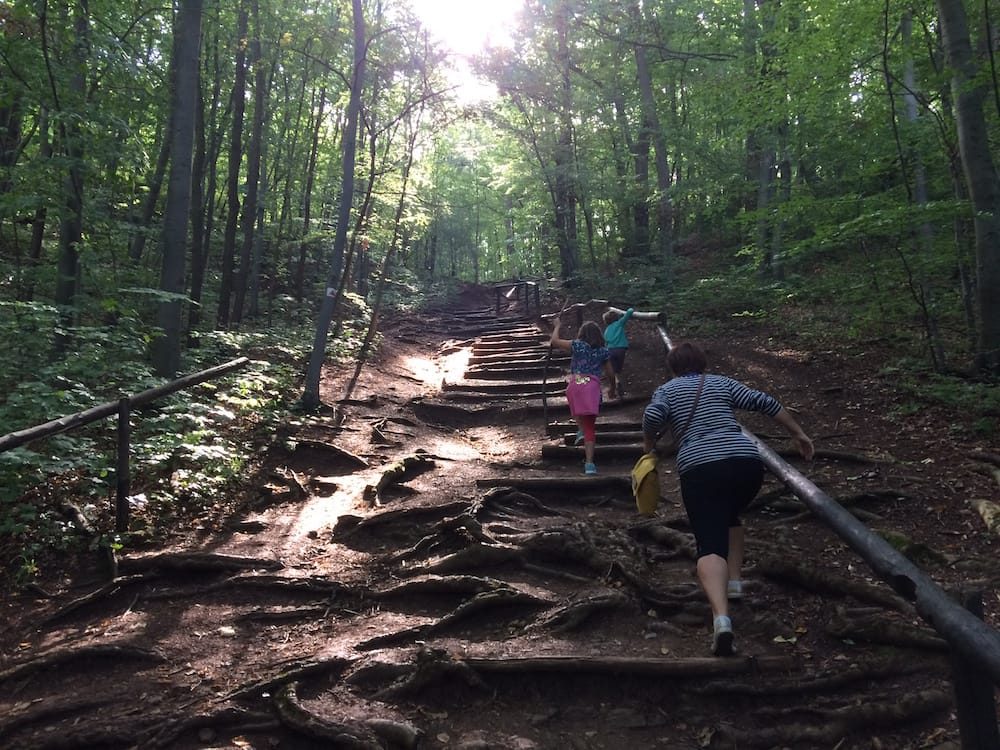 The side of our hotel, it is an old schoolhouse converted to hotel rooms.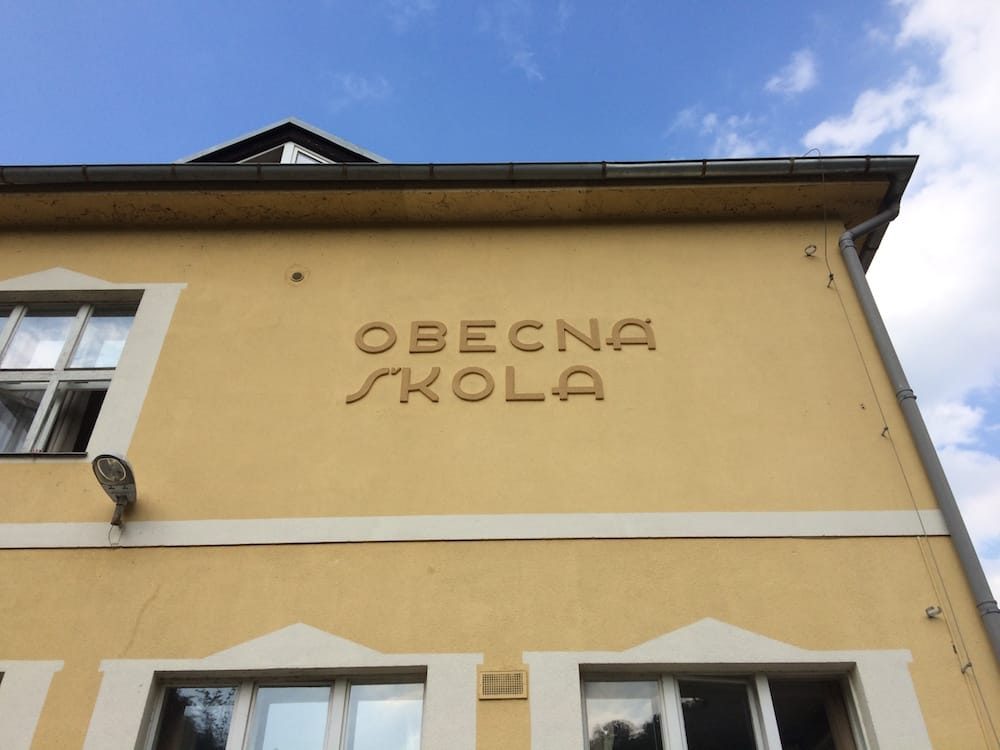 The view of the cross and the mountain from the other side of town. This road runs right through the middle and leads back to Beroun, or back to the small bus stop in the other direction.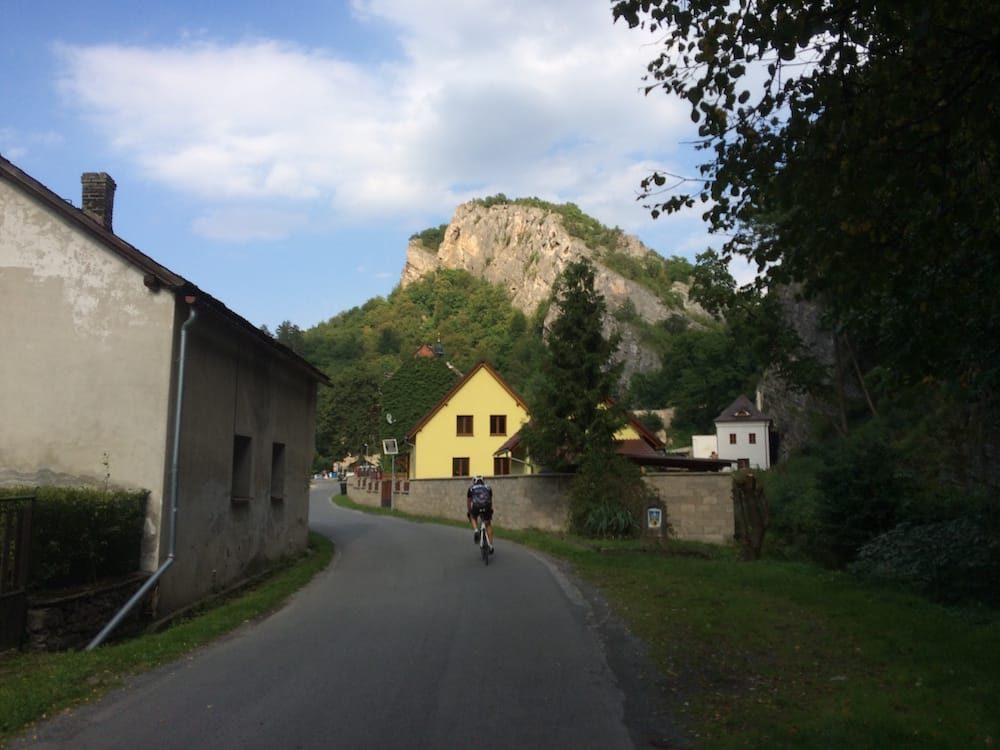 The end of the road, you always know you're at the city limits when the city name is crossed out with a big red line: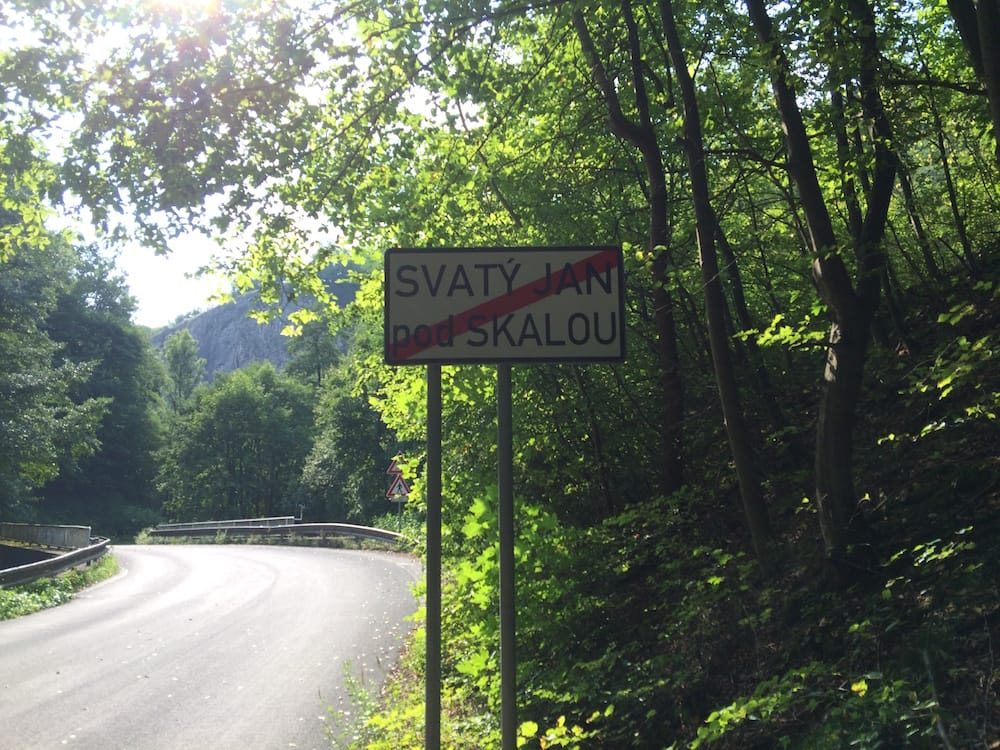 Every city has a rich history and most have a crest. Here's the one for Svaty Jan pod Skalu, I love the wild boar in this one: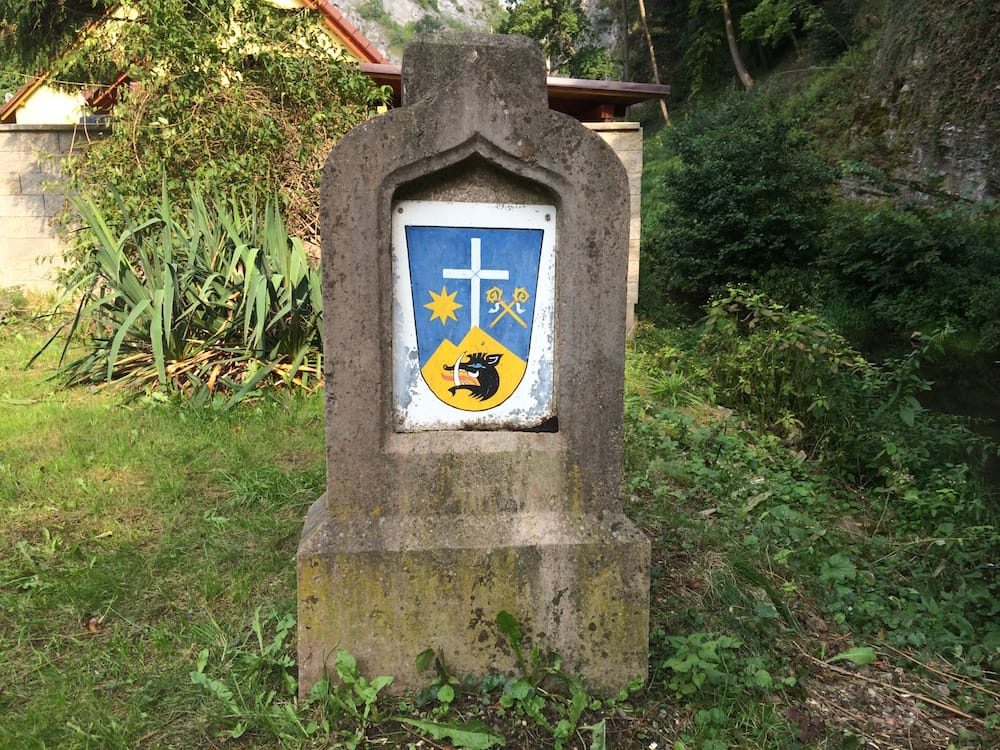 Another view of the mountain and cross from the bridge in the middle of town next to the monastery/church: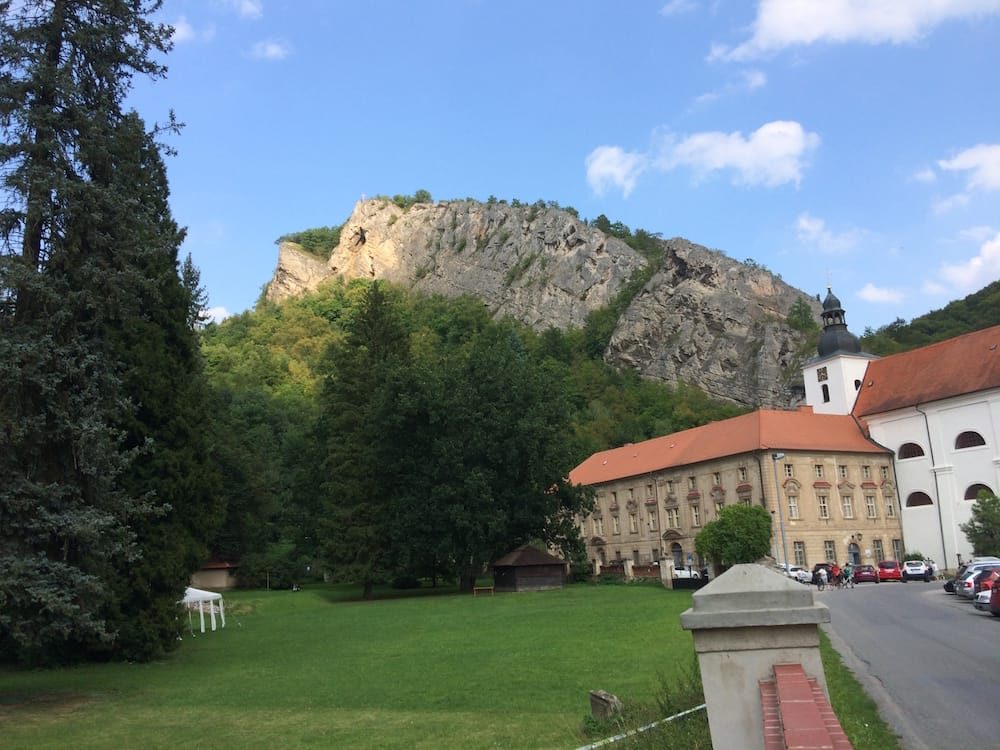 Another view of the mountain and cross from the entrance to town: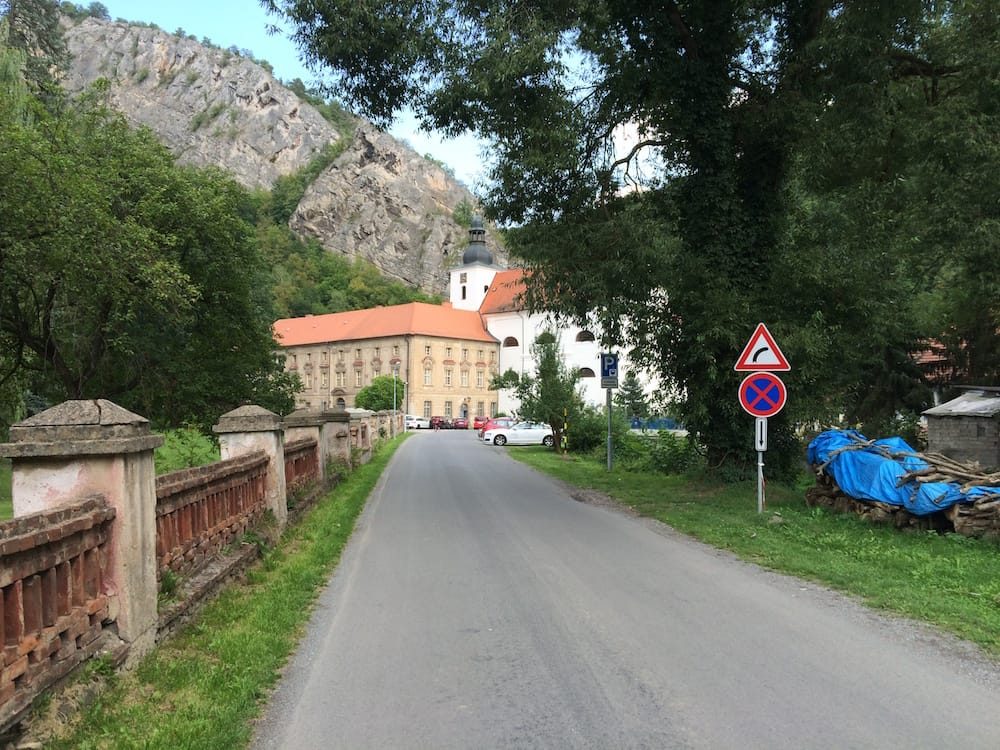 The church has a spring with great tasting water. Every time we passed we would fill our bottles with "Church water". The creek was next to this.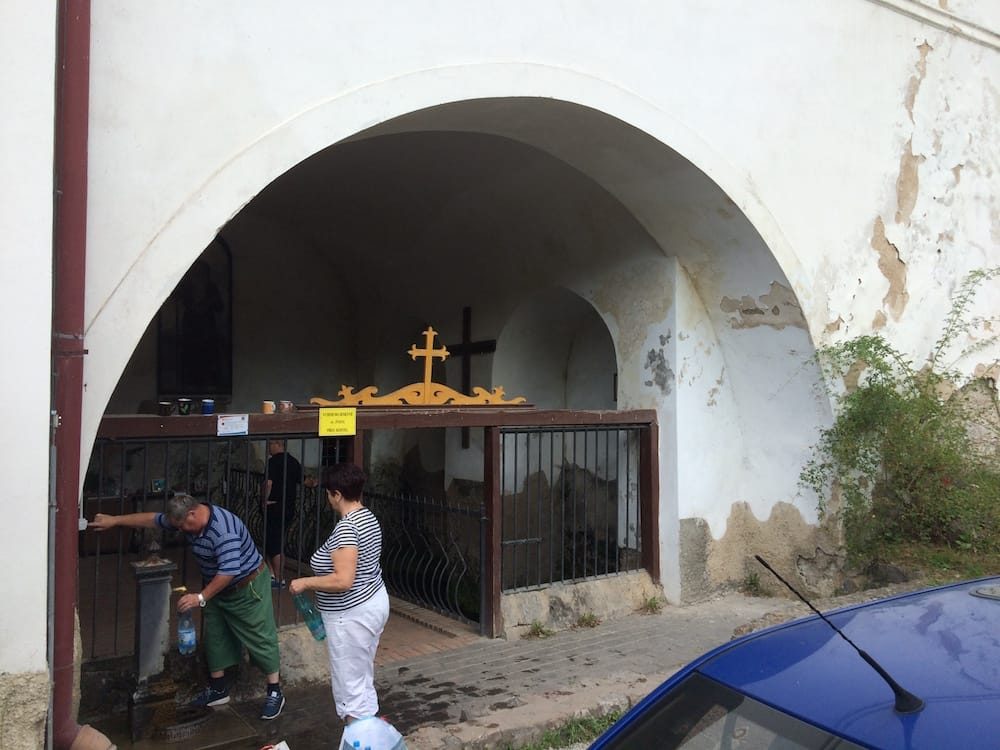 And what a wonderful creek it was. We spent heaps of time here and when it was sunny it felt like middle of summer. The kids built a dam. We could hear some tourists every now and then, and people filling up their water jugs, but no one came down to the creek to join us.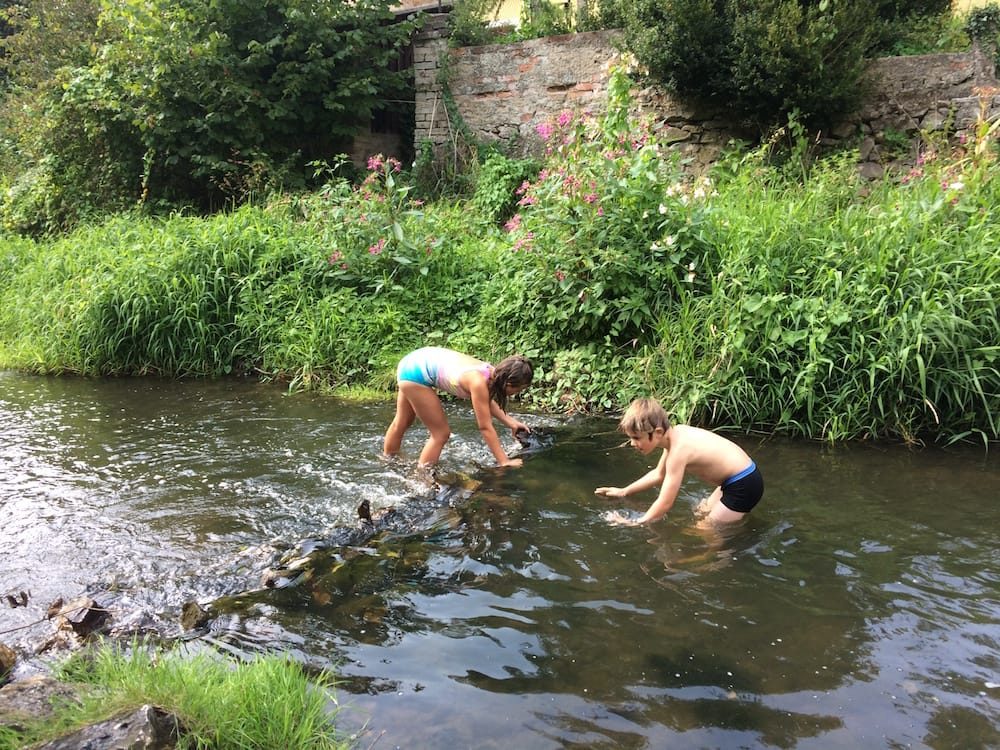 The view of the church from the creek.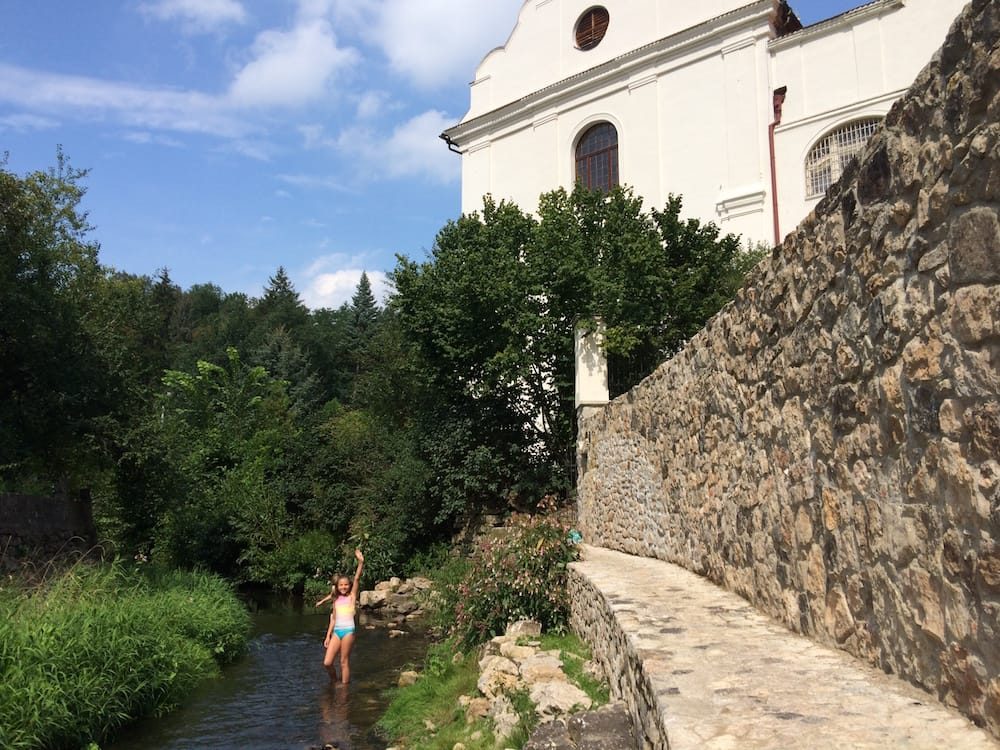 Heading back to Beroun was no easy task, we forgot to check how many buses there were on a Monday, and there were only two, one at 7am, one at 12pm. We left Svaty at 10am hoping to catch an earlier bus, but it didn't really work out that way, but we caught a different bus anyway so it all worked out. I loved the concert posters on this bus stop. It was a bit run down, but the shade was welcomed after our long hot walk (an hour and a half/two hours).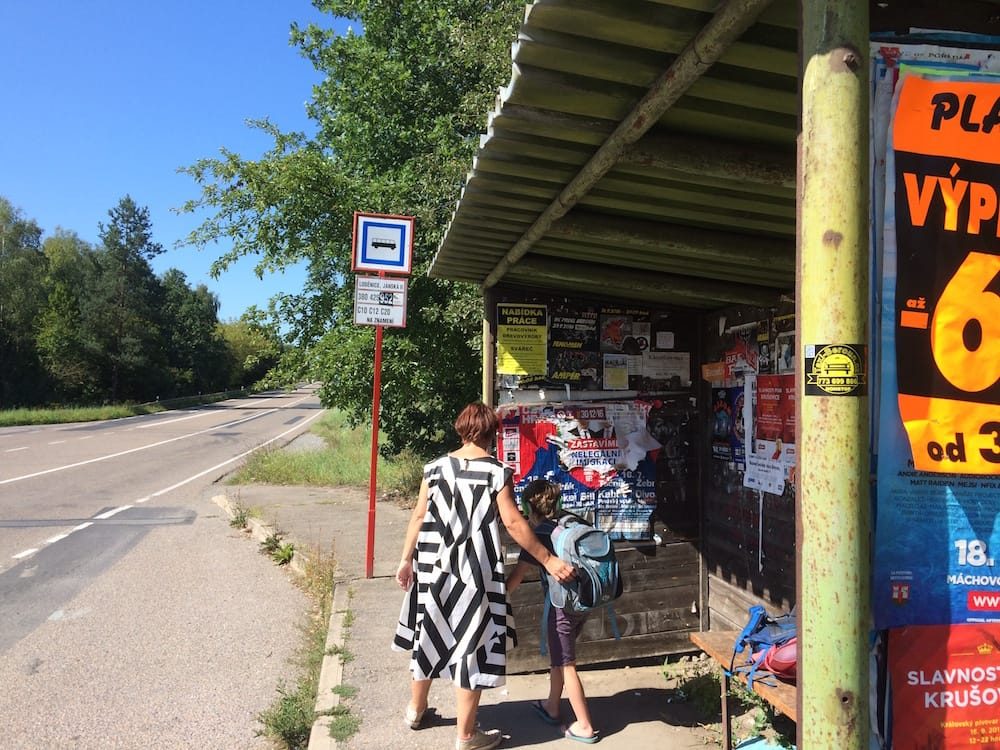 Every morning and night the sky gave us a show, it only rained a few times and the rest was pretty ideal summer weather.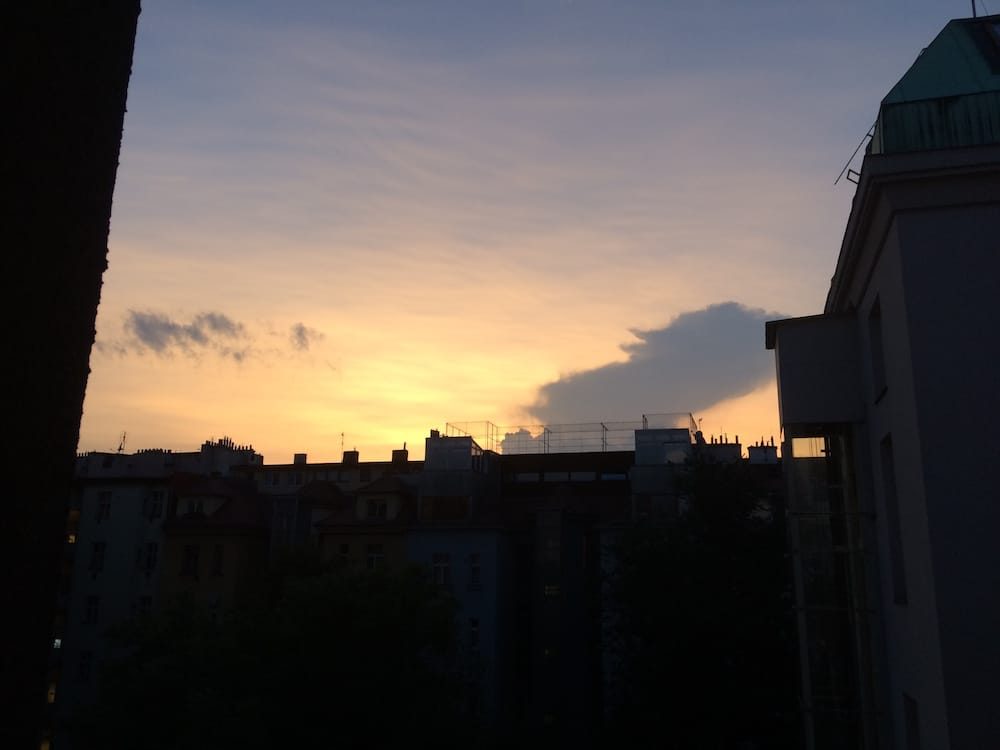 I always get wistful when we leave a place. Prague was a wonderful, calm place; the sort of place you could raise your kids. We were sad to leave our new friends, but happy we were headed to Scotland to see Culbokie, Tom and Robin and their dog and four cats. 🙂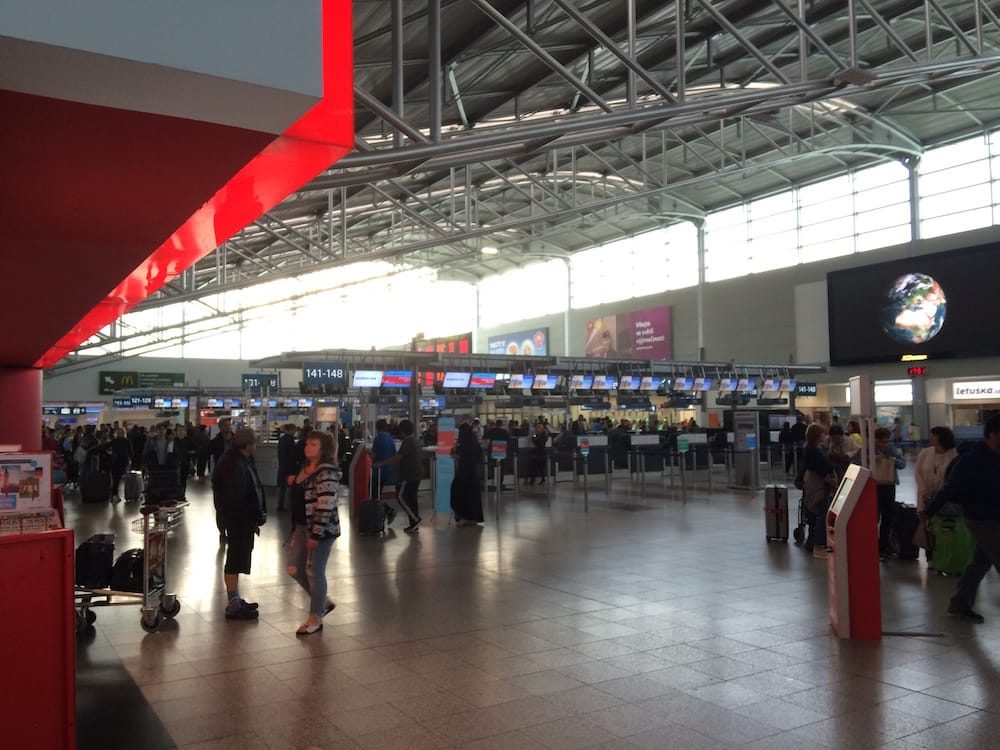 One last look down our street in Praha 6.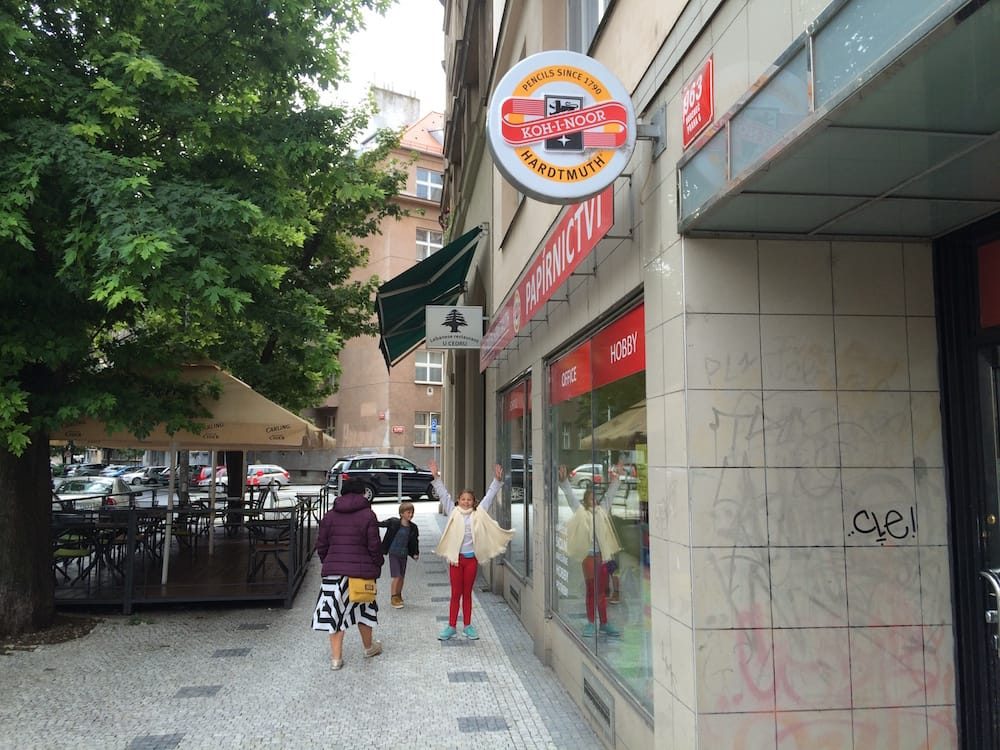 Some quick snaps of our Praha 6 apartment
Just so I don't forget, here's what our apartment looked like. We were their second renters so we scored an awesome deal, but the price will be going up now; the neighborhood is stellar but suffering from sticker shock of late. Bye apartment!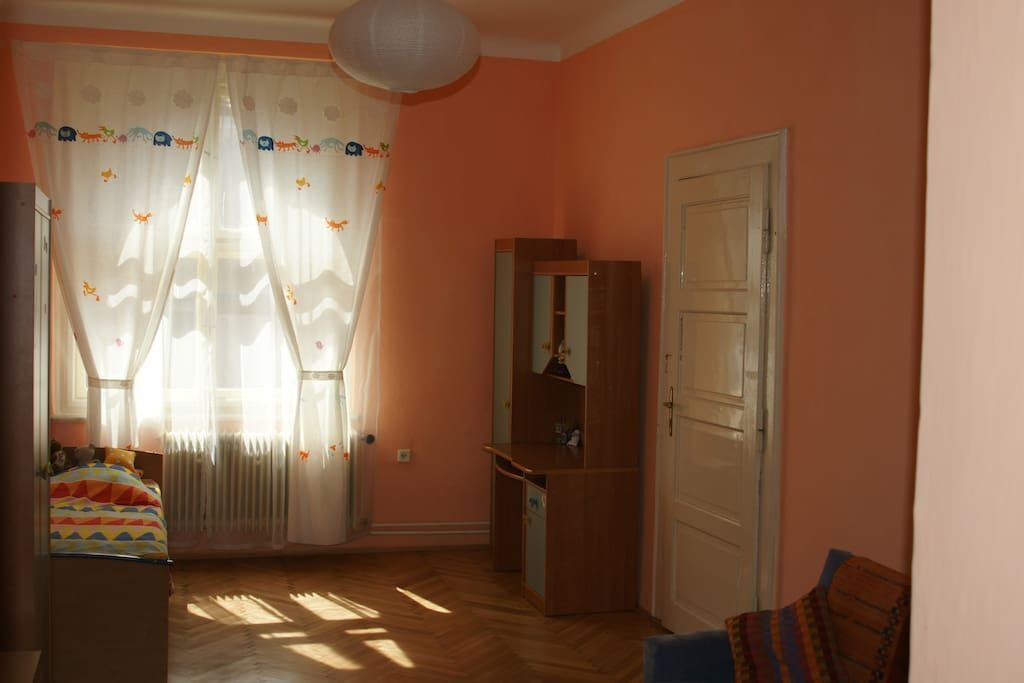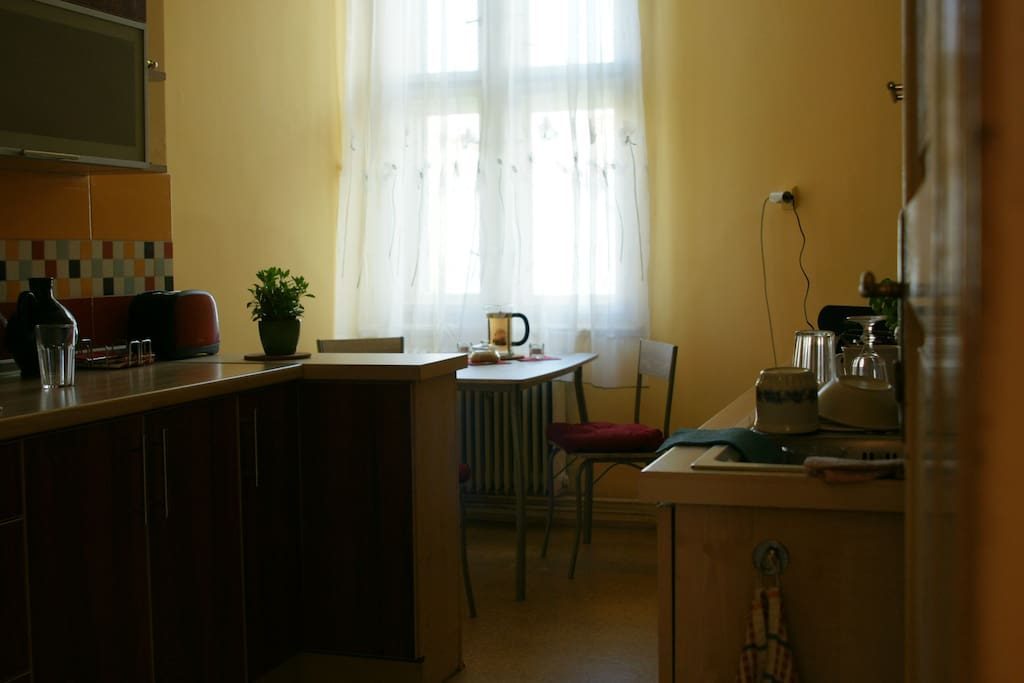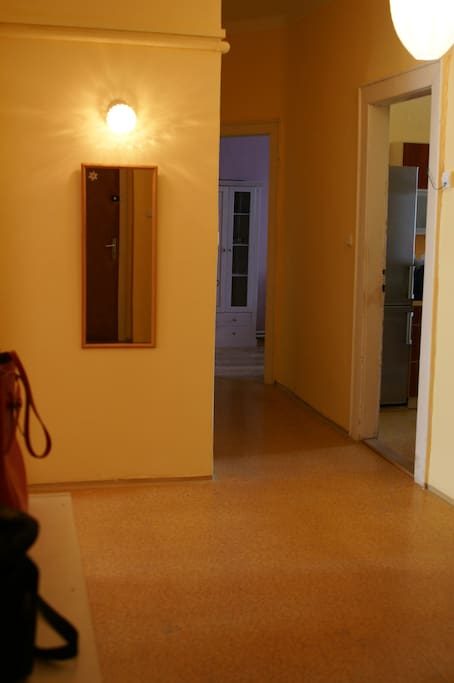 The following two tabs change content below.
Latest posts by Nathaniel Flick (see all)