Across the street from Hubud is the Sacred Monkey Forest and we are here on the weekend having a wander. It's sort of reasonably priced and I'm excited though not 100% sure what to expect.
Though it's quite far back from the main road, its monkeys venture out to the streets on either side of the park, and they are used to being treated well – they are a sacred animal here in Bali.
Near the entrance you can buy bananas to feed to the monkeys.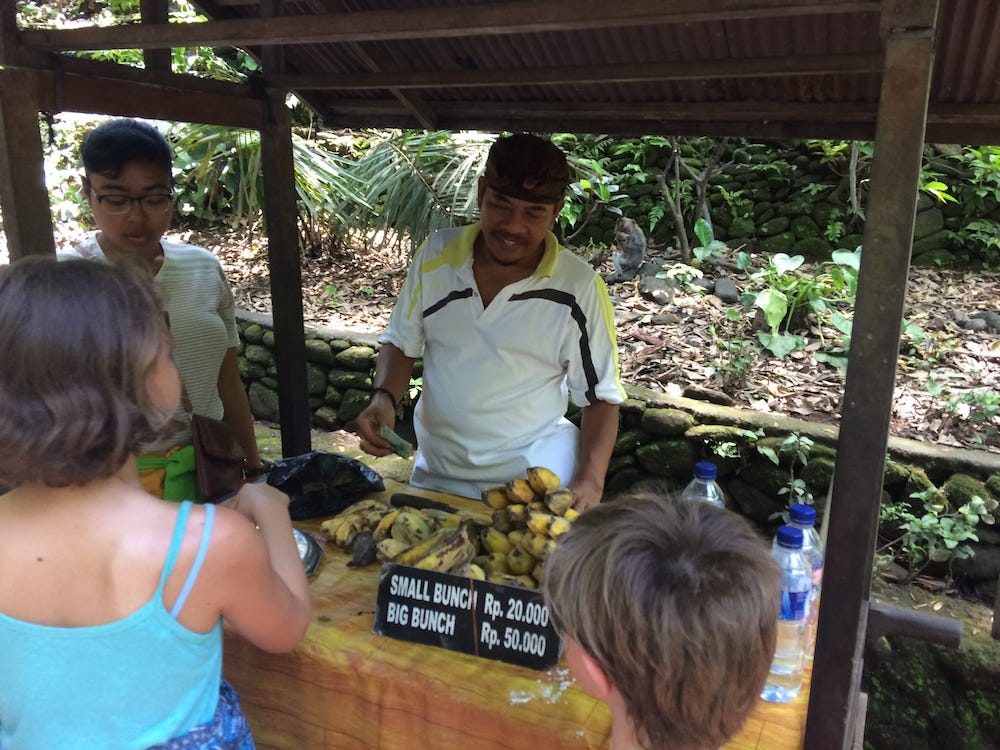 And sure enough nearby there's no shortage of monkeys: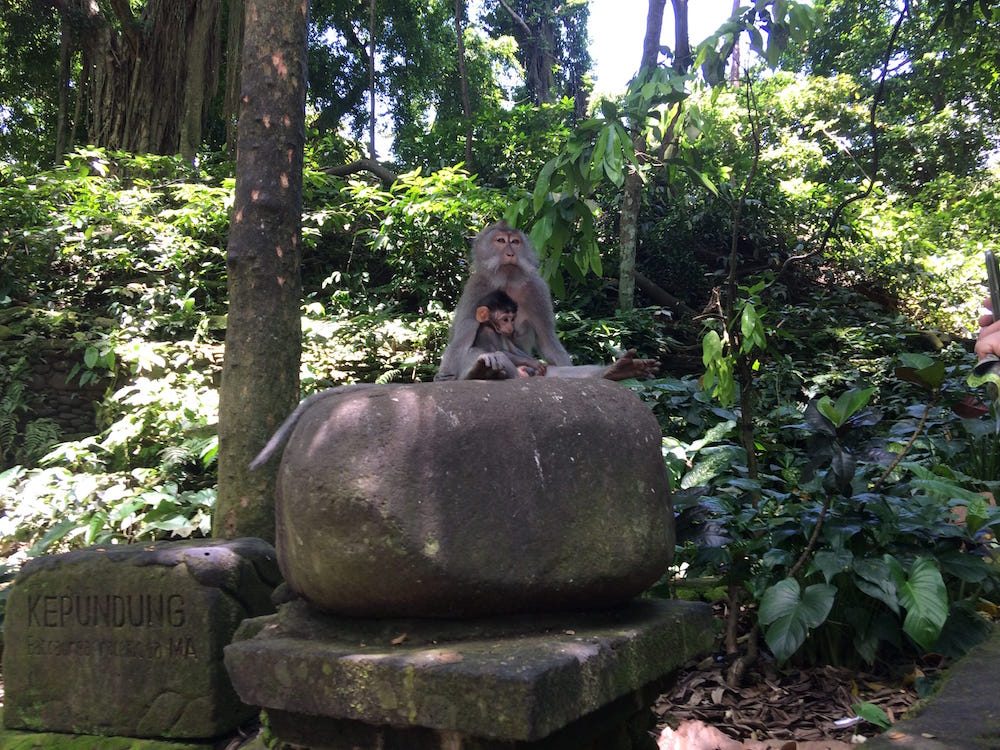 Though not recommended we had them climb on Alice without feeding them. I think they stayed chilled out because they knew going in that we weren't teasing them with their favourite sweet, yellow fruit.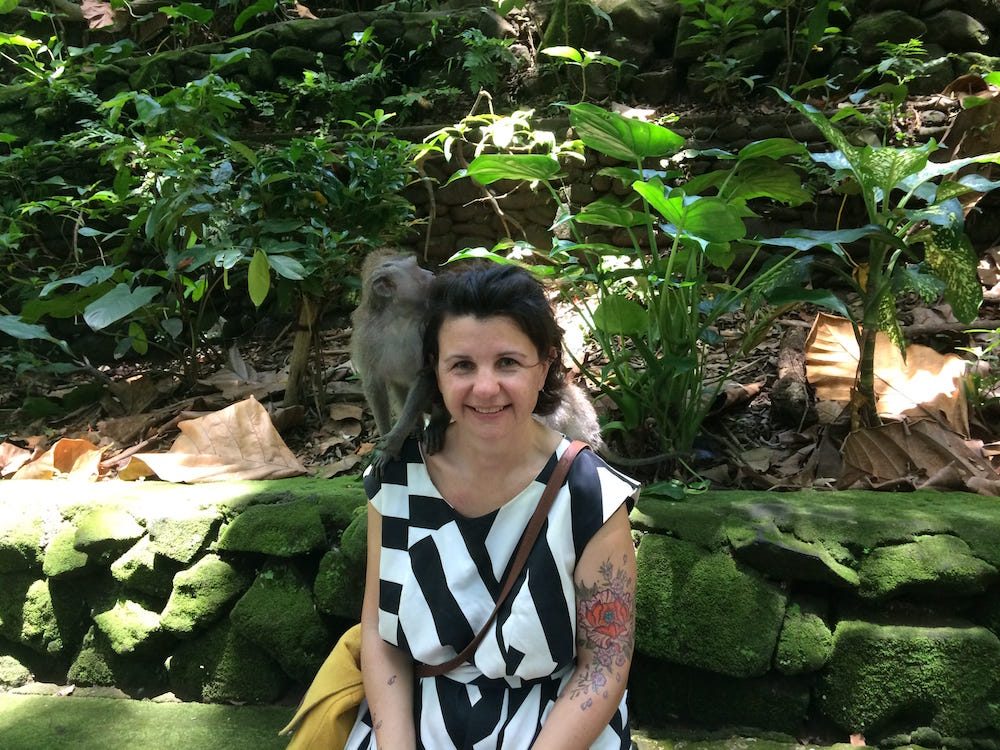 There's a path around the forest which winds enough so that you can't see the whole place. I like that, it has a lot of secret nooks and crannies. Look up and you can see the thick forest canopy: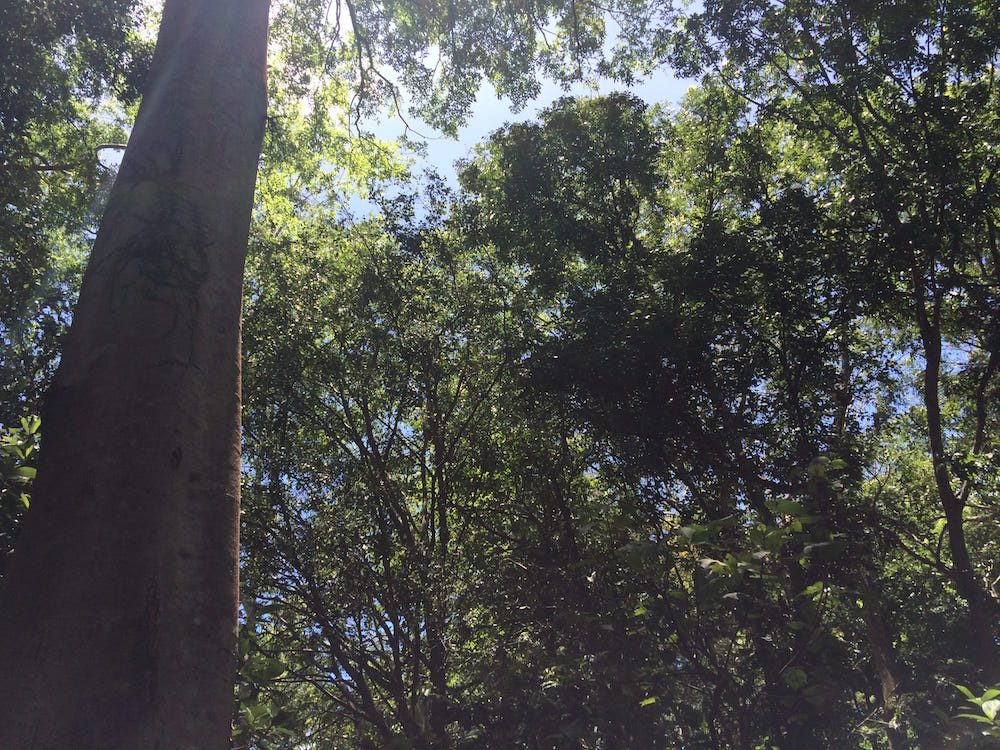 After a bit more walking we get to the centre of the forest and there's a huge temple with ample shade. These are common throughout Bali and are normally used for public resting spaces. You can even sleep at one like this, in any town, if you need to; it's a safe place to go when you're tired. I love this idea.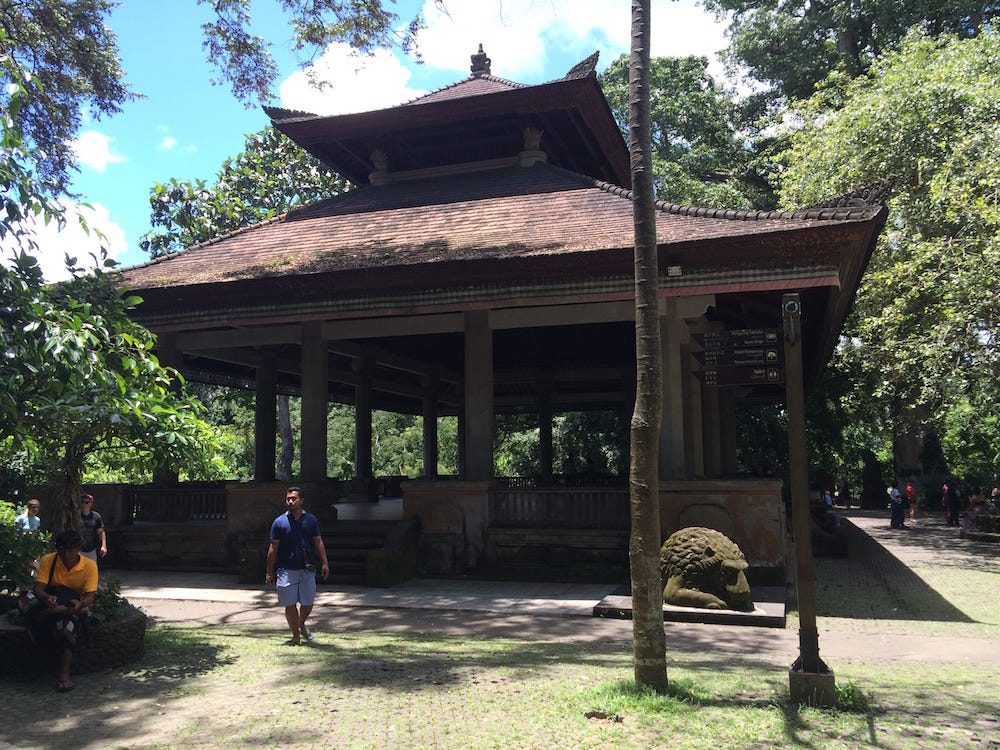 Next to the temple there's a shrine. We couldn't enter but we could get a great glimpse of the wall and the buildings right behind it. Everything is covered in green. We are here during the rainy season but apparently it's ended early so we've been blessed with sunshine.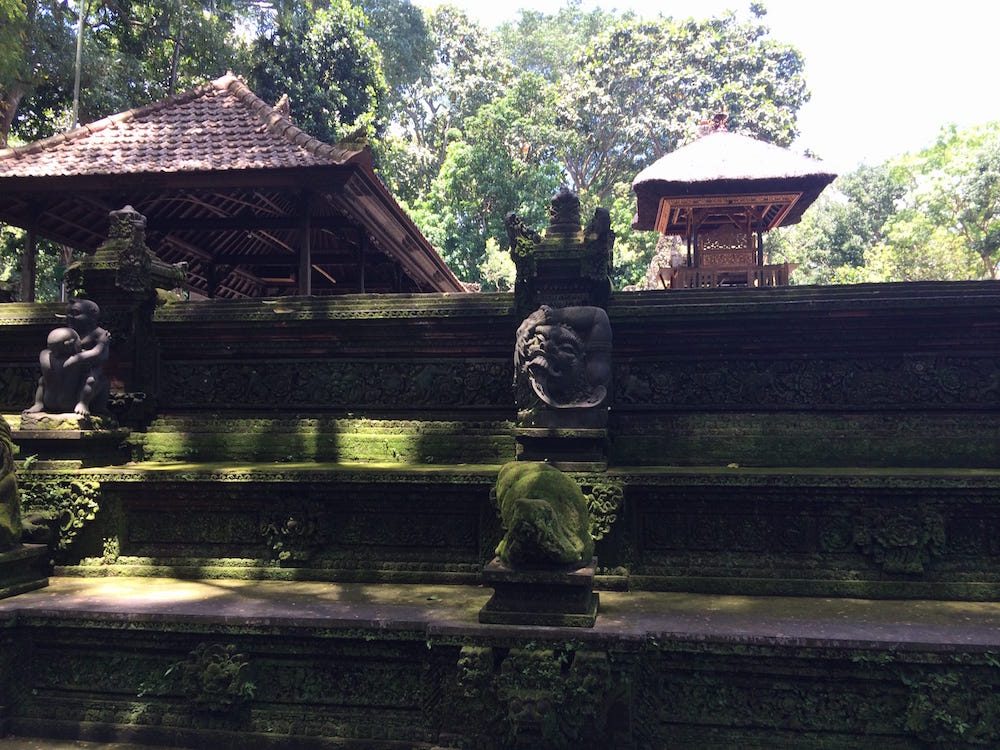 All around are constant reminders of Bali's Hindu roots. Doorways are always special, and are filled with an offering daily.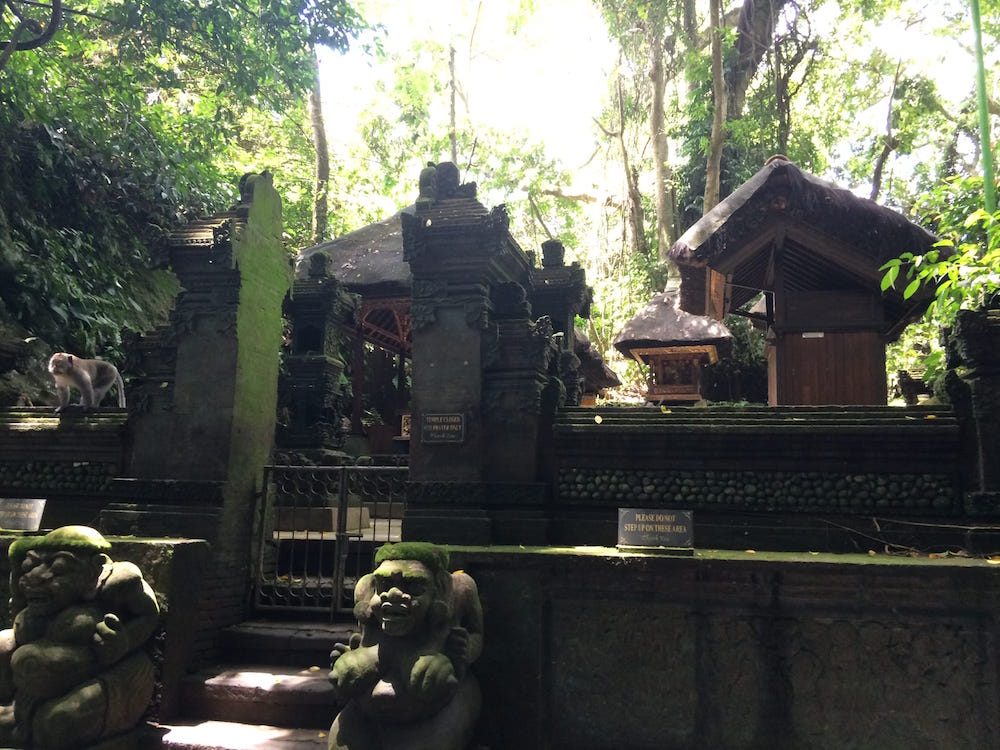 At the end of our walk, which included a walk part way up the river that cuts right through the middle of Ubud, we bought more bananas and a nice person there took our photo. This is a rare thing, we normally just take selfies.
Alice says the monkey's hands and feet felt very soft and dexterous, I agreed when he got to me and ate out of my right hand, outstretched without falling off. What a great time at the Sacred Monkey Forest; It's not something I ever planned on doing.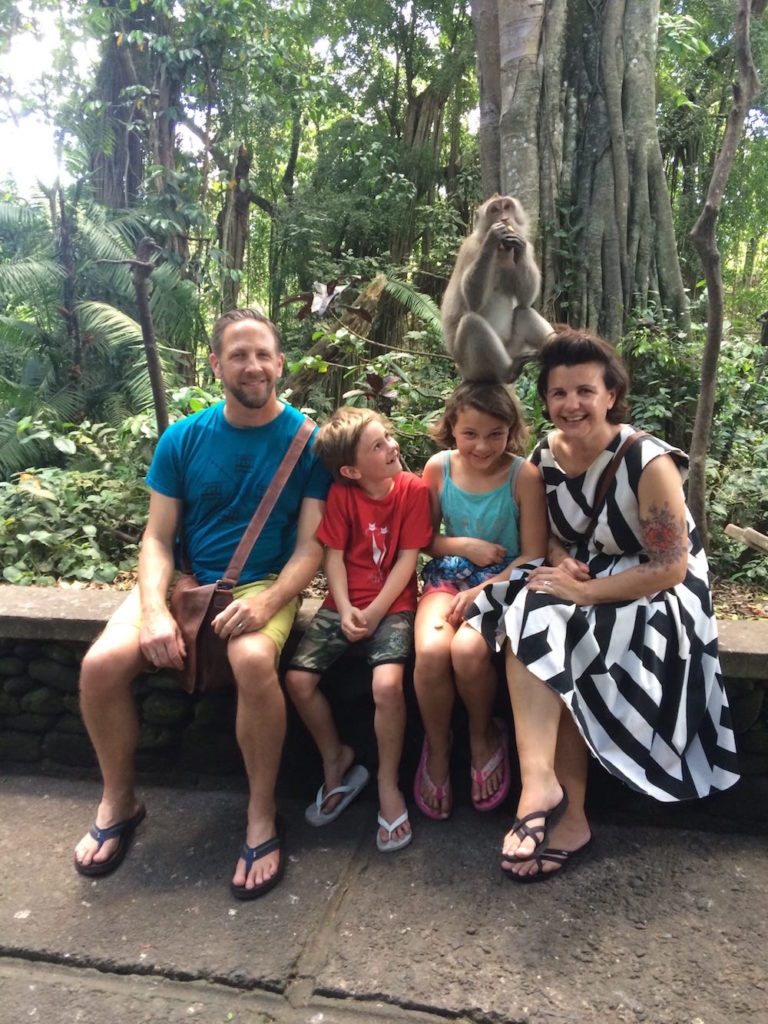 A quick side note – we are a silly family which means we make up silly things and act like kids every chance we get. Here we're on the bed on a Sunday morning in Bali, with nothing planned, making the "pork buns" face. My son made this up and imagine us all sticking out our butts along with our lips.
Ha. Pork bunz!!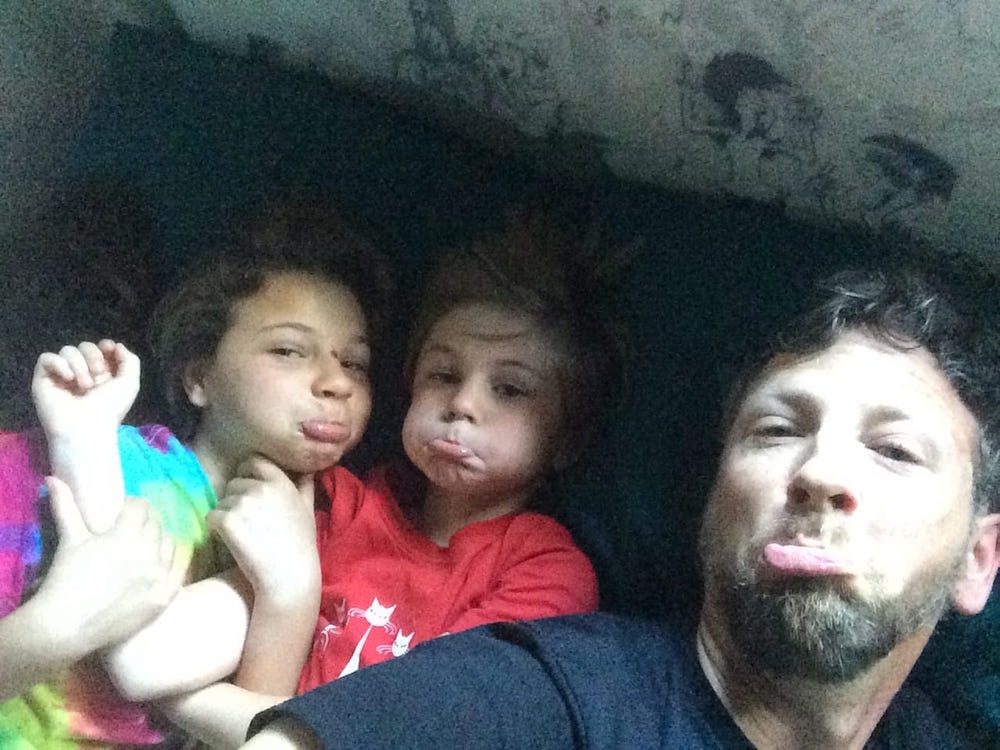 The following two tabs change content below.
Latest posts by Nathaniel Flick (see all)