Let's take a day trip to Perast, home of The Church of Our Lady of the Rocks, maybe we can go see it? Alice says as we walk out the door for our first weekend adventure.
Here's more about Our Lady of the Rocks. The story goes that over a hundred years or so sailors would pass by this island just below the surface of the water, hazardous for them, and throw on top stones or anything extra they might have had on their ships.
In this way an island was born in homage to ships, it's even in the shape of a ship. People get married here regularly, and the silver offerings (normal for a Catholic church) are plentiful here. It's a special spot!
We take the Blue Line bus from Kotor to Perast (chitiri karte molim! Four tickets please.) and hop off the bus, greeted by a slightly scruffy gentleman wanting to take us across on his boat. Remembering Italy you never go with the first person who approaches, so we kindly backed away and walked up and down the coastal walk, which was pretty well deserted. We found a nice boat driver who offered to take us for the same price, on a boat that was much nicer, so a win there.
On the way we were treated to a great view of the entire bay and also looking back, a great view of Perast itself: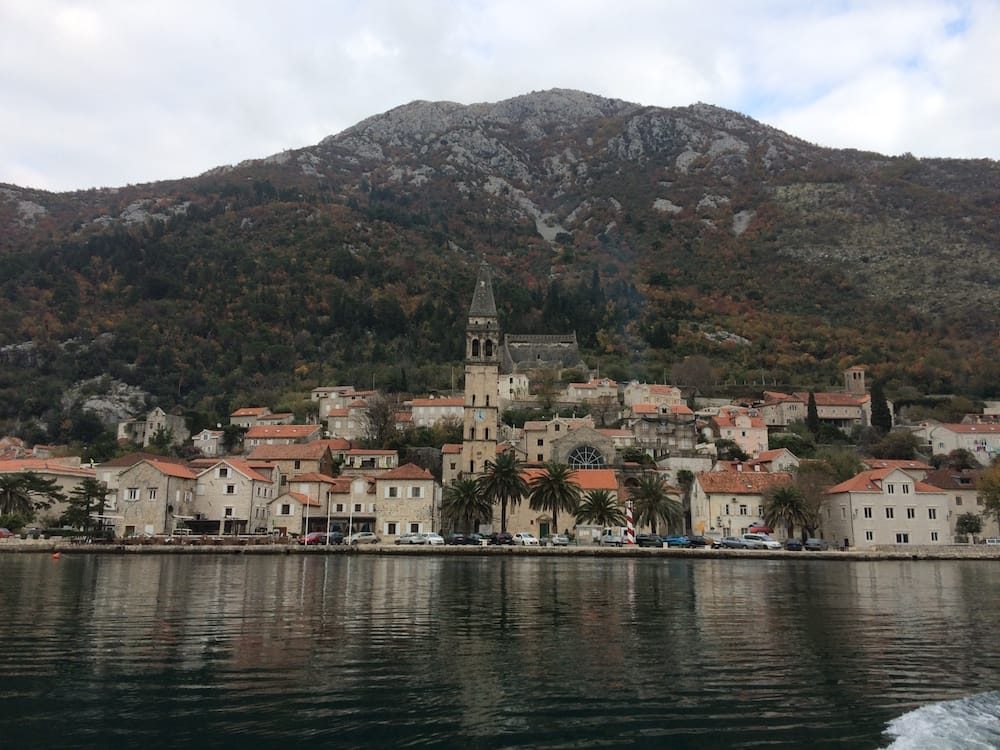 Here you can see us not quite believing that we are going to actually be able to get to The Church at all. Since it's really offseason we're thinking it can't possibly be open, serving no one? But here we are, speeding toward the island.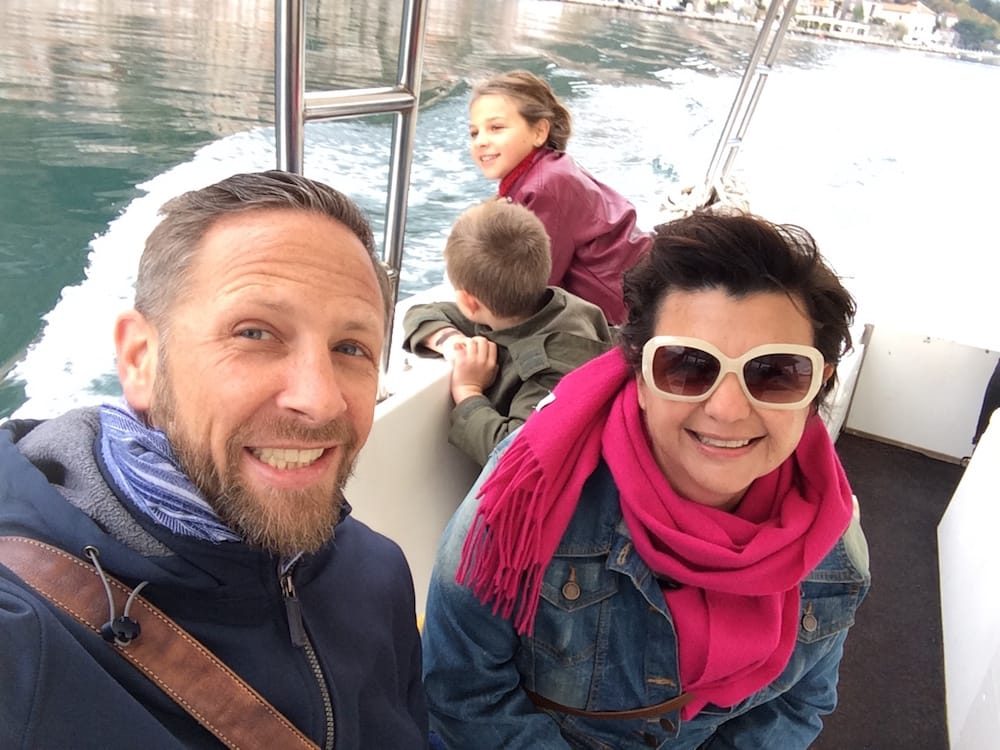 We are informed we have thirty minutes to enjoy the island (grumble) but that the guided tour starts in a few minutes (yay) for only 1 Euro each (always keep some Euro coins for things like tours and toilet stops).
Look at this beautiful door! Pefect colours, classic styling, history and mystery all wrapped up in one door.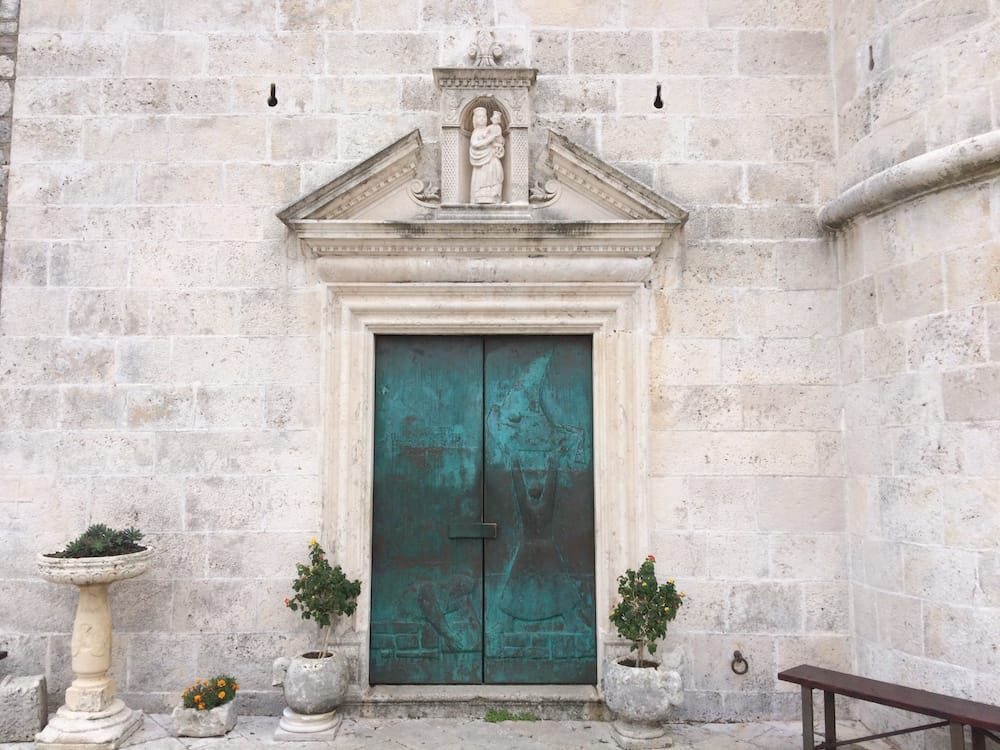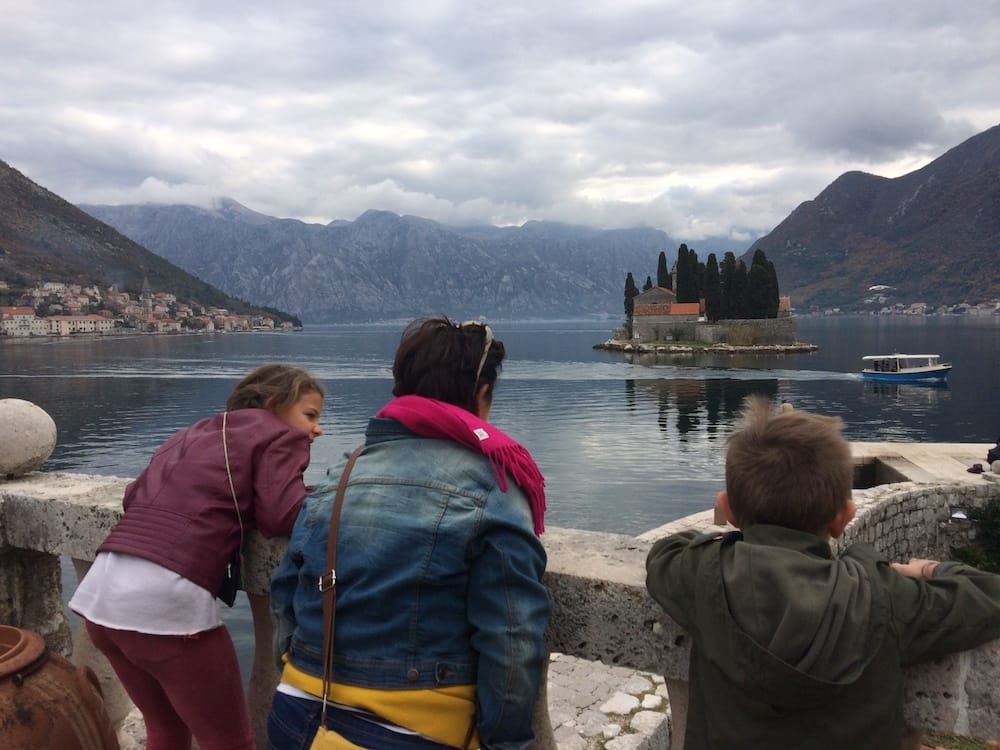 I couldn't decide if the views out the window or the artifacts inside were better, but I usually err on the side of mother nature for my decisions: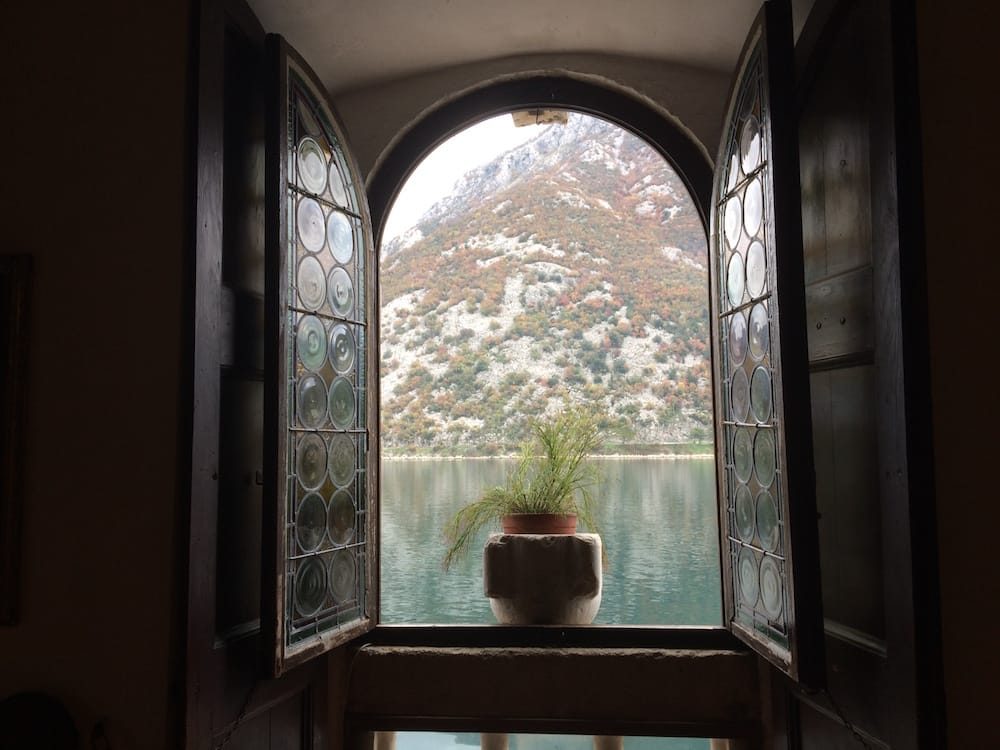 Stand back, to the edge of the island, and you get good perspective on this beautiful place. On the first floor there's a full time priest who serves as caretaker of the island, he lives here and you meet him at the beginning of the tour.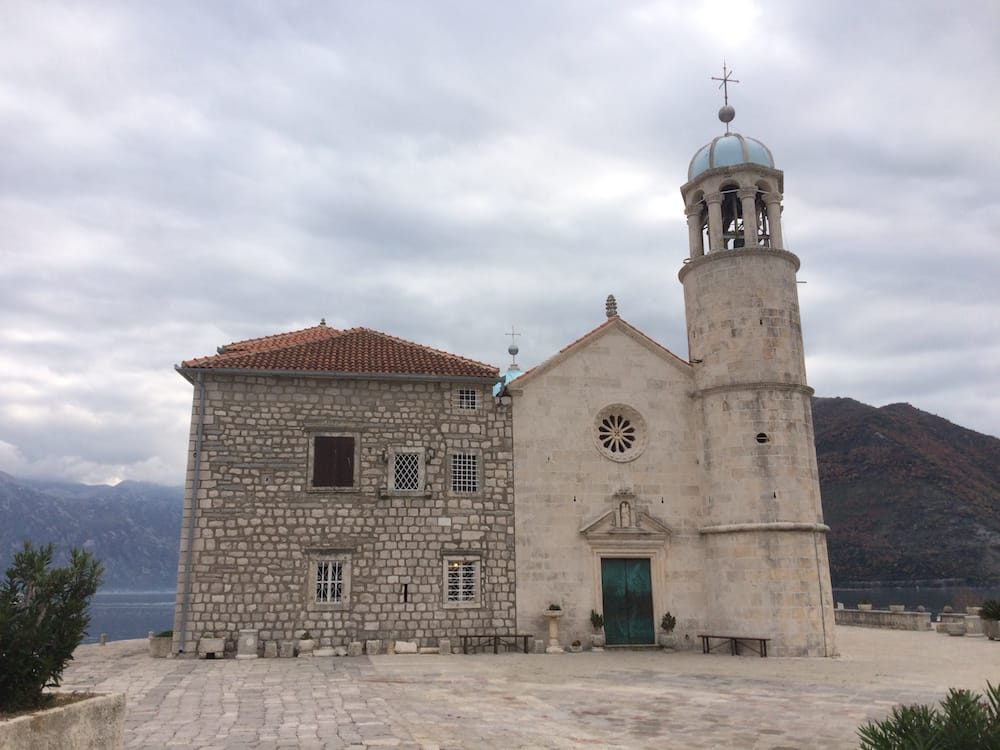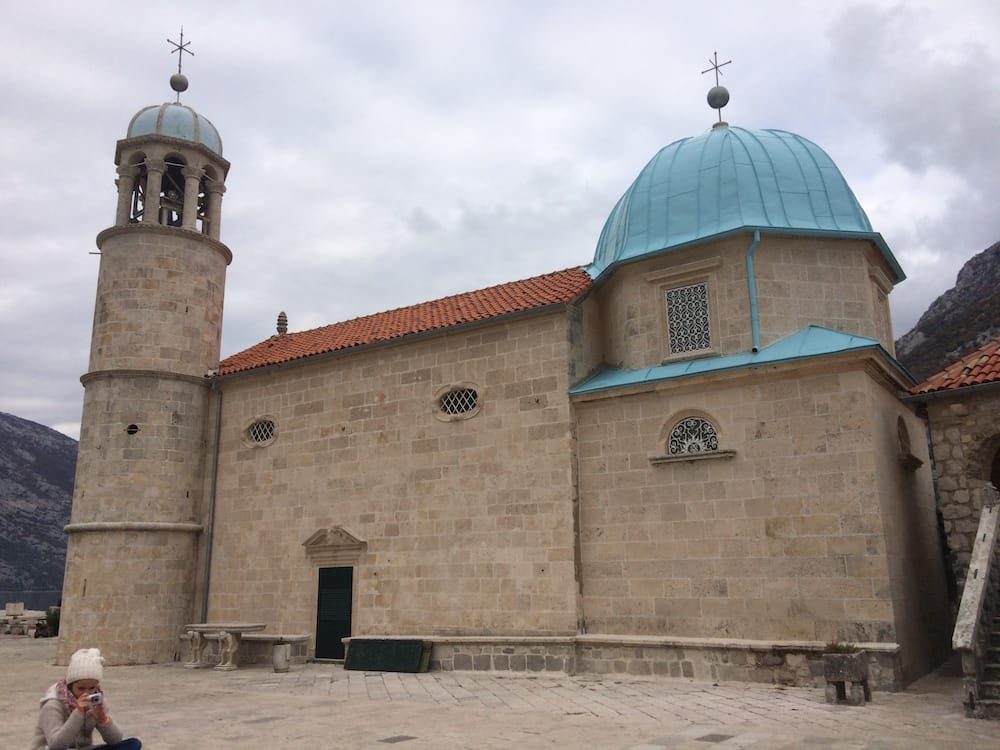 I've learned not to save paper tickets or anything else made of anything that's not bits and bytes, but I had to save the entry ticket and water taxi to The Church of Our Lady of the Rocks. They are cool mementos of our quick trip to Perast: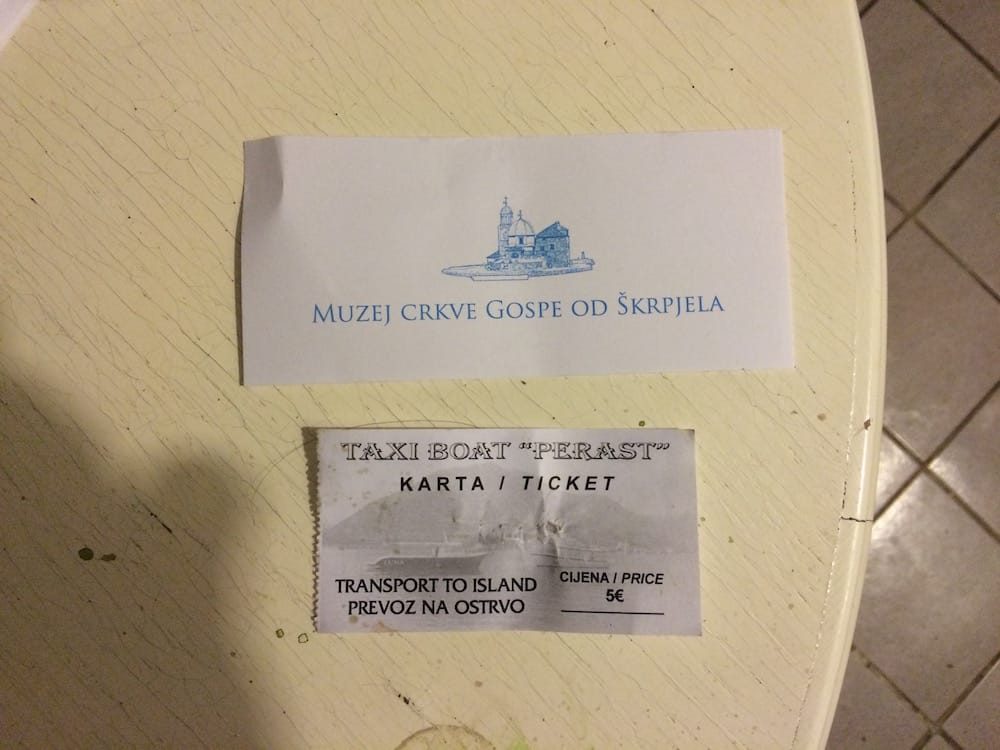 One thing we're quickly learning about the Bay of Kotor in general is that no one likes 50 Euro bills, but all the bank machines give them out. Seems a bit insane to me but a good thing to keep in mind (see my earlier comment about keeping a few Euro coins in your pocket in reserve).
The following two tabs change content below.
Latest posts by Nathaniel Flick (see all)