We got up early and down to the ferry terminal at the end of our street, and now we realise taking a boat over is the best way to go; avoid the crowds and rush and head across in style.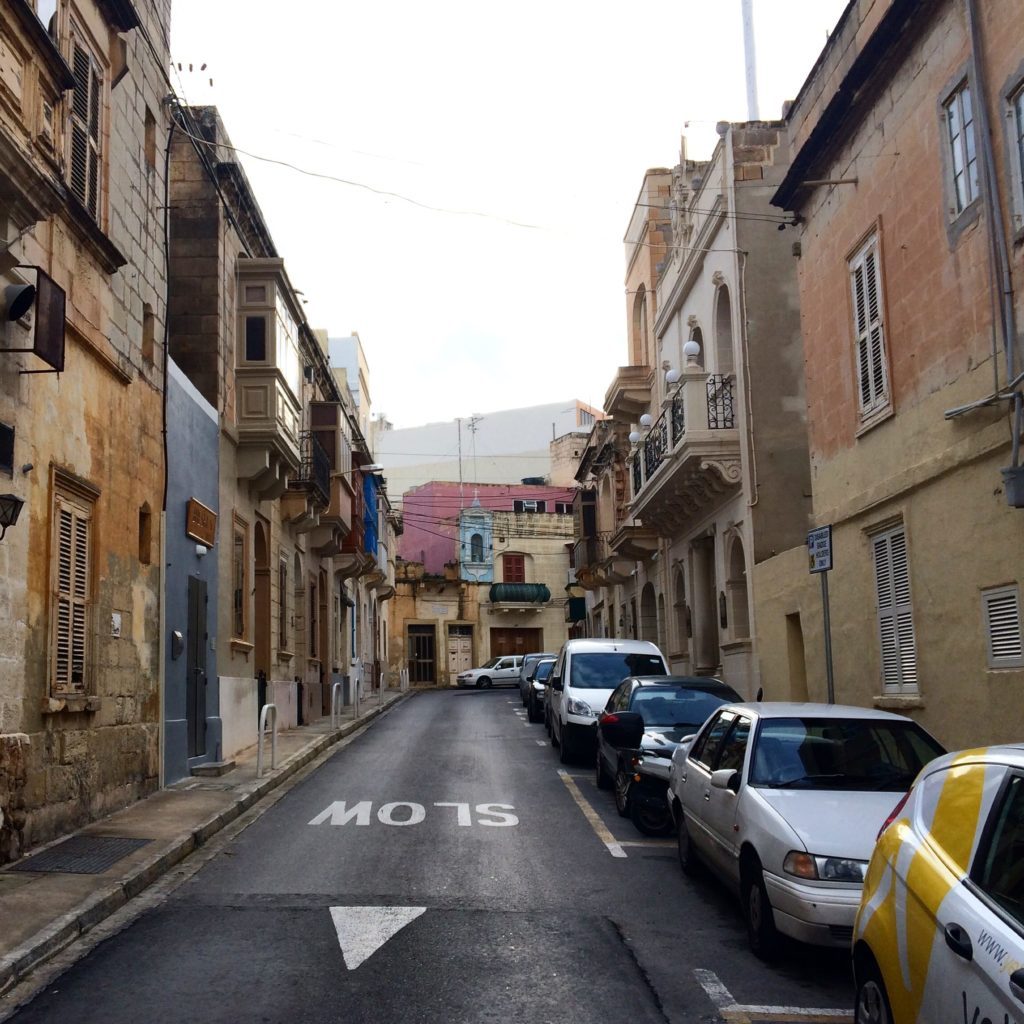 After a quick wander we got in line for Carnivale, it got postponed for a week due to heavy rains, and we weren't quite sure how it worked, but I went up to the front and asked (first in Maltese but everyone speaks English here and were SO helpful!), and was told to buy tickets at the front. Glad we asked!
We picked our seats and were treated to a sweet show, emceed by two students from a local school, I imagine, and they did great. I even understood a bit of it. Amazing what being in a place will do for your language retention and understanding.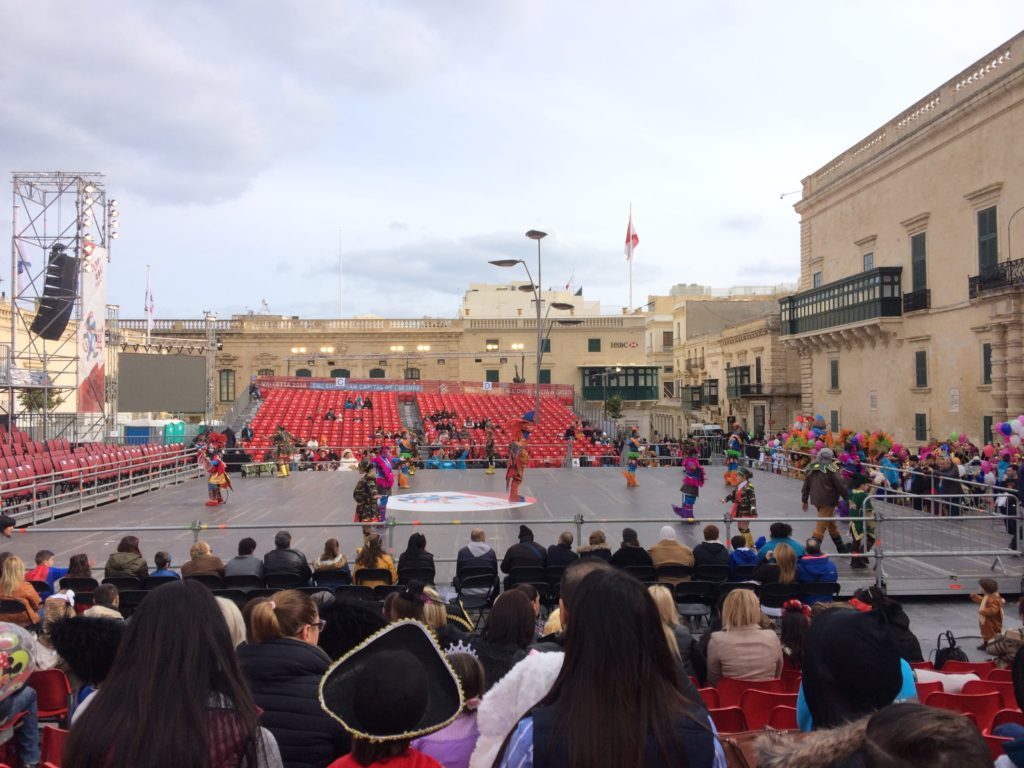 Lots of amazing costumes, everyone put heaps of time into theirs, and it really showed.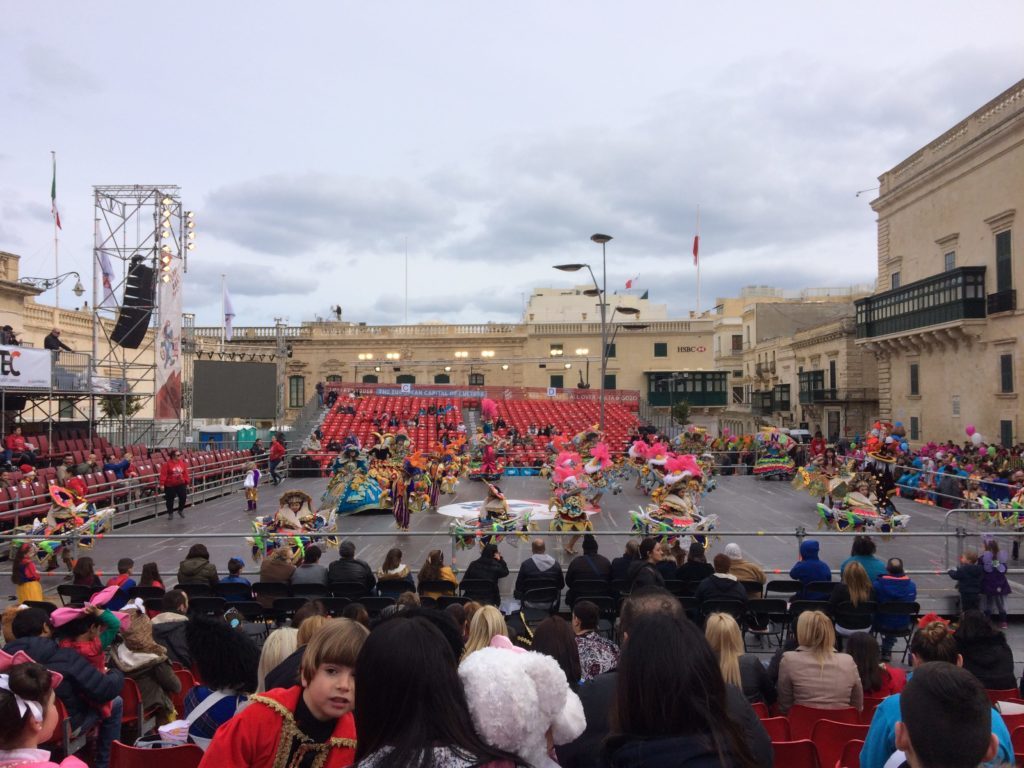 The floats were brilliant, here's one, the head moved from side to side: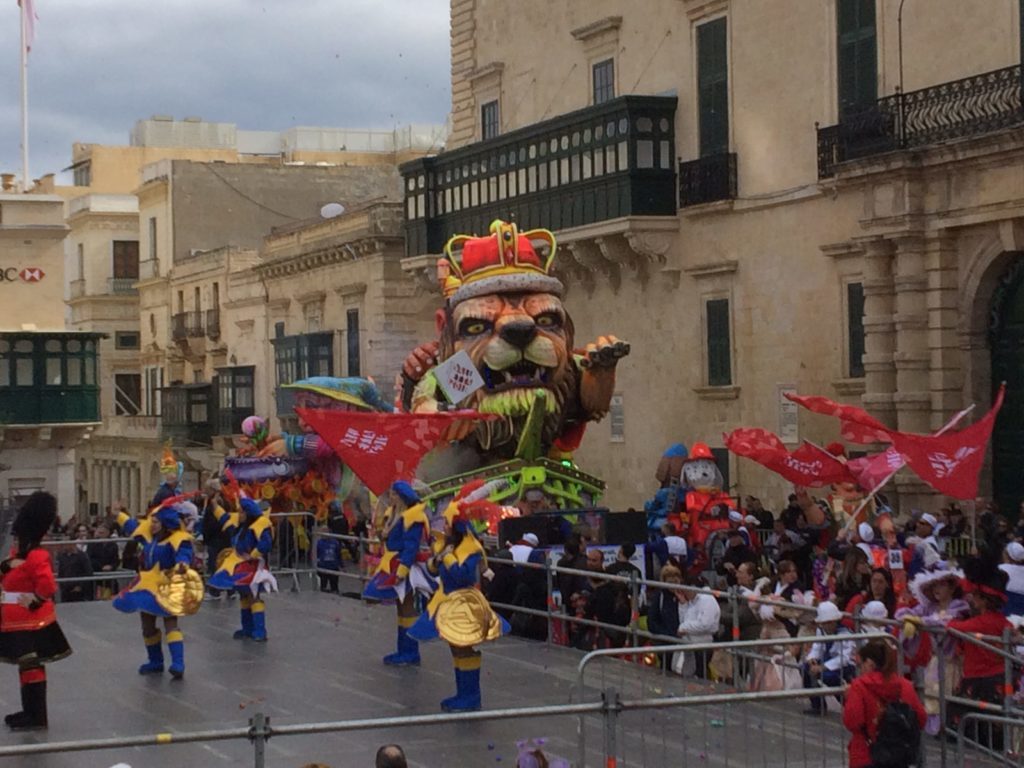 After we went down a street parallel to Triq ir-Repubblika, it's mostly modern shops but some Maltese souvenir shops thrown in.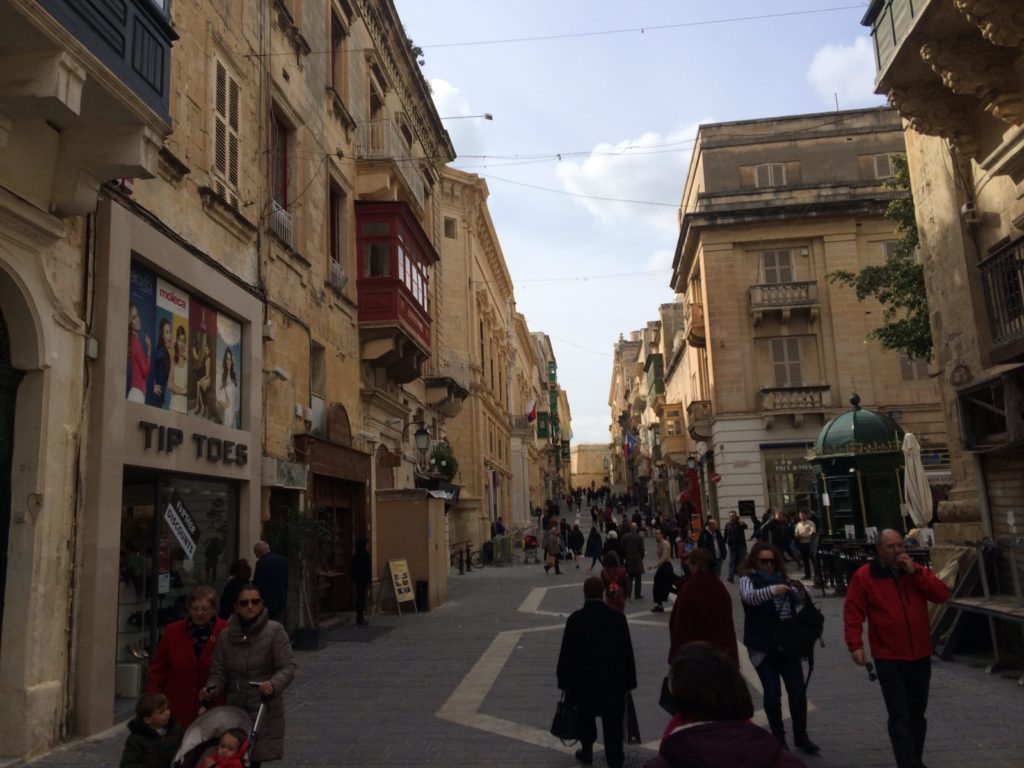 Back out to Lower Barrakka Gardens to take in the view and see a bit more of Valletta, you get a sense that Malta is an island stronghold, and its ports its battlefields: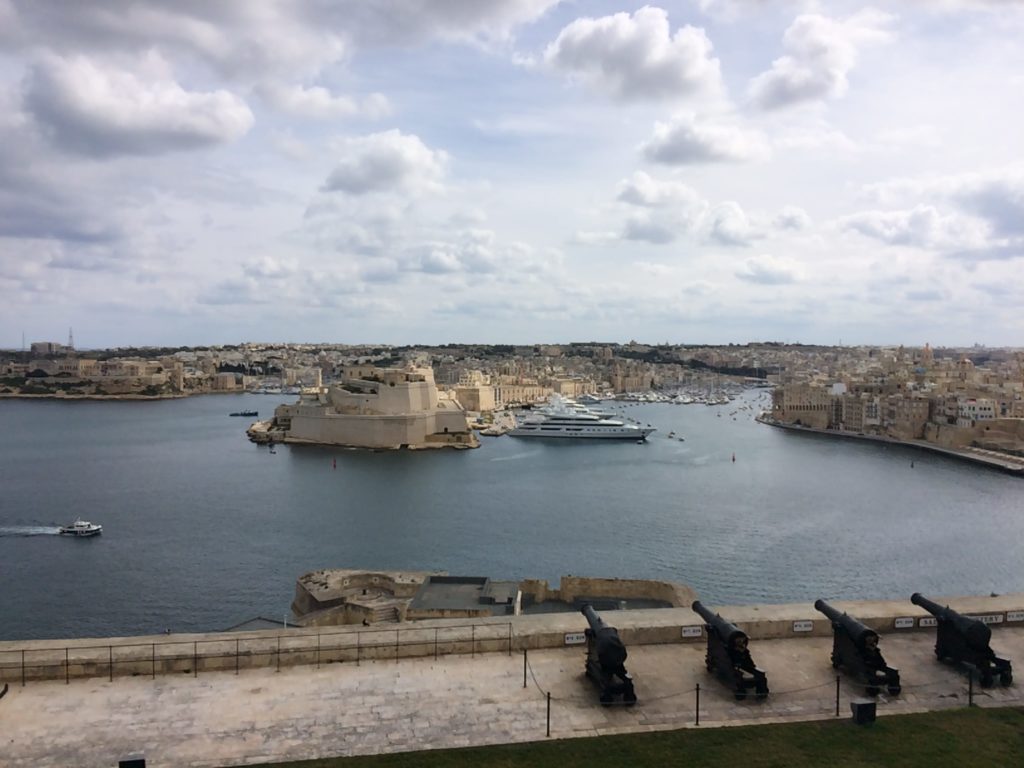 It's difficult to take it all in at once, there's so much to see in Valletta:

And looking back toward Valletta there are even more layers of fortifications: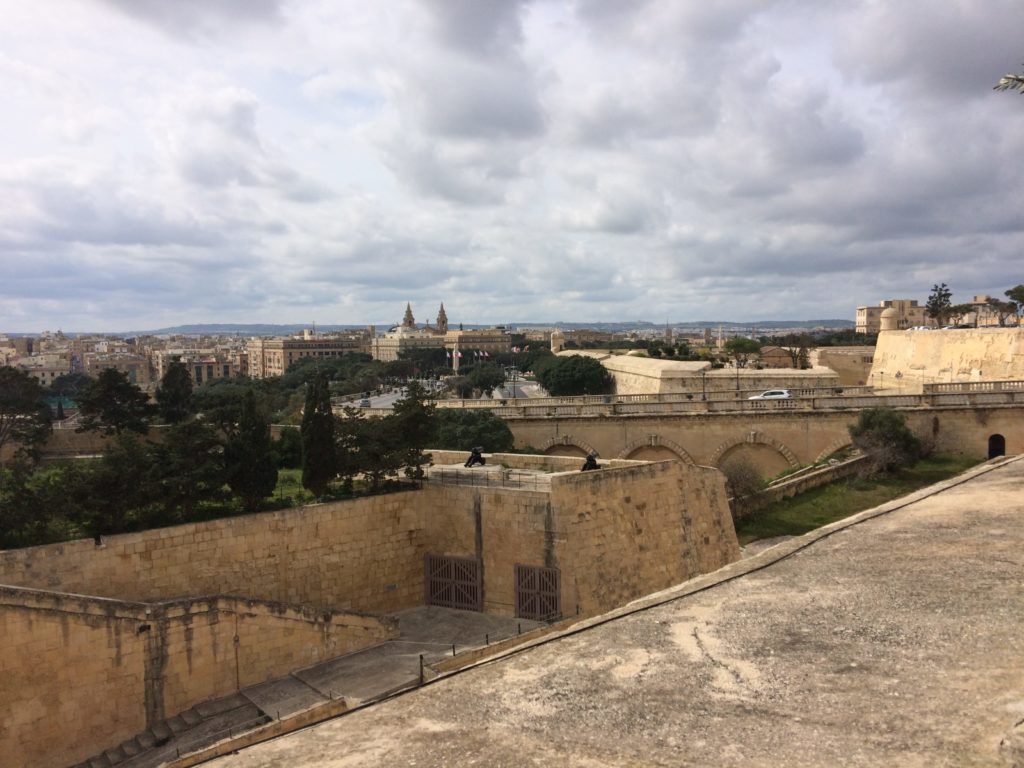 Walking back in from Lower Barrakka Gardens there's the courtyard holding the Auberge Castille and across from it the Post Office; we took a quick water break here. Lots people walking around now, the weather starting to warm up just enough to take our jackets off: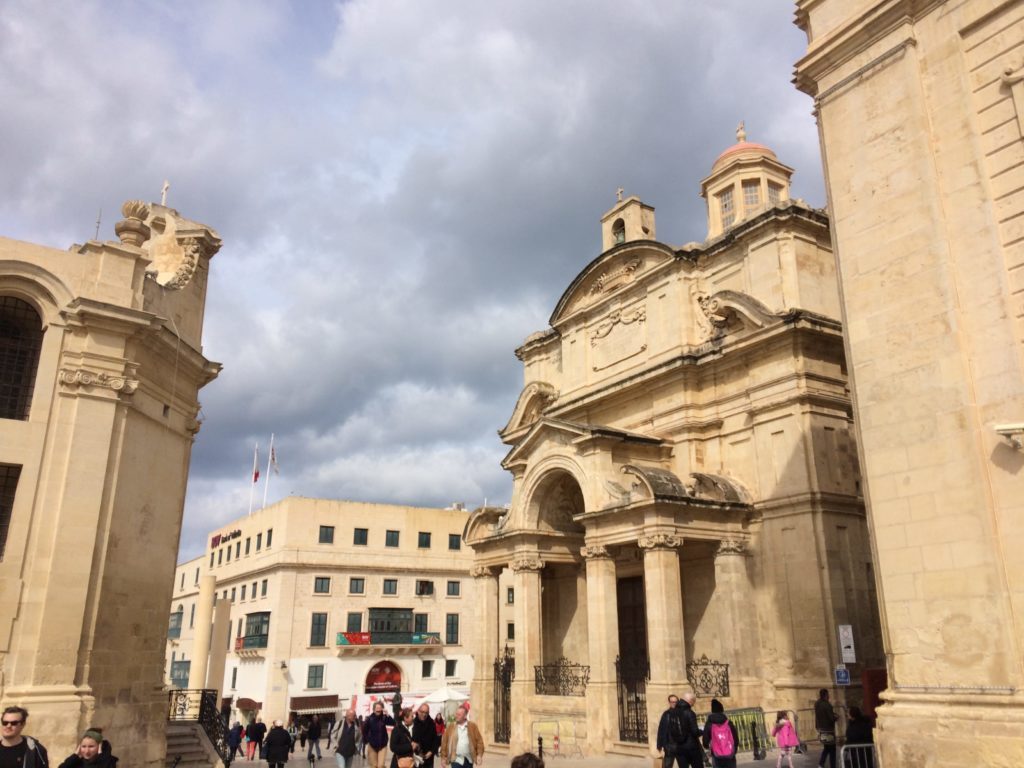 Almost back to the Triq ir-Repubblika and the scene looks ancient enough I take a quick photo. I love turning corners like this and seeing something new, something I've never seen before: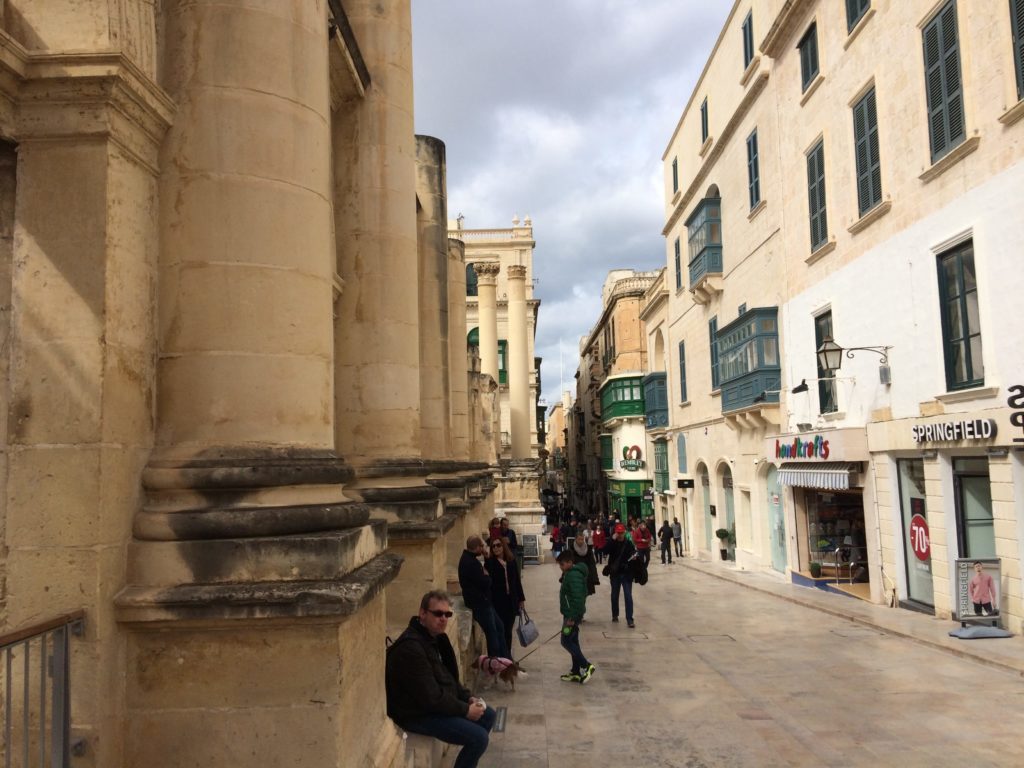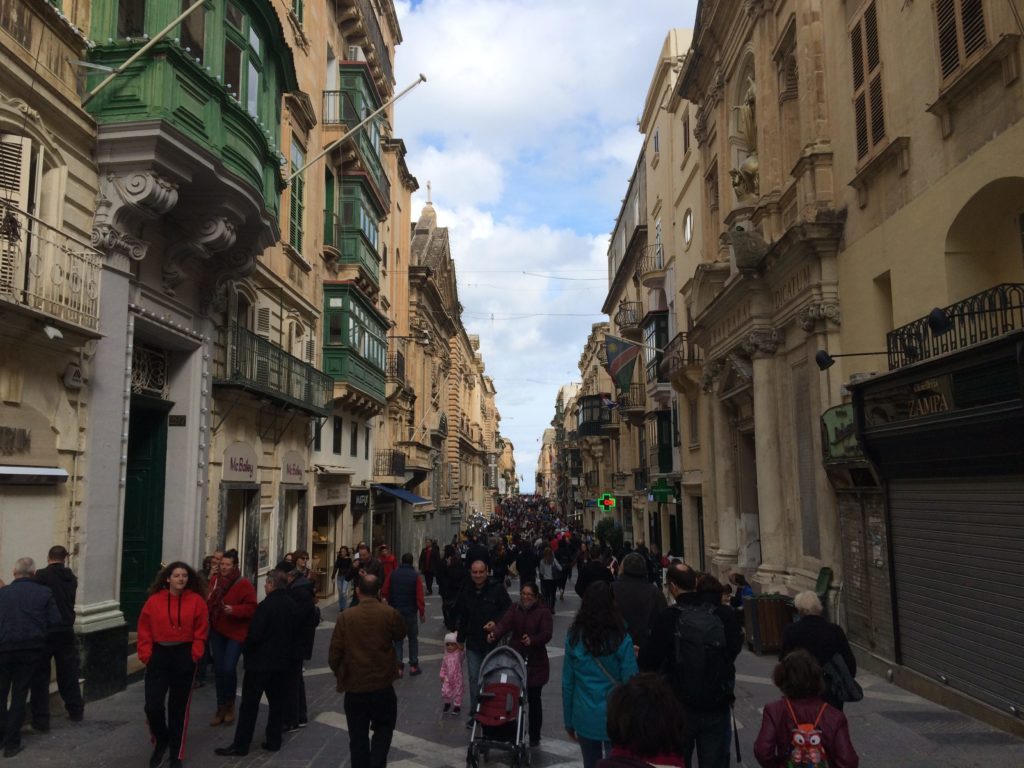 These apartment windows are iconic in Malta (I have a tshirt with these on it, and I haven't seen them quite like this anywhere else):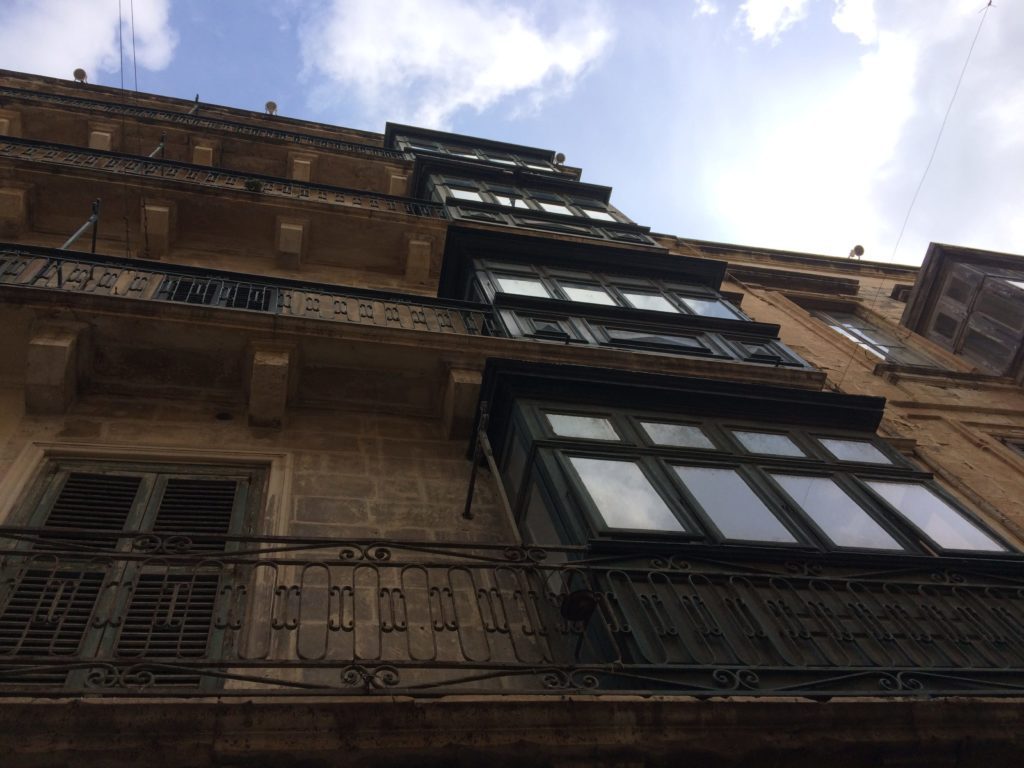 The Carnivale continued as participants walked up Triq ir-Repubblika in their ornate costumes. Unbelievably creative: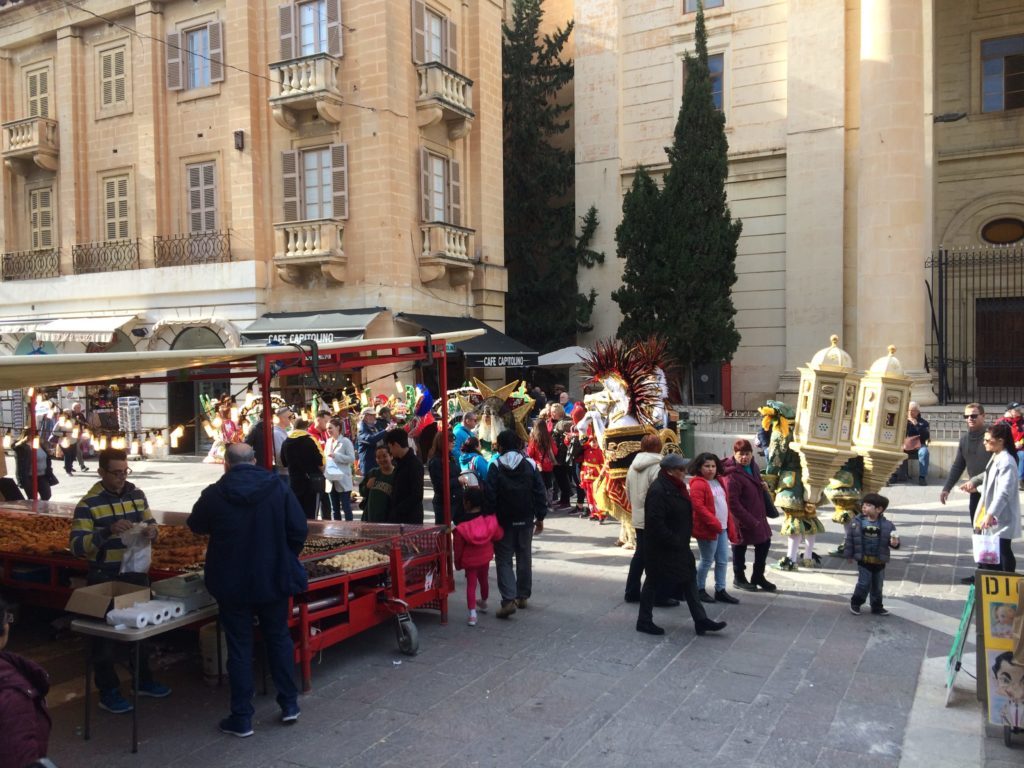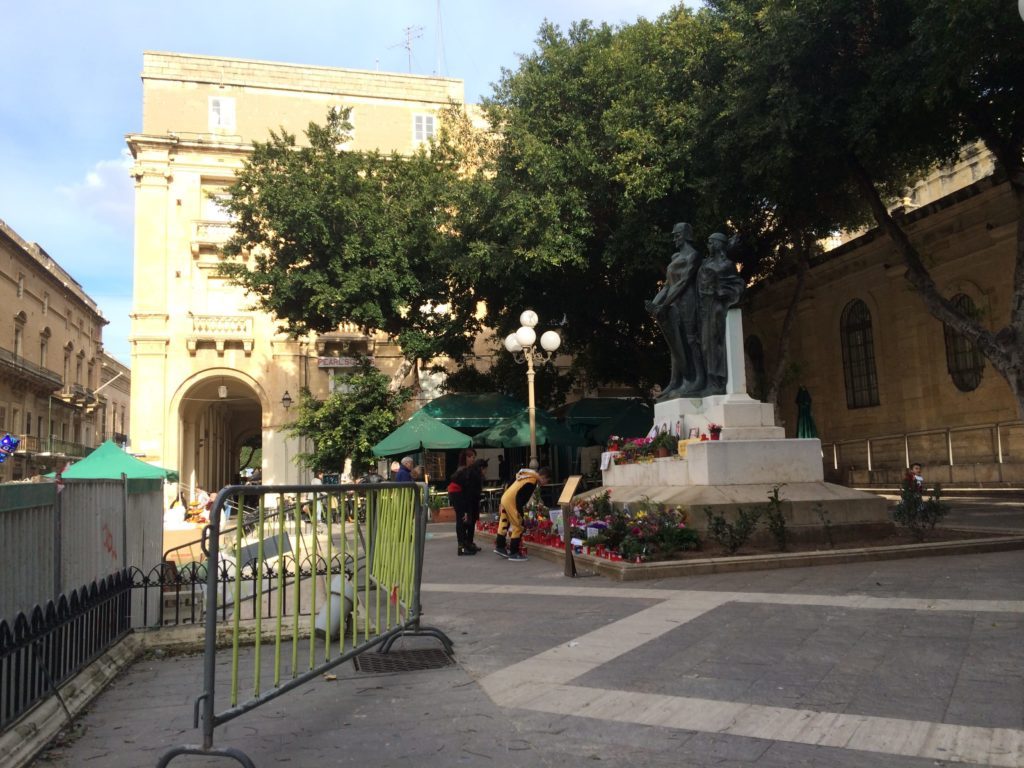 I love Guinness but this was so funny I don't want to forget it. The reappropriation of a huge brand back to a local purpose. Craft beers are good because when done right they can represent a place: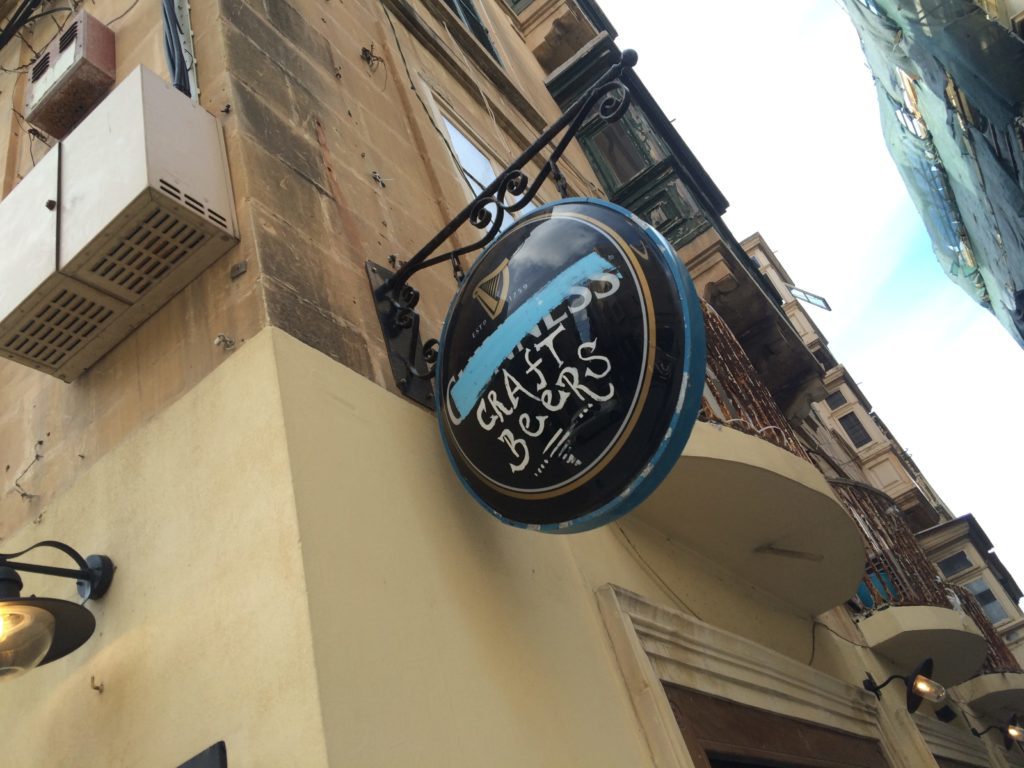 Statue niches are all over Malta and there were many ornate ones in Valletta, here are a couple, stop to meet a friend here or pray and receive an "indulgence" for a certain amount of time afterwards: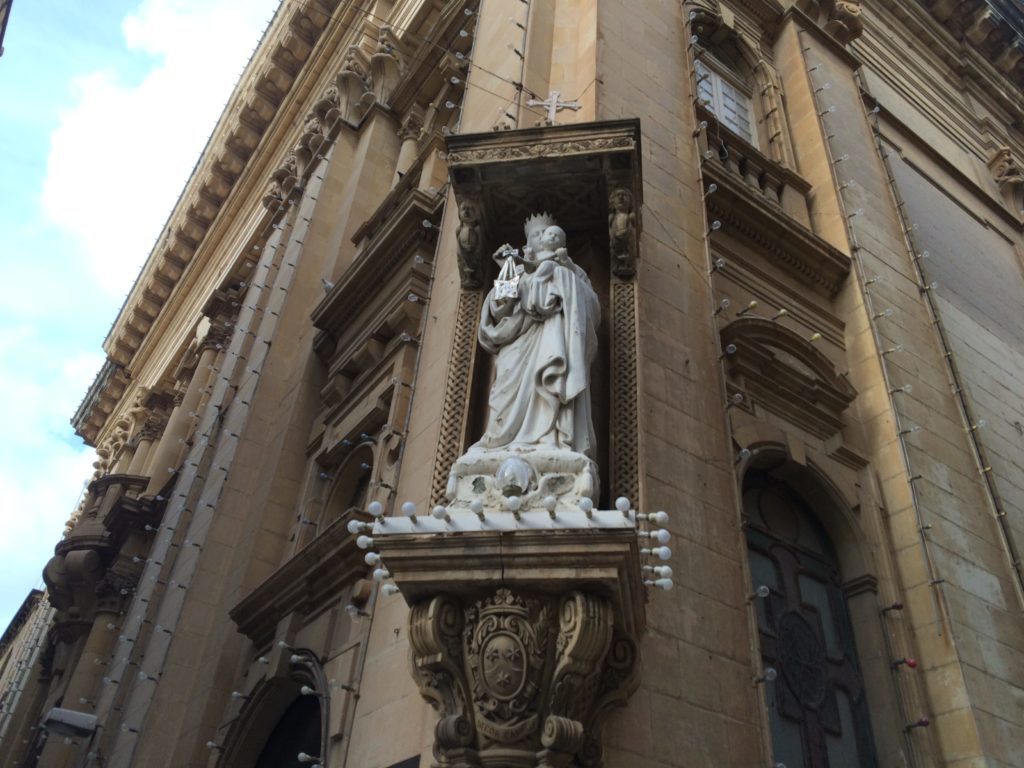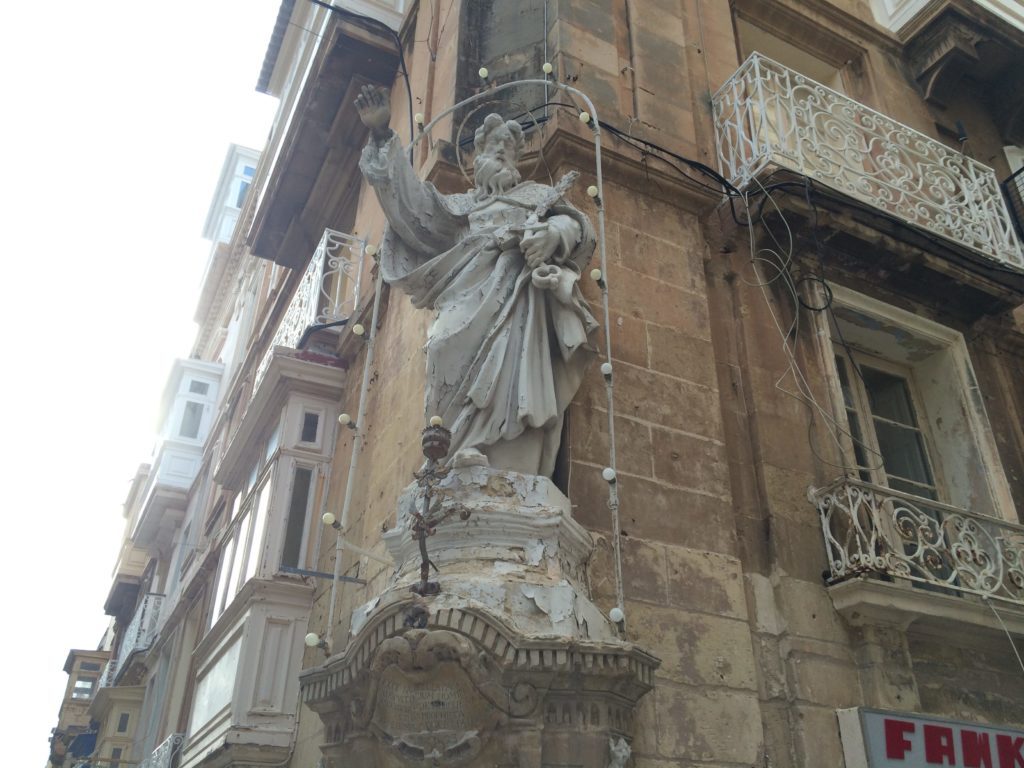 Malta, and especially Valletta, is sandstone block apartment buildings and narrow alley ways. They seem normal when you're there, you get used to them, but now they seem almost supernatural: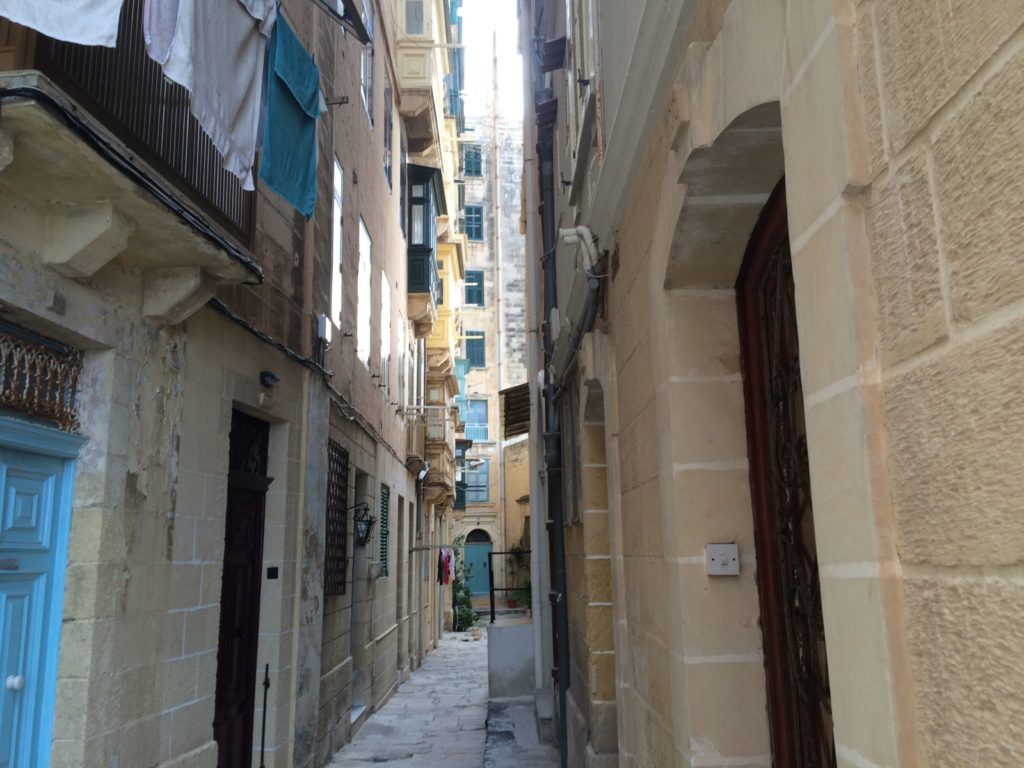 Nearing the end of our day in Valletta and we discover this great playground on the wall on the opposite side, closest to Sliema and the ferry dock, and the kids do what they do best (play):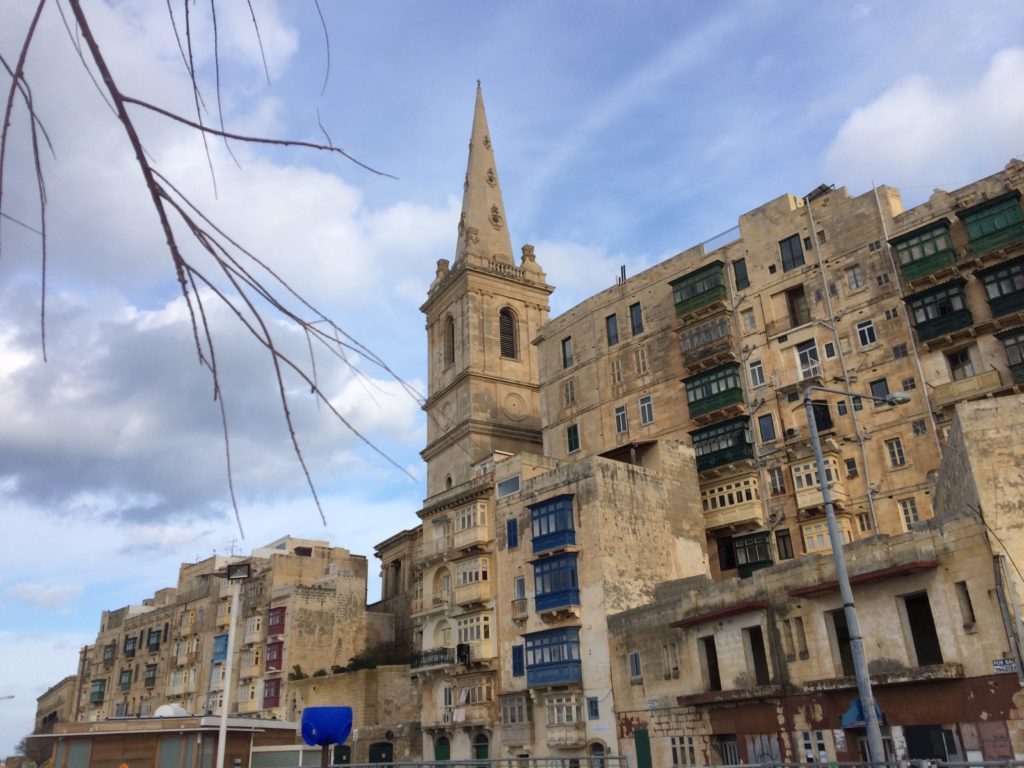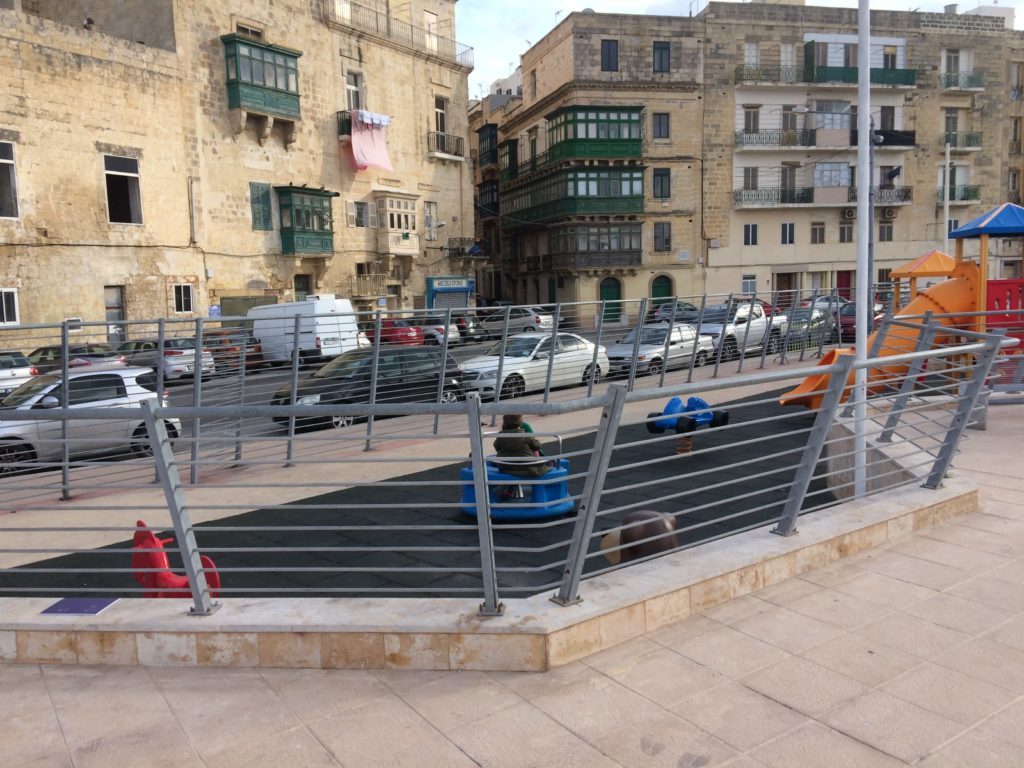 Winter is coming to a close but the rainy day last weekend postponed Carnivale to this weekend, but the Maltese are flexible and everyone seems to understand that if an event is rained out, the next week is when it will probably happen. It was a great taste of Maltese culture, and a sweet celebration.
The following two tabs change content below.
Latest posts by Nathaniel Flick (see all)