As is usual, once we find markets, sort out transport, and work a little bit, we get have a wander around our hood to get a feel for it. Sliema is a suburb of Valletta with a slightly slower pace.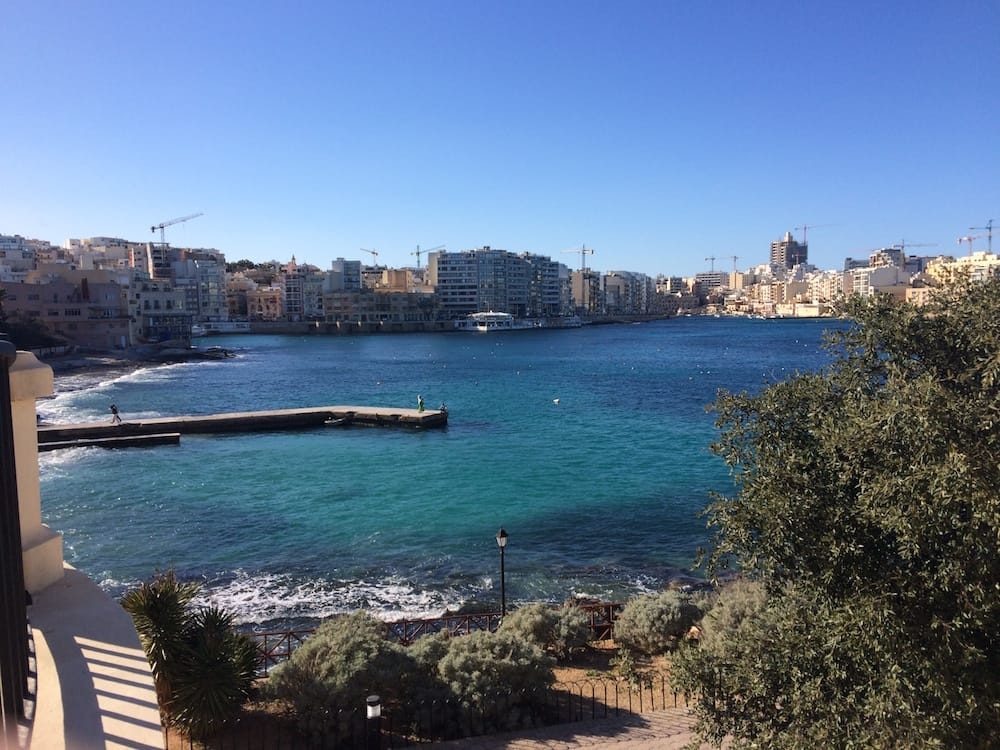 Our favourite place to go after work and school are done is this beachfront on Exiles Bay. There's not much sand, but the rocky coastline is just fine on a sunny day. It's still cold, but again when the sun's out the jackets come off!
We've been many places in the offseason, and I can tell Malta is a summer town, but we're making a good go of it during winter. These three sunshades have taken a beating but feel unique in a way.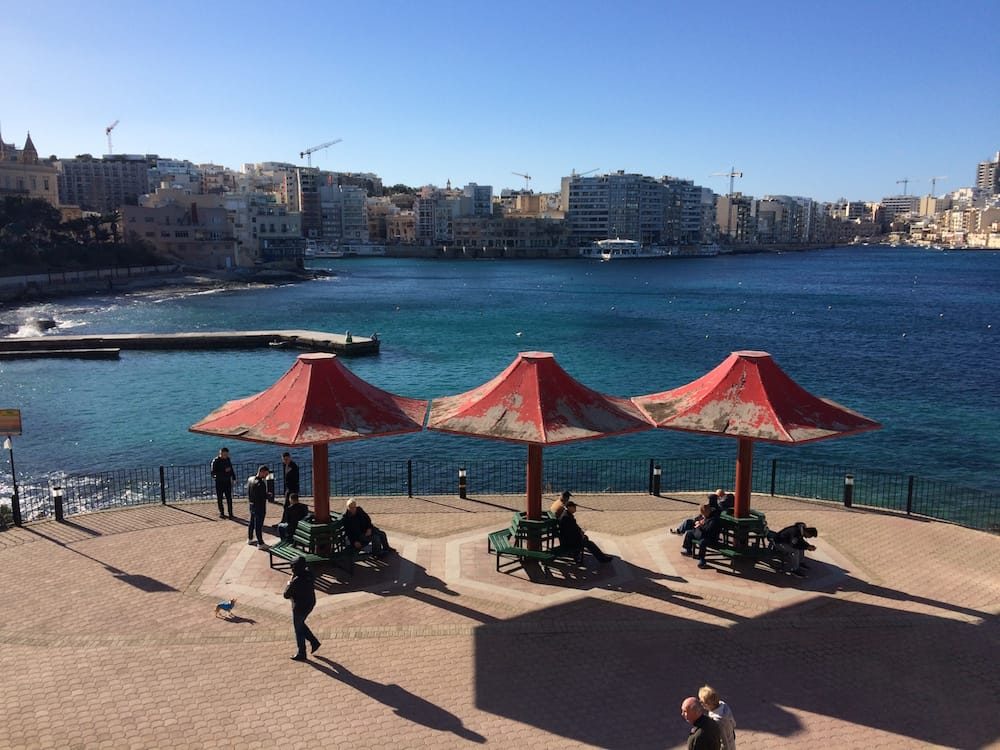 Next to these shades is the free Cat Toilet as we call it. It's actually nice and clean and FREE. This is rare in Europe – usually you have to pay to wee just about everywhere. No attendants either so no performance anxiety or guilt. The Maltese just leave you to it.
One sidenote here, see to the left the arboretum? Every day there's a guy here working out with music blasting, I think he wants everyone to look at him. 🙂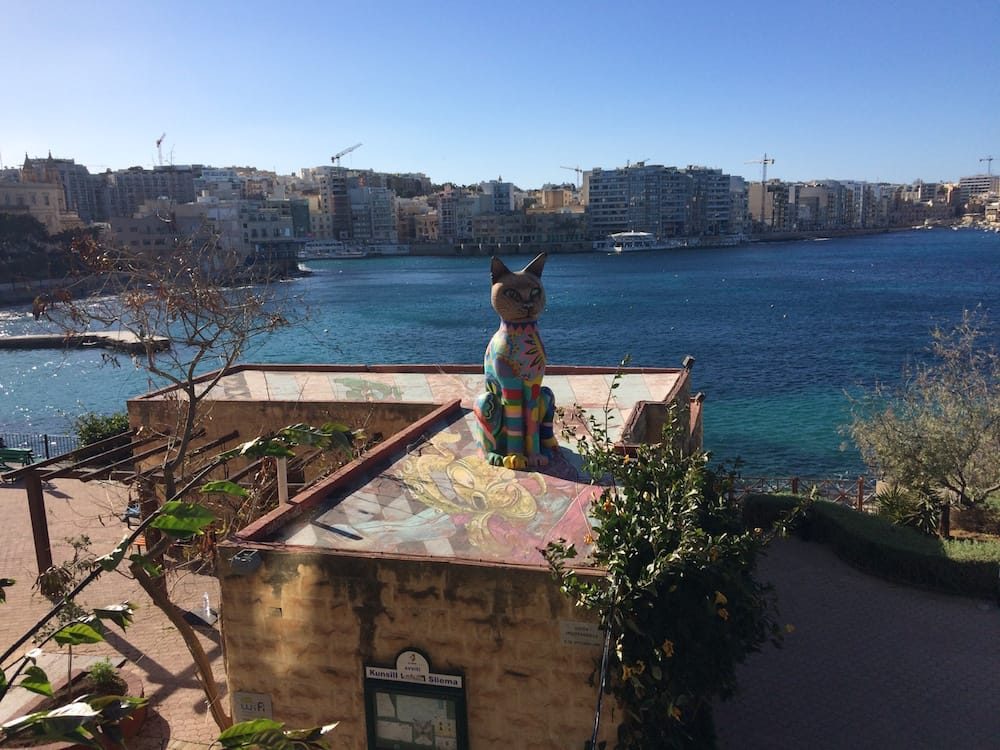 Looking down the street to the northeast you can look over the water towards Italy but not see it; you're far enough away that you can't see any other land. That's what makes Malta special, it's this island nation in the middle of literally nowhere, unless you count the Mediterranean, and it's the closest we've been to Africa.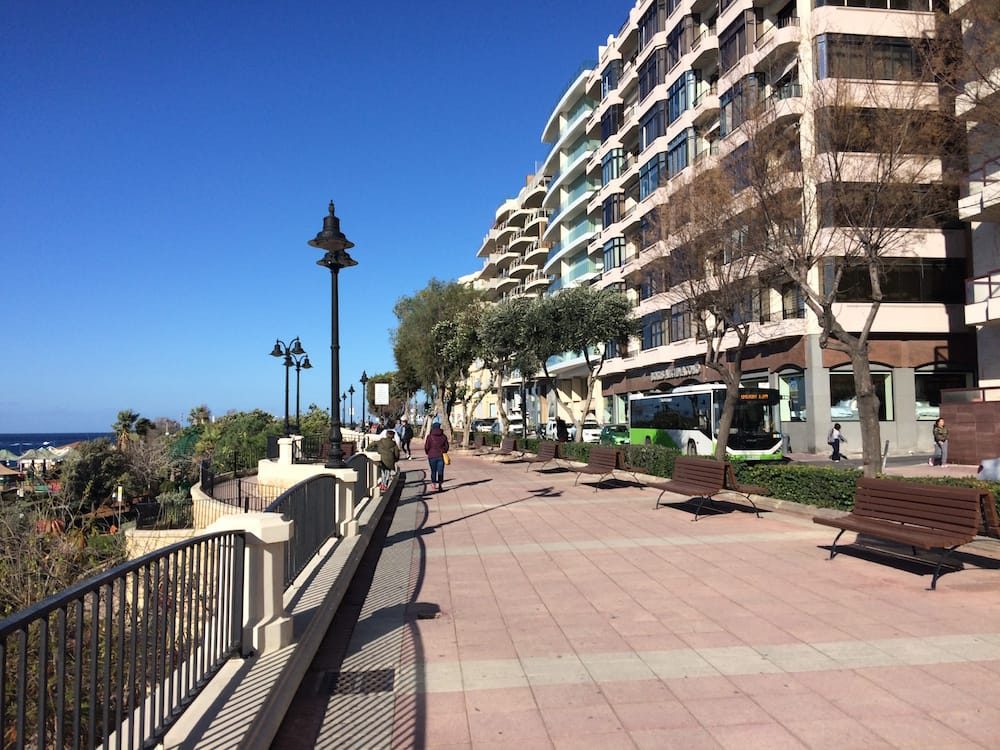 Signs are everywhere but they are small and subtle, this one reminds you you're in Sliema, Tas-Sliema; you see this on buses when you go elsewhere, and you can grab any of them to get home again. Funny enough, dogs are ok, but you can only tell because there's no cross out in the last circle in the sign.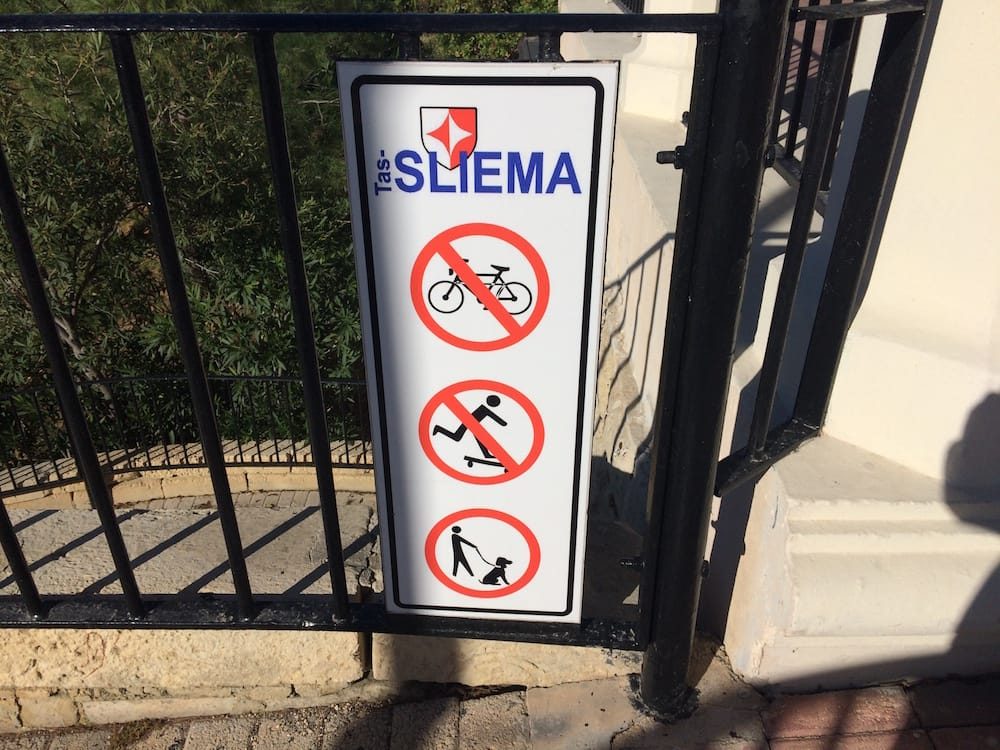 There were just as many sunny days as cloudy ones in Malta for us, and on the sunny days we could see our local church, and hear it at odd times, its bells ringing sometimes at 8:17, and other times at 9:04, sometimes at 4:41…you get the idea, they weren't too concerned about timeliness here, but other churches, the one on Exiles Bay in particular, did ring every quarter hour.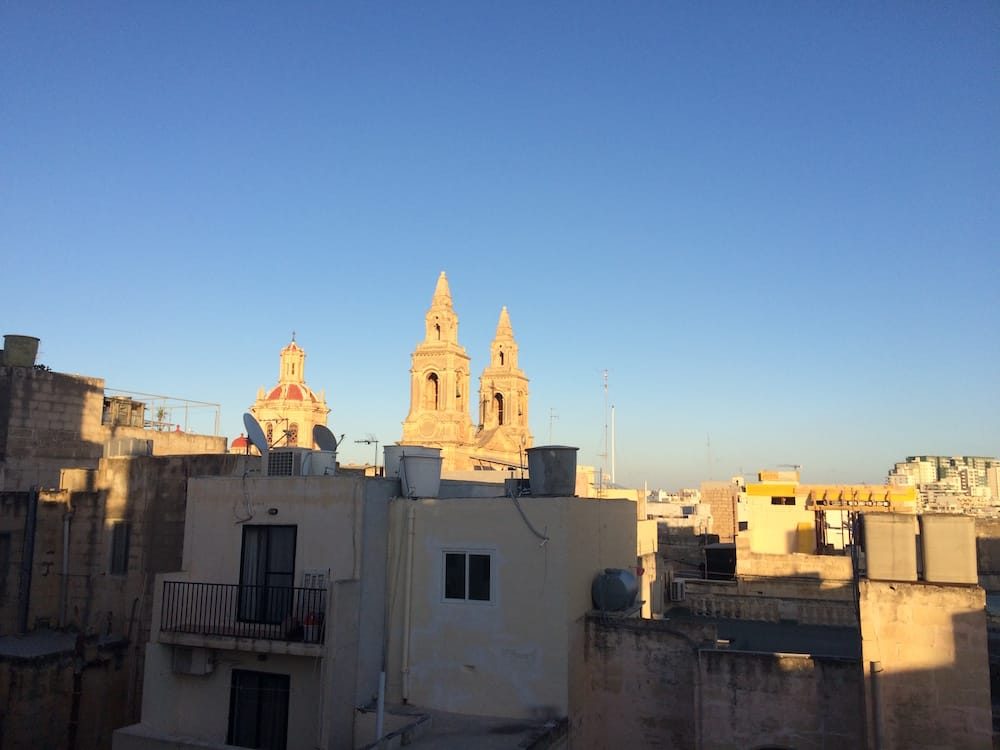 At our Bouverie bus stop, the one we got off at when we ventured into Valetta, there's this cool graffiti. Malta doesn't have as much raw art output like Florence, but I reckon it would take a bit more stealth to pull it off here in Malta than there.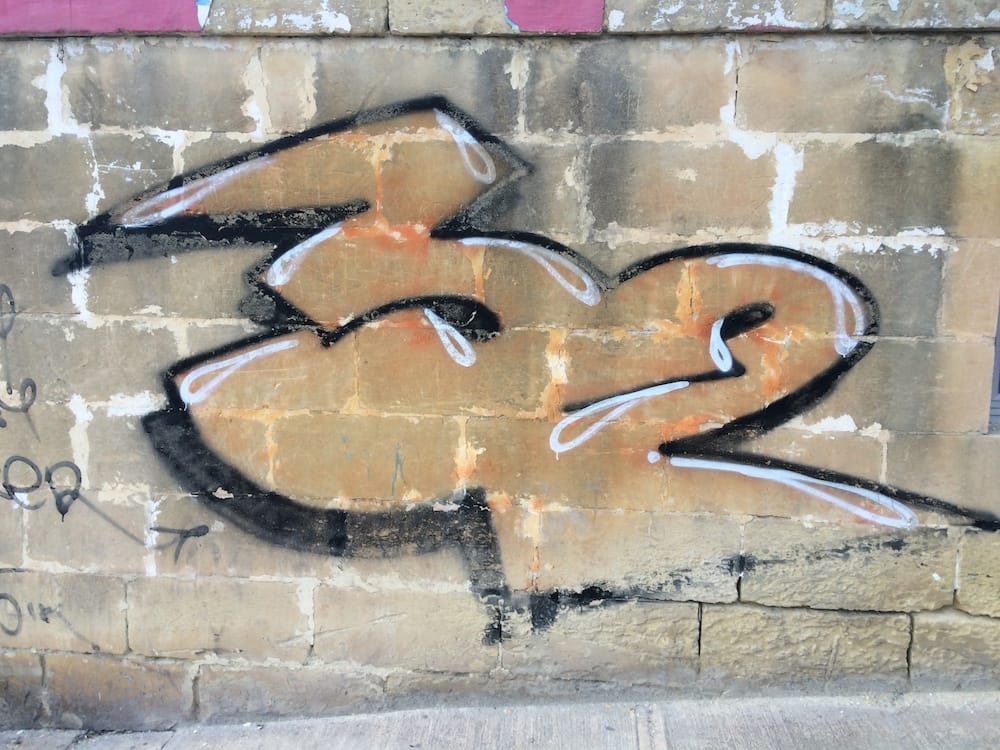 You can't see any of them, but all along the waterfront there are gambling website companies, and they are fueling the Maltese economy, I reckon second only to the tourism industry. Oh, and don't bother shopping between 1-4pm, everything's closed here then. But this is pretty typical, many European cities close up for siesta, or similar, just like Spain.
There's a proud bus history here in Malta, and this one reminded me of the ones in the Philippines, covered in chrome and festooned with paint. This one was selling souvenirs; I really wish it were still running!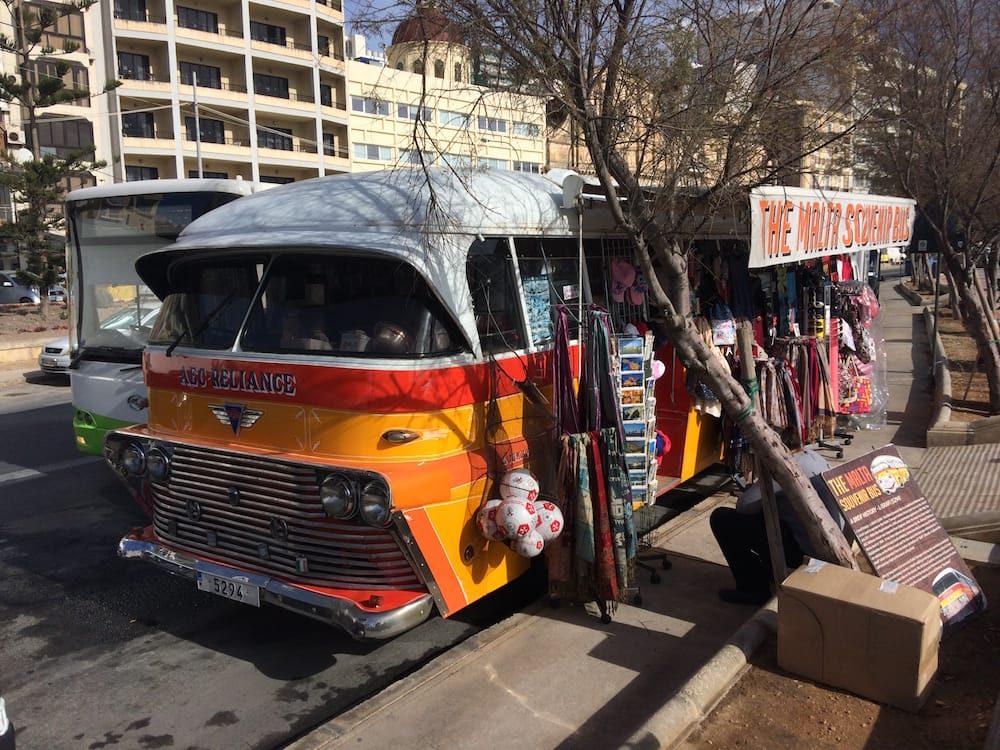 On our walks this week we can see Valletta a lot of the time when we're on this side of Sliema, and there are many ways to get there, two of which are bus and ferry.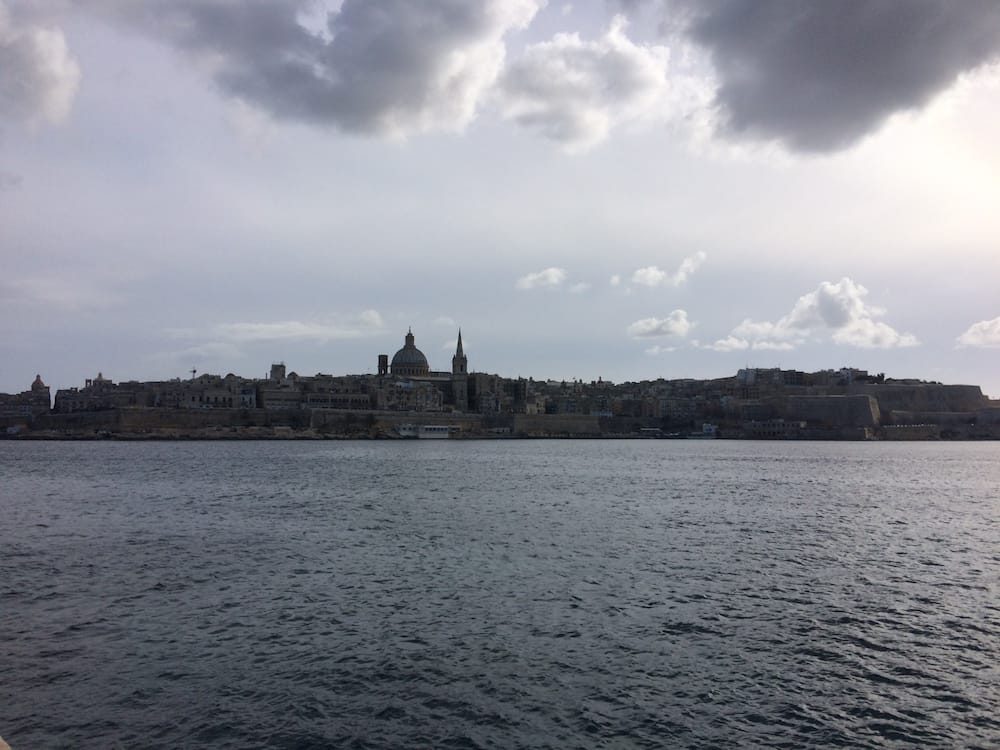 I love the signs in Malta, they are very descriptive, with a slightly incorrect use of english, but that still gets the message across. This sign, more about dogs using the dunny: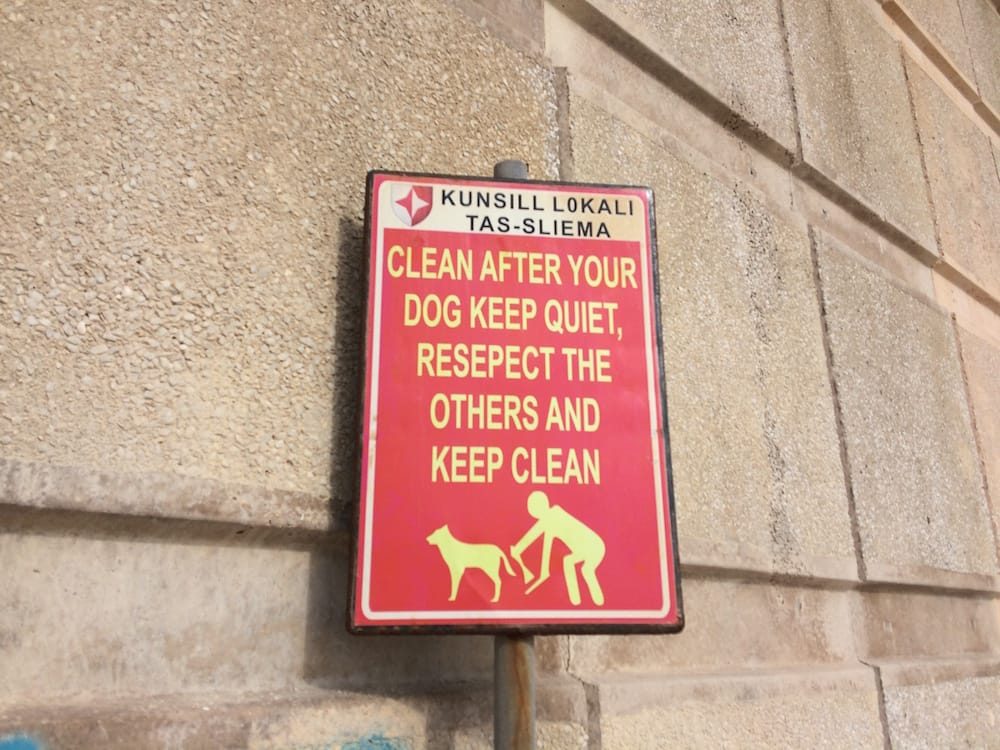 Someone likes Futurama: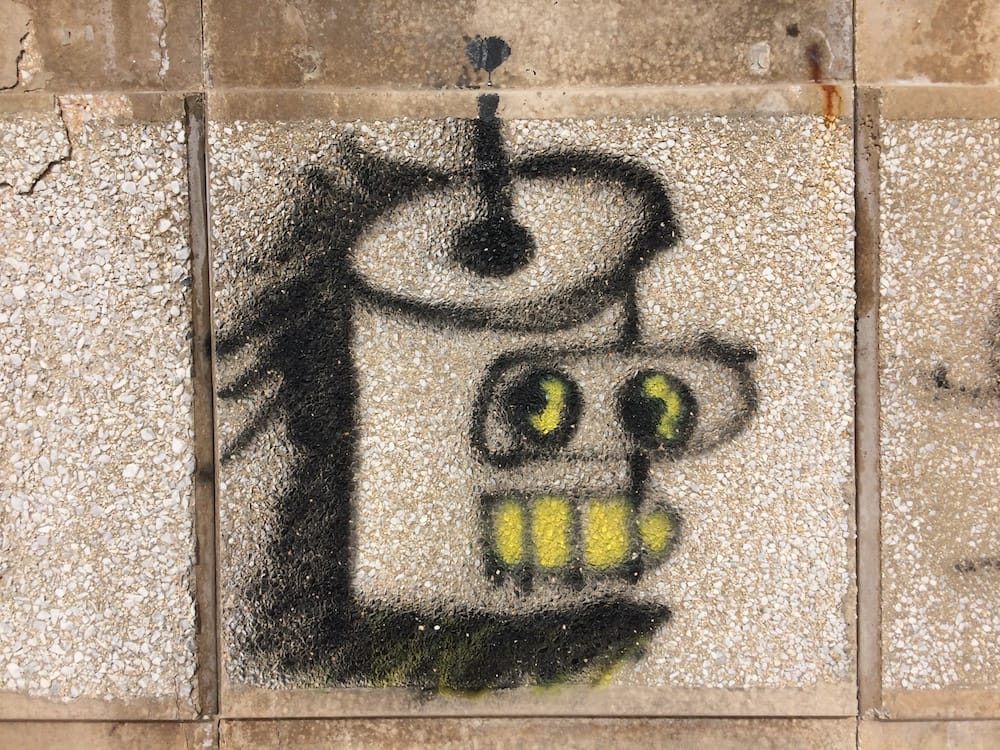 This trip has been a dream come true, and I've even started working on two other dreams as a result, so I'd say I'm keeping three dreams alive at once. No wonder I'm tired!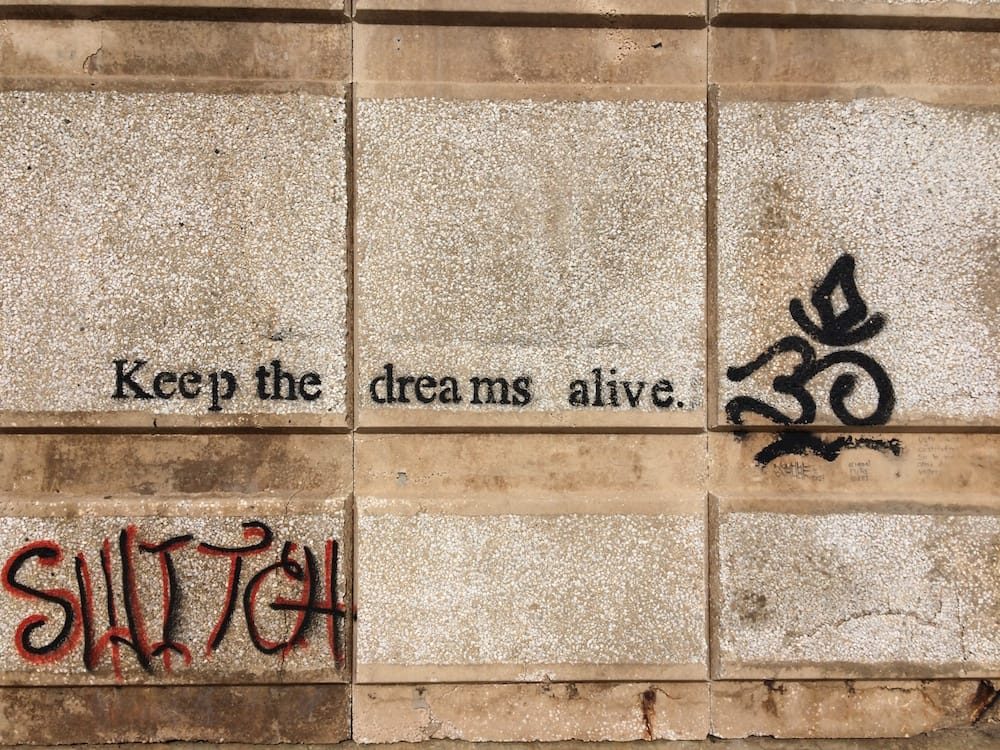 Expecting karma to happen is selfish, trusting and knowing that it will on its own time is maturity.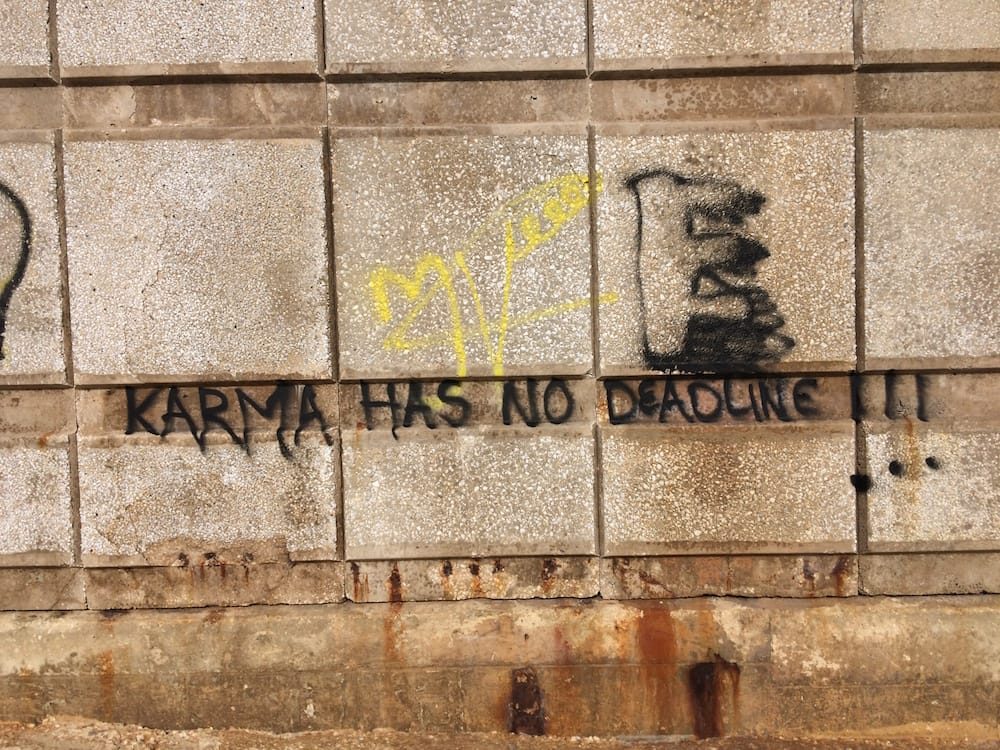 I liked this sign, though it's another "no" sign. If you drop anchor I think you'll get it caught on some sort of cable, possibly for communications, not sure: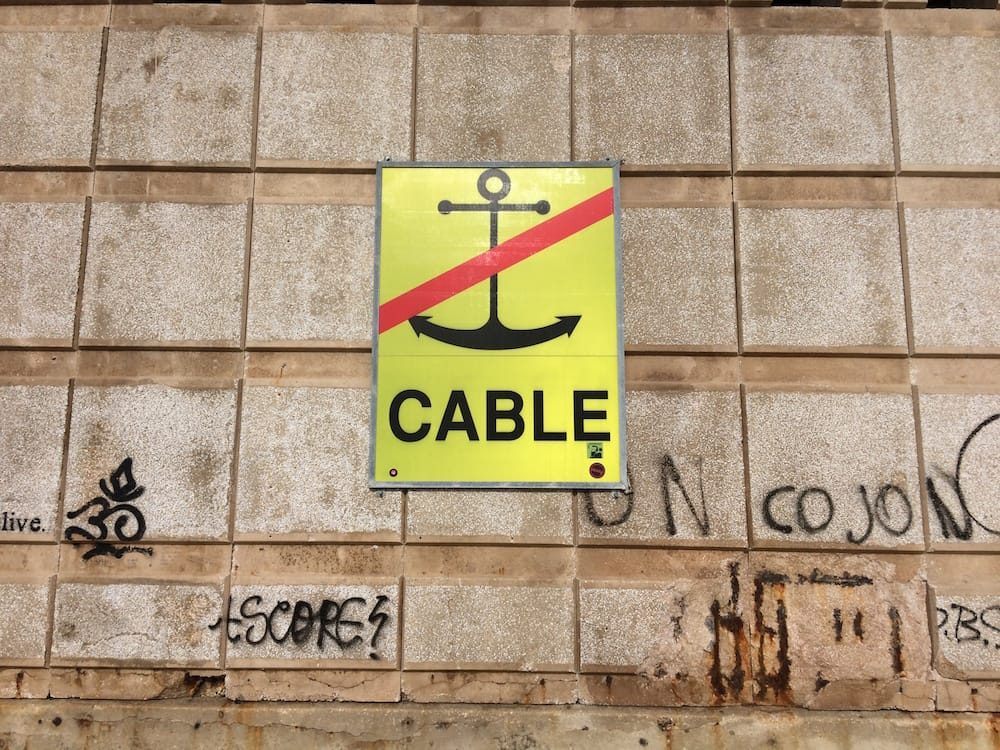 Alice and I are always looking for old doors, this one has it all – awesome green colour and graffiti: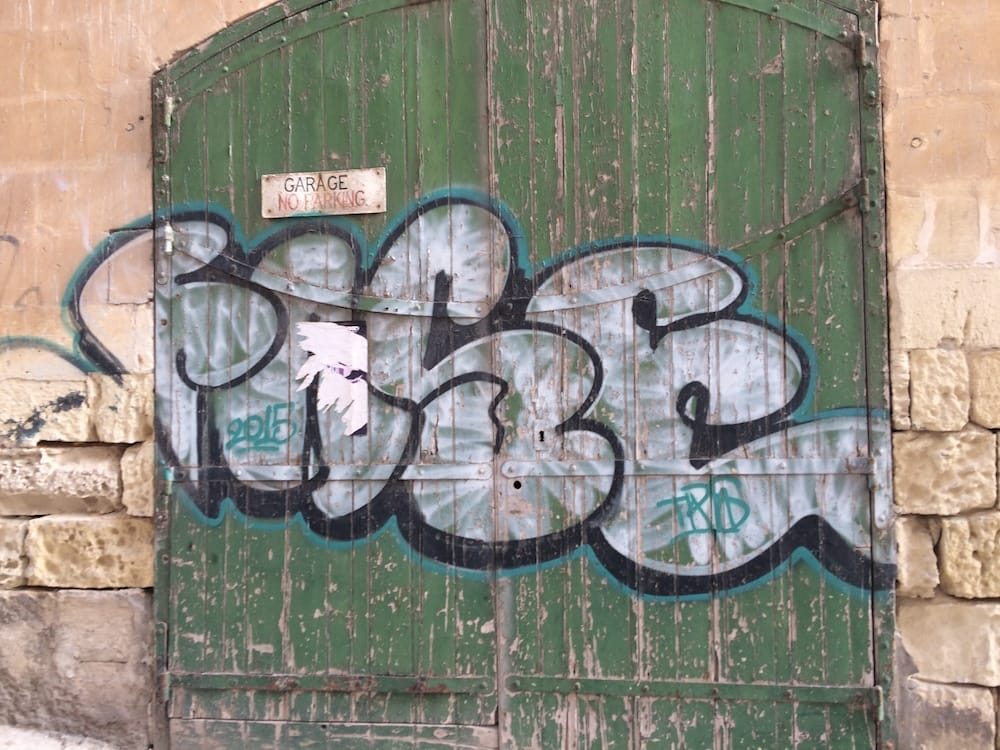 The buildings in Malta are all built with the local sandstone, they get bleached and weathered in the sun and look like they are about to fall to the ground, but look grand at the same time. This one reminded me of the Flatiron Building in New York City: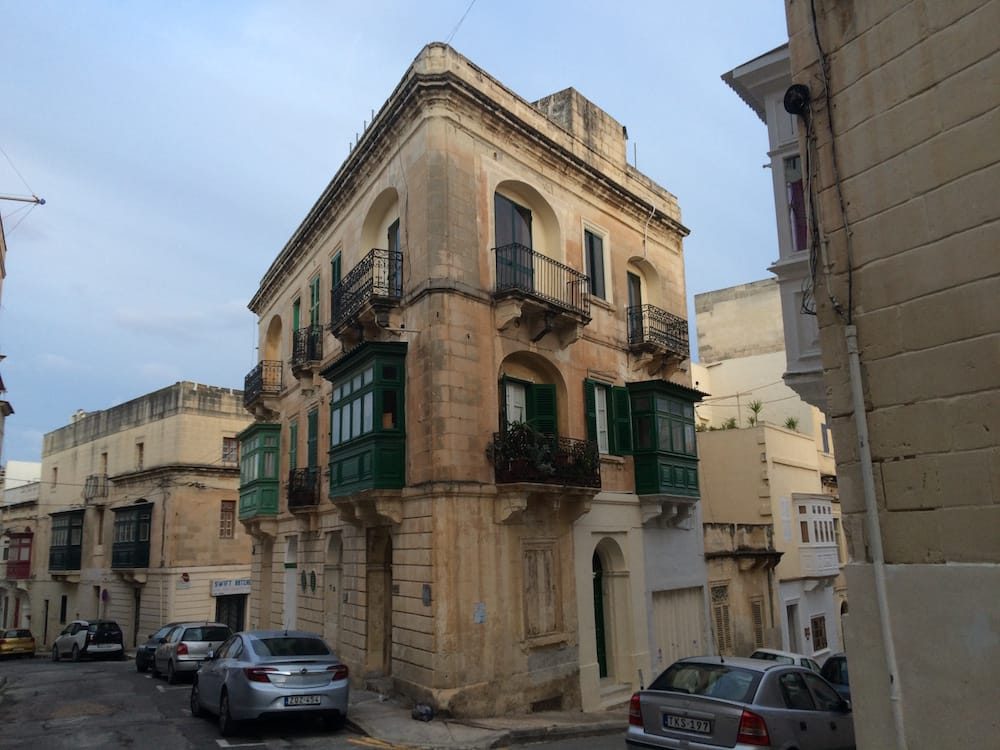 And what is a trip without sunsets, here's another, us looking on the street side from the tiny balcony at the red sunset – the first one we've seen since Split in October.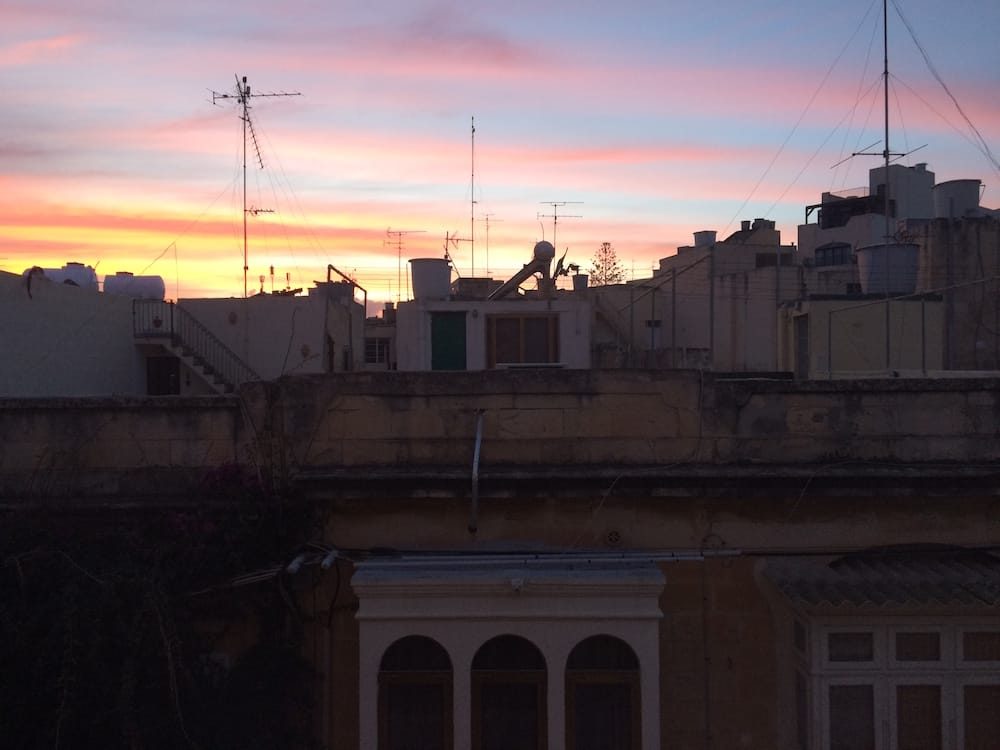 More awesome graffiti, at another toilet block on Exiles Bay: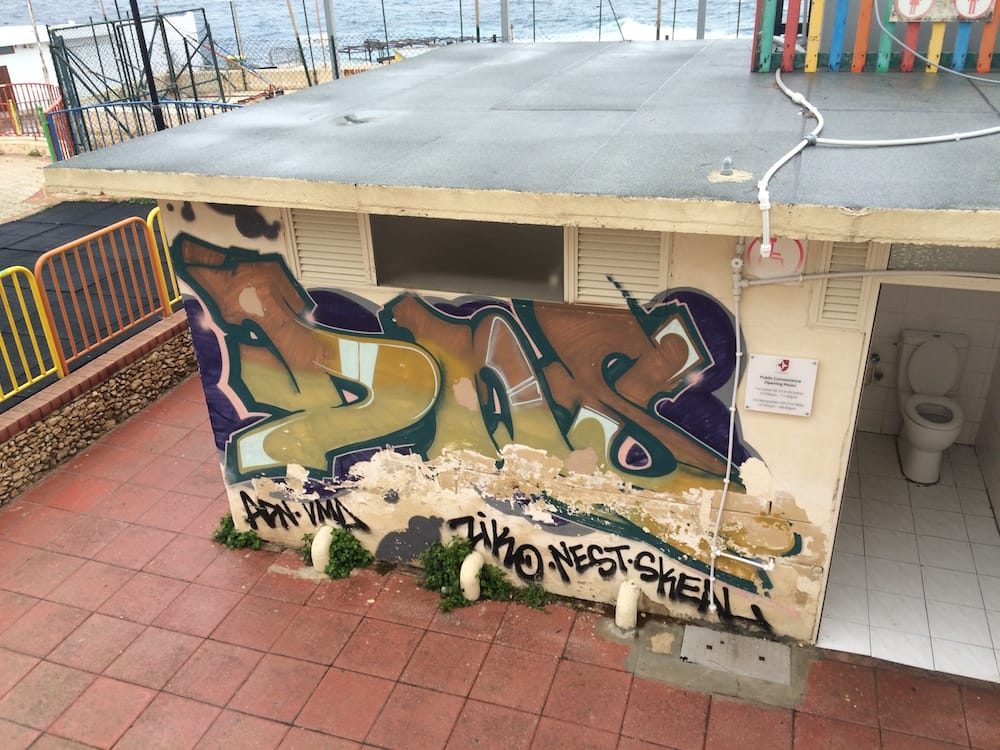 The door opening and closing with the wind gave us a peek into the room; ok, well equipped dunny. 🙂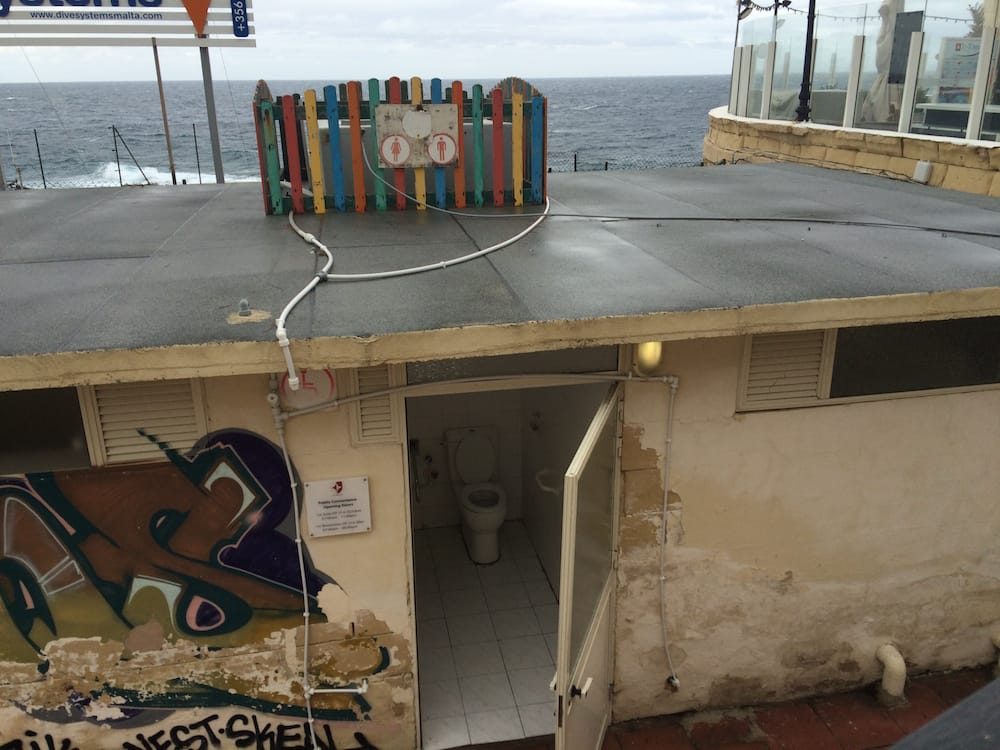 The kids loooooved the cats here at Exiles Bay, we called it Cat Park so they'd know what we were talking about. My daughter carries cat food with her so she can feed strays at every opportunity. I think it's cool!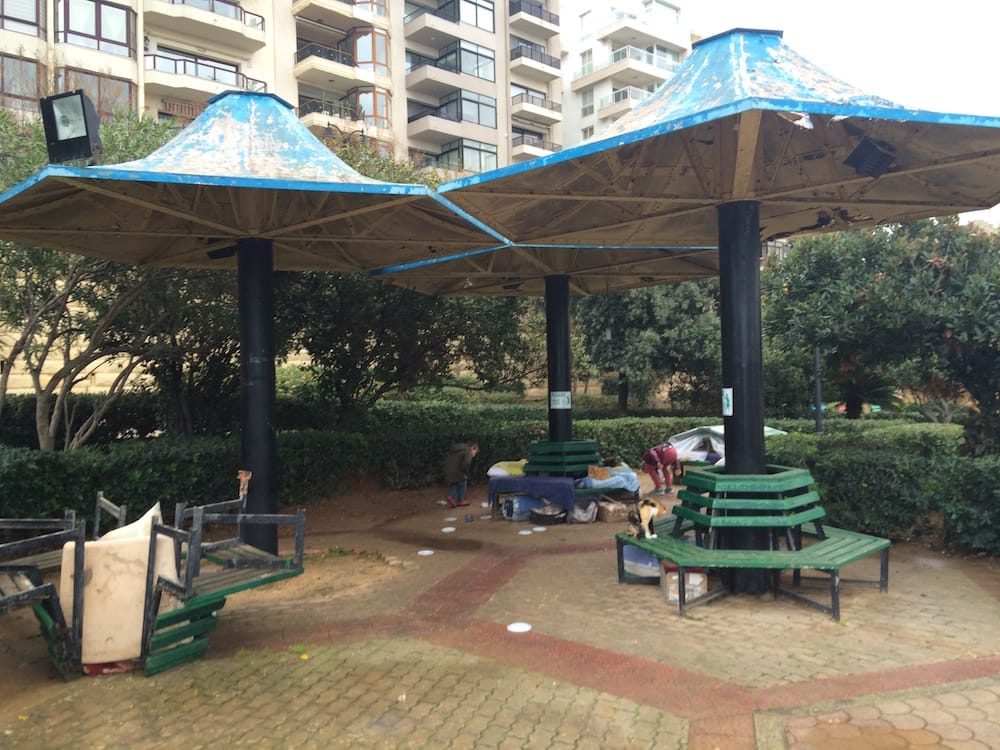 Malta so far has felt really safe, and even a little mysterious, but mostly just really friendly; the locals seem to be taking a deep breath before all the tourists swarm in. We are loving our walks around our apartment and I'm glad we no longer have the rental car – parking close to our apartment is really hard to find.
The following two tabs change content below.
Latest posts by Nathaniel Flick (see all)