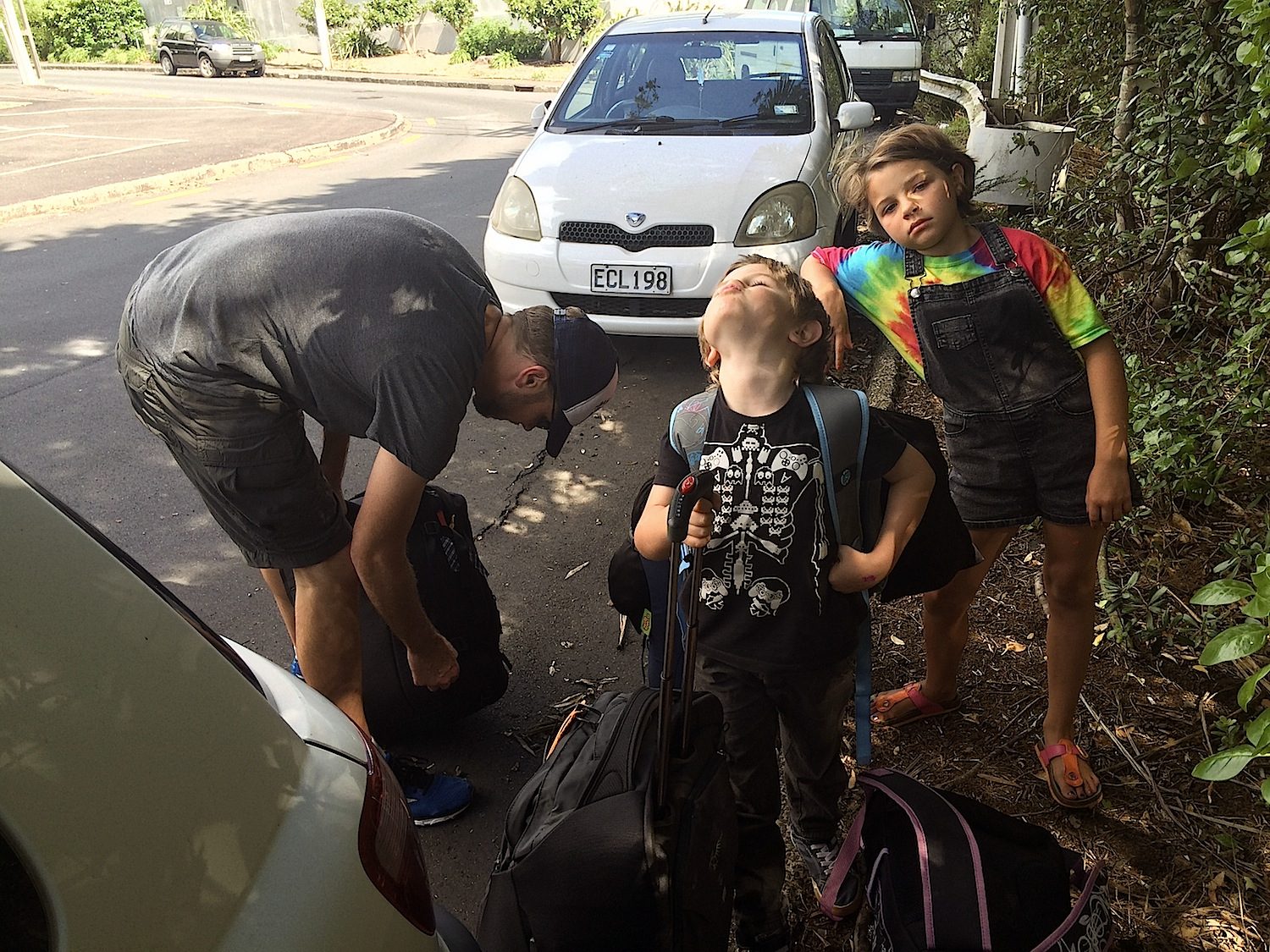 Lesson learned; super fancy wheelie suitcase/backpacks will not stop kids whining.
Alpha and Lennox got fancy wheeled/backpack hybrid suitcases for Christmas.  I thought, 'maybe, just maybe they would be so excited by the wheels that they wouldn't whine about lugging around their own stuff.'
Nope.
Lennox was a trooper, Alpha not so much. I'm not surprised. (See photo above.)
Before I get into the details of our "test run" I wanted to discuss our bags for a minute.
After much research, we went with the Osprey Sojourn for the kids (mainly because it fit the size and style criteria we were looking and they were on sale just before Christmas). Nat and I have stuck with our 12-year old Rick Steves backpacks. What I've discovered is that there's a real discussion over the wheelie bag vs the traditional backpack when it comes to hauling your stuff over the long term. The general consensus, however, is regardless of wheels or straps make it carry on size . So we've gone for a mix, just to be difficult.
Our bags are smaller than what the kids have, which is intentional. Less stuff for us to carry on our backs while the kids' 'suitcase limos' allow for all their stuff – clothes, shoes, toys, school supplies etc. We've been advised by multiple sources to let them just take 'it' (whatever 'it' item is) and then let them figure it out along the way. The theory being they will slowly lose things,  replace things and realise what they don't actually need. One of those life lessons they'll learn along the way, rather than Mum and Dad laying down the law yet again and causing more tears, and torment.
The other reasons we got fancy bags for the kids were; we wanted bags that would withstand up to abuse, bags that the kids' could manage themselves (i.e. wheels), and bags that could as do double duty as grocery-run bags. Catching the bus to buy groceries is going to be interesting enough, I don't want to have to lug bags home over my shoulder while we're at it. We'll see how that works out.
So anyway back to the "test run".
Our original plan was to fill our bags with everything we're taking, catch a bus to downtown, walk around for an hour or two, have lunch and then catch a train or bus home.
Here's what actually happened.
Easter Sunday means limited bus service, so we went with Plan B. A truncated trip that didn't involve buses, but substituted hills and stairs instead. We drove to Nat's work, parks and wandered around the neighbourhood for probably about half an hour. That half an hour felt more like 4 hours.
But first to pack our bags.
We had many tantrums. Ok, let me rephrase that, I had a few tantrums, and that was added to by Alpha throwing her weight in there. I wasn't pitching a fit about the amount of stuff so much as the weight. I quickly realised that our bags felt REALLY heavy, and we had no way of weighing them to find out if we maxed them out.*  So after I threw a few fits, Nat said he'd be 'drug mule' and 'extra stuff' guy. He's schlepping our medicines (antihistamines and inhalers mostly), first aid kit, work out bits and pieces and stuff that doesn't fit in my bag (thanks Nato!) But let me declare people, that my Rick Steves bag is in the fully zipped position and could technically be carry on (as long as the airline didn't weigh it). We are checking our bags, but I want to have little wiggle-room if a set of Russian nesting dolls, or a sweet pair of shoes (or 3) find themselves into my bag, and I need to unzip that each few centimetres. I am not above mailing things home and I'm certainly happy to commandeer space in the kids pack if I can, but really, if it's my stuff I should carry it.
One we got through the main bag dramas, then we got to our day bags. These are filled with all our computer stuff/really important stuff and they got heavy really quickly too, so for me, it felt like the front and the back were the same weight.  (Nat and I are carrying our day packs on our front and main bags on our back, just like a good backpacker would.) The kids realised too, that once they stuffed their toys, blankets, and man bag (Lennox) inside their day pack there wasn't any room left for their plane food and books.  Reality check.
So we did a refuel of food and coffee and stuffed all of us and our bags in the Vitz. It's doable. We grit our teeth and head into this small adventure.  We decided to go down a hill first, as it seemed like a better introduction than up.  It took about 30 seconds before Alpha decided it was too hard and she wore the wrong shoes! No comment.  Lennox and I rocked down to the bottom and waited for Nat and Alpha. After a little rest at the bottom, Alpha realised we had to go back up…
We made it to the top of the hill and tried a few more things with the bags. We practiced taking the bags over curbs, going through gravel, and down a set of stairs. The kids worked out which way they liked the bag – pushing or pulling over different surfaces. We then tried strapping the kids day packs to their wheelie bags rather than them being on their back. Which although heavier, seemed to work better, and I can get them on and off in about 30″ with a bungee cord addition.
So what changes are we going to make? Walking shoes for Alpha (resolved), and try to get rid of a few more things, and that's really about all we figured out. It felt helpful, but also not really. What I was most chuffed with was that I could cross off another item on my list. "Test Run = DONE!"
Was it worth it? Well we provided entertainment to the locals, we did learn about shoes, and strapping things, but it's not something we couldn't have figured out pretty quickly anyway.  It was useful for the kids to understand the importance of wheels straight on when going over a curb, and not to try and push your suitcase through gravel (you really have to pull it).  We've suitably 'broken in' the bags and they don't look brand new anymore. Maybe less of a temptation to baggage handlers, mind you, they might be a bit disappointed to open a bag to find it half filled with Star Wars lego, a dragon and little boy undies.
*Side note: Bought a travel scale, and we are way under the 18kg limit we've set ourselves. The 18kg limit is because although most airlines will let you check up to 23kg, some will only let you check 20kg, so ideally we want to pack no more than 18kg per checked bag.
The following two tabs change content below.
Latest posts by Alice Rae-Flick (see all)