It might seem cliche, but what two-year working holiday would be complete without a tattoo? 🙂 We finally pulled the trigger in Kotor and then started searching for tattoo shops in Florence. As soon as I saw the name Sweaty Betty's I was hooked, and seeing Paul and Bradipo's art Alice chose Paul and I chose Bradipo. Funny enough we both did Pinterest boards for what we watned, but we didn't need them.
We booked in for a 4th of January consult and tattoo to be done a week later. Well, we did it, and it was so fun and amazing I couldn't be happier. Here's more, first, the Sweaty's logo!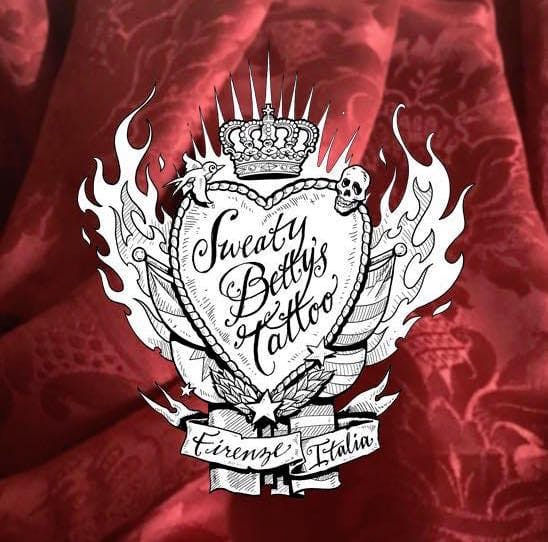 Near the Palazzo Vecchio, Sweaty Betty's Tattoo is tucked into a little alley shop, and inside it's so friendly and well done, my son got to play video games with the guys.
The front of the shop is unassuming, but stylish at the same time. The kind of understated mystery that I love. The place is a lot bigger inside, and the front room is so homey and inviting.
We met Paul and Bradipo and immediately set to work figuring out what to get. At first I thought Alice's Pinterest board and ideas were too busy, but quickly realised so was mine! Paul forged ahead with inspiration and Bradipo and I stalled for a minute, he scratched his head. But when I said, "go for it, let's get inspired and explore, forget my Pinterest board" things went so great. Bradipo said, "I've got it, I know what to do now" and I can't tell you how excited that made me feel.
So damned excited.
For me, getting this tattoo will remind me of all the experiences I have had the past two years, and that you should never wait to do something you want to do, time waits for no one.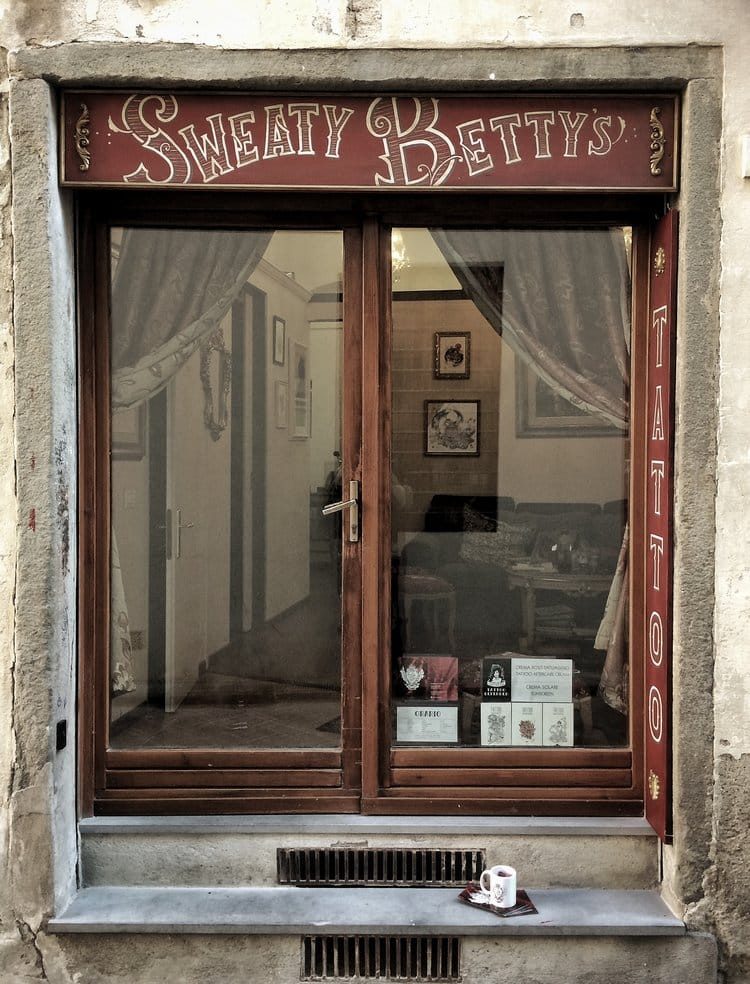 We went back on Tuesday to review the artwork and we were just blown away. What Paul and Bradipo did were truly inspired. I loved mine because of the subtle reference to Alfonse Mucha, but with a Day of the Dead twist and a sweet swallow to give it motion.
Go Bradipo! After sharing the pain with him, okay, taking it from him! I feel this connection to him and Sweaty Betty's. Alice and I both remarked that handling the pain, dealing with it, facing it, is meditative, and we both thought while it was happening that we could see ourselves doing it again. I was warned about this effect by the waiter at a tapas bar in Seville:
"Once you get one tattoo be careful, it usually leads to more" – Waiter at a Seville tapas bar with 5-6 tattoos
Alice loved hers from Paul too, he incorporated five flower petals, which mean something special to Alice, and he made sure the flower on her arm and forearm was tasteful, feminine, and it came out so amazingly well.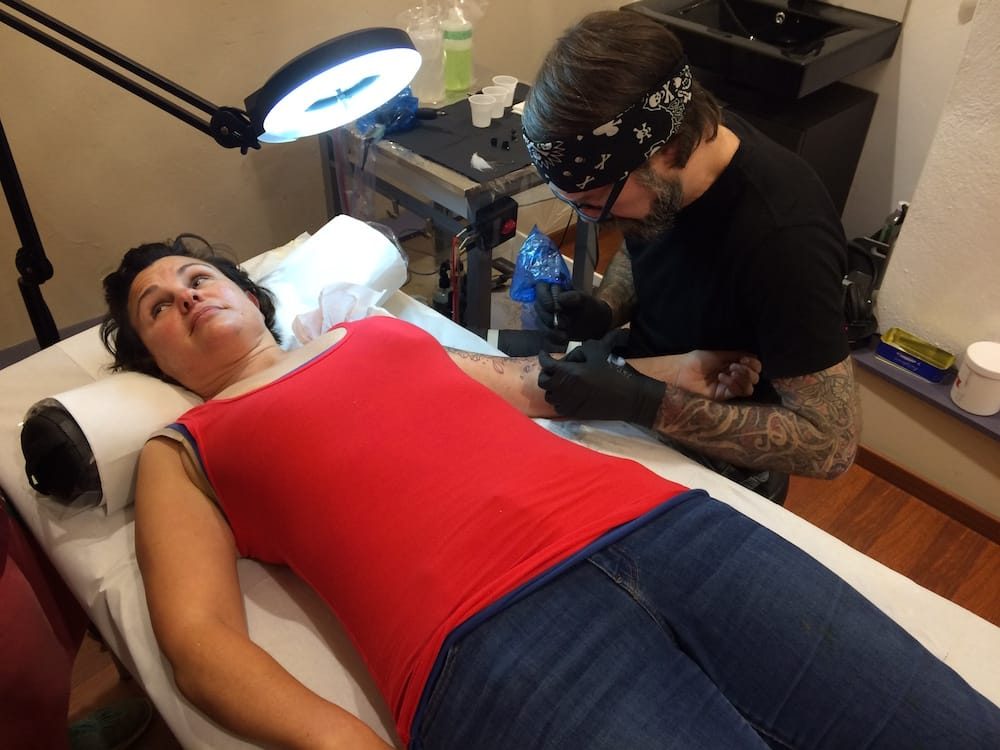 Here's Alice's finished tattoo, see the main piece on the right, and the flower petals flying across to her left arm: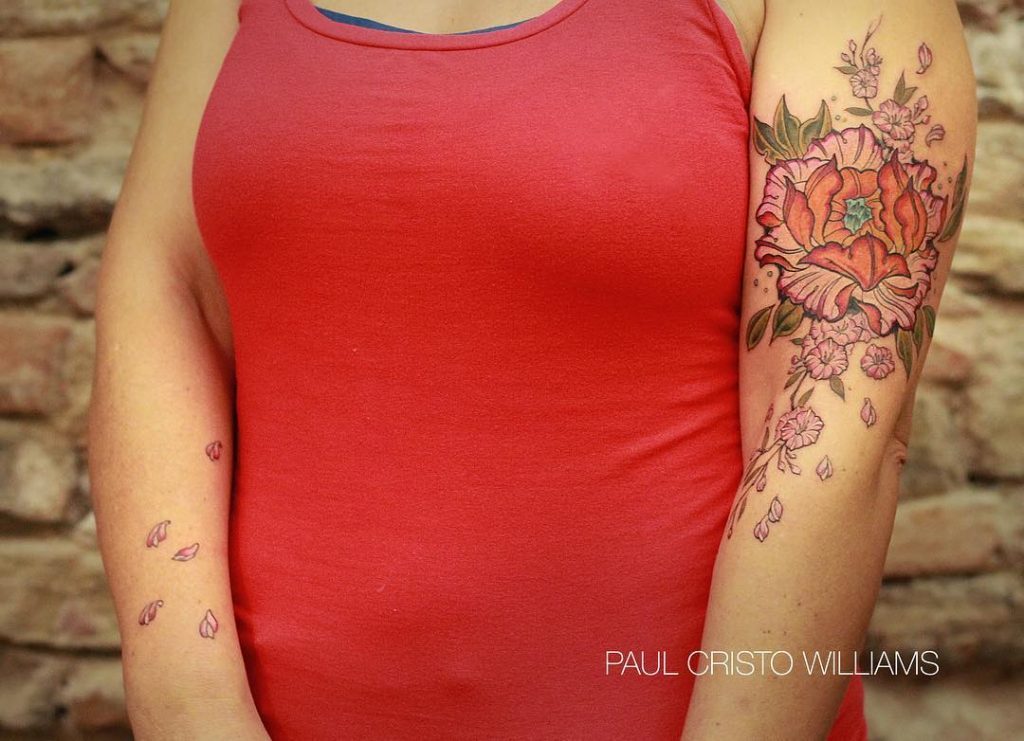 The table after Alice's tattoo, you can see how much work is involved: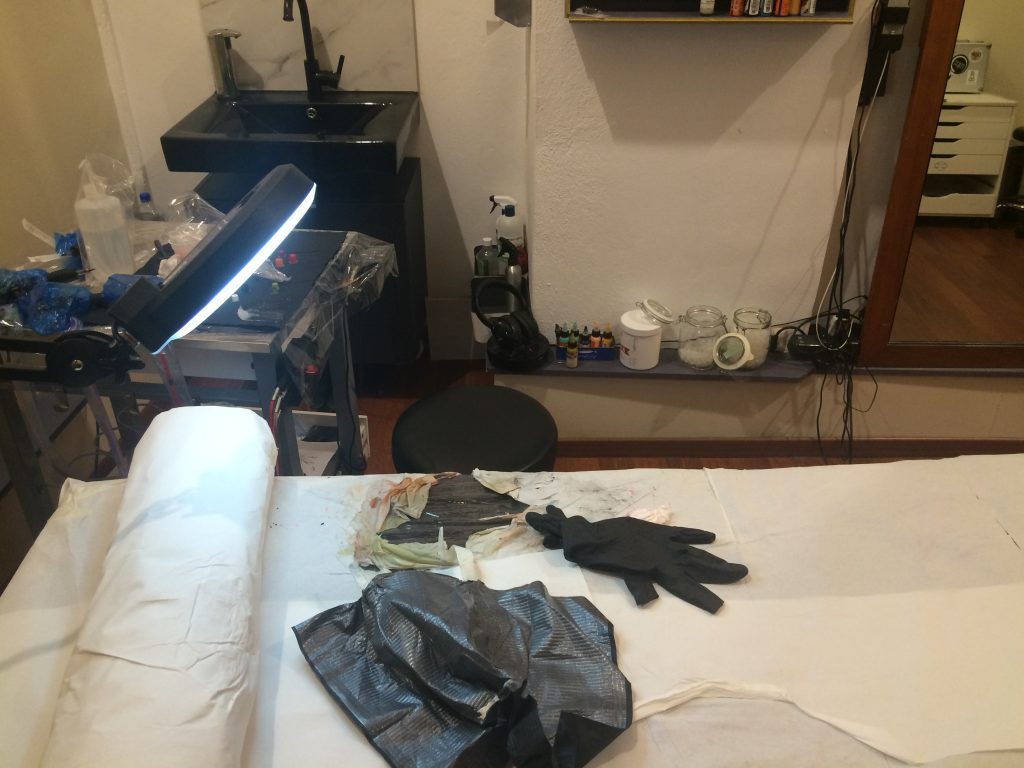 Happy client Alice poses with Paul. What a guy, Paul has run bars and restaurants in Canada and wanted to try his hand at owning his own shop after working at a tattoo place in Florence where he met Bradipo.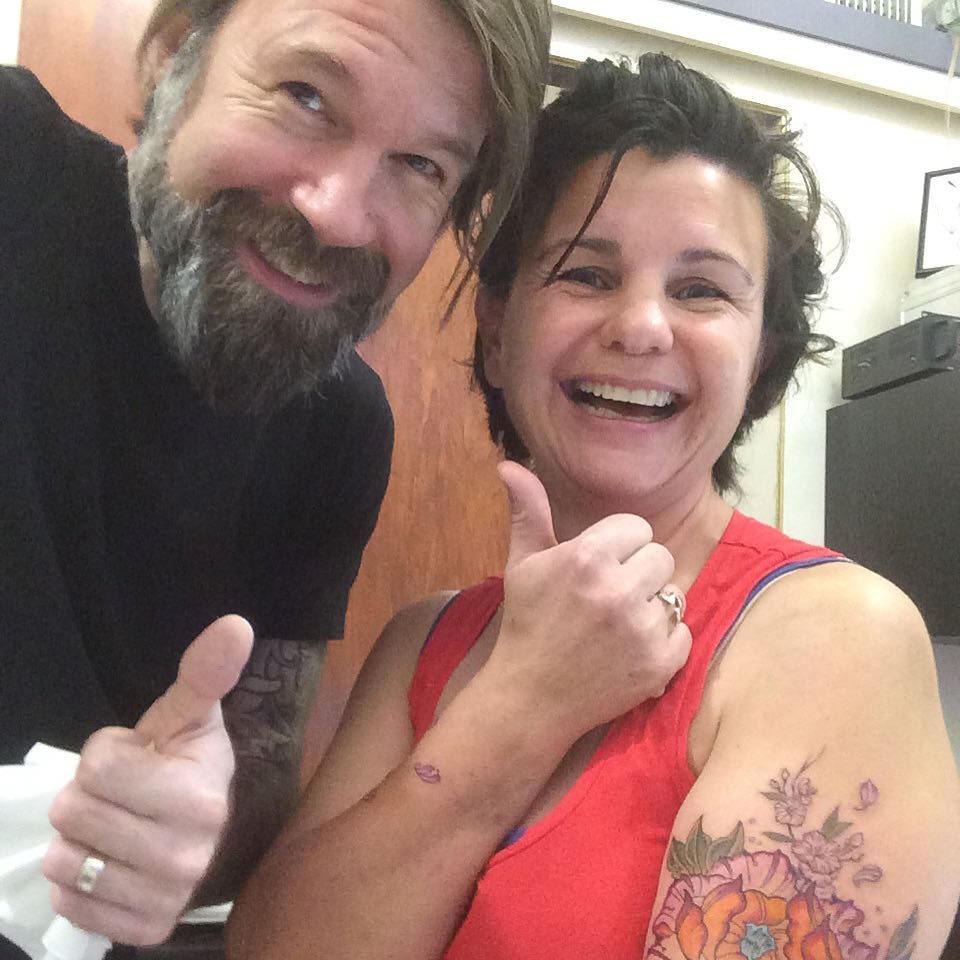 I took a few shots on the way to my tattoo appointment, mostly to hide my nervousness. Nervous not with indecision, but not quite knowing what pain I was in for.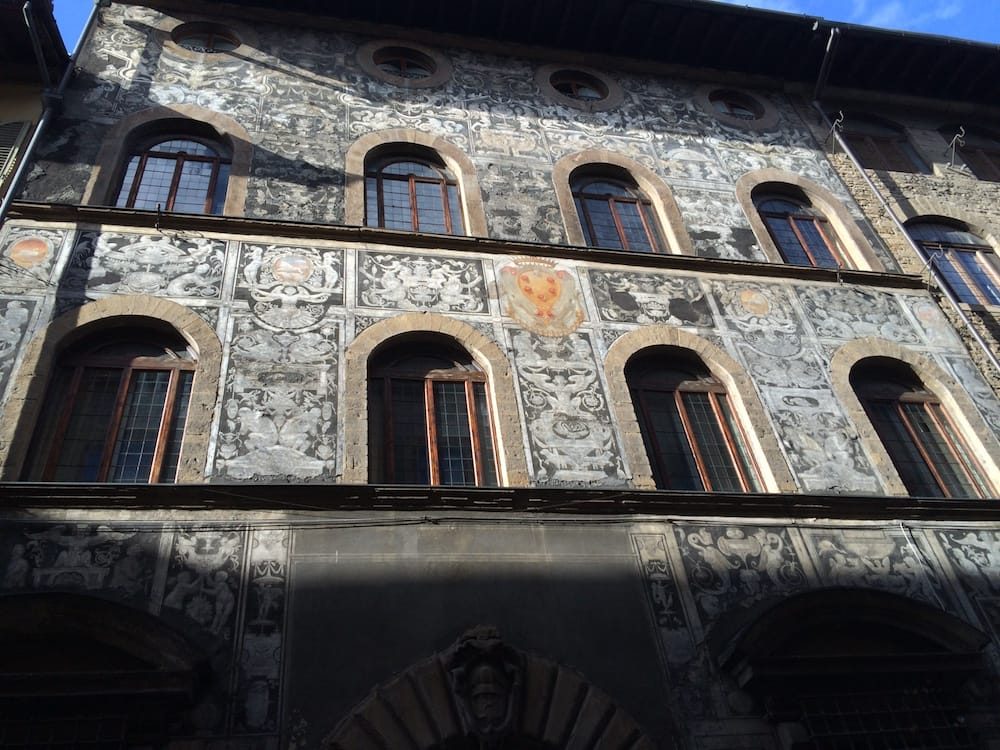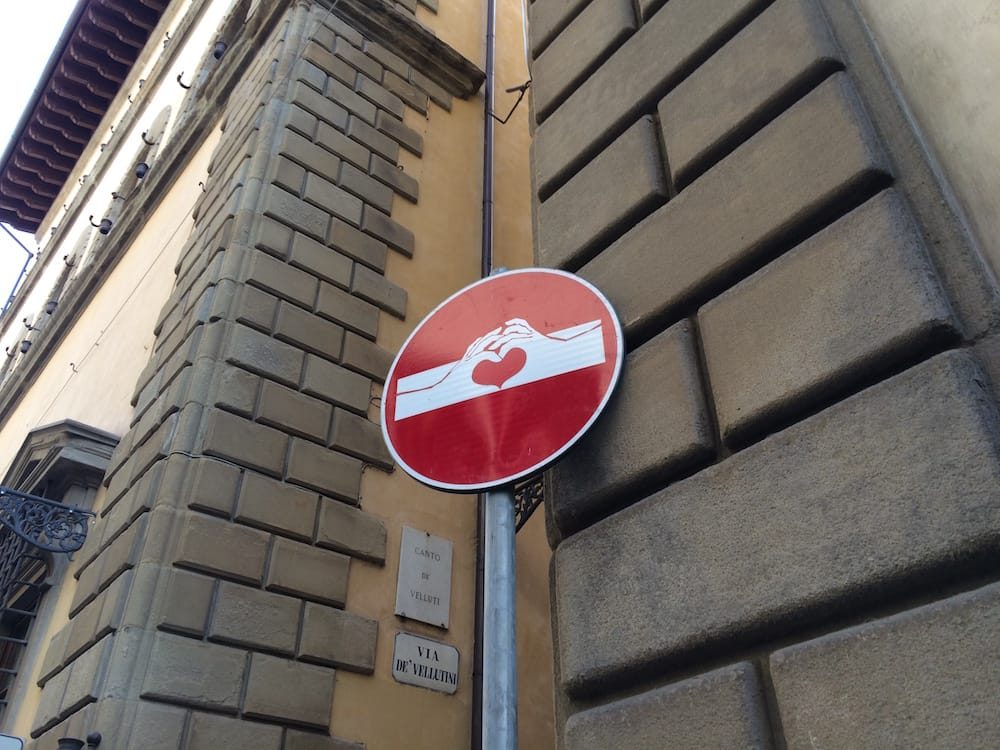 Bradipo has a steady and gentle hand. Sounds funny, but I didn't want someone going for broke on my shoulder, gouging out any old thing, I wanted art, done by an artist, and that's what I got. I saw my tattoo at this point and would have been fine leaving it as lines; such great linework with so much personality. Bradipo is from Peru, long story. 🙂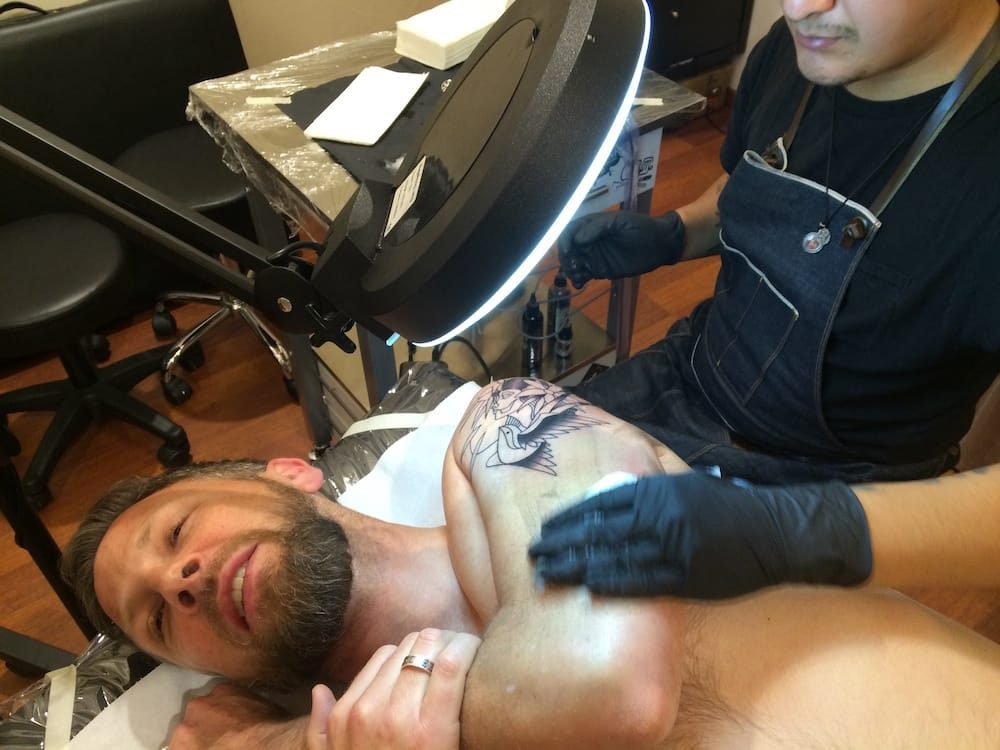 Here's us at the end, he let me take a selfie with him for Instagram. Gotz ta do the socials: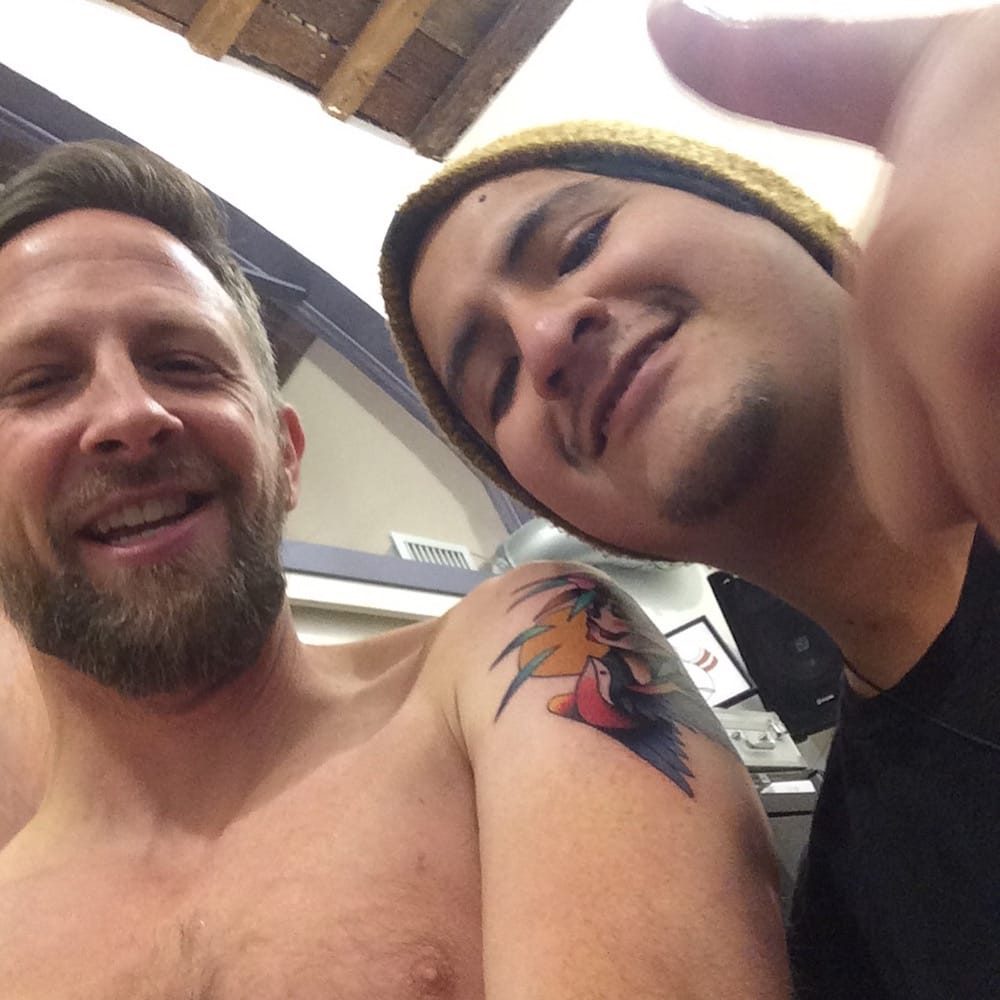 It will never look this way again, and as it heals and the years pass it will change, but Bradipo did it so it would last through the years and degrade gracefully. Kind of like I hope to in the coming years: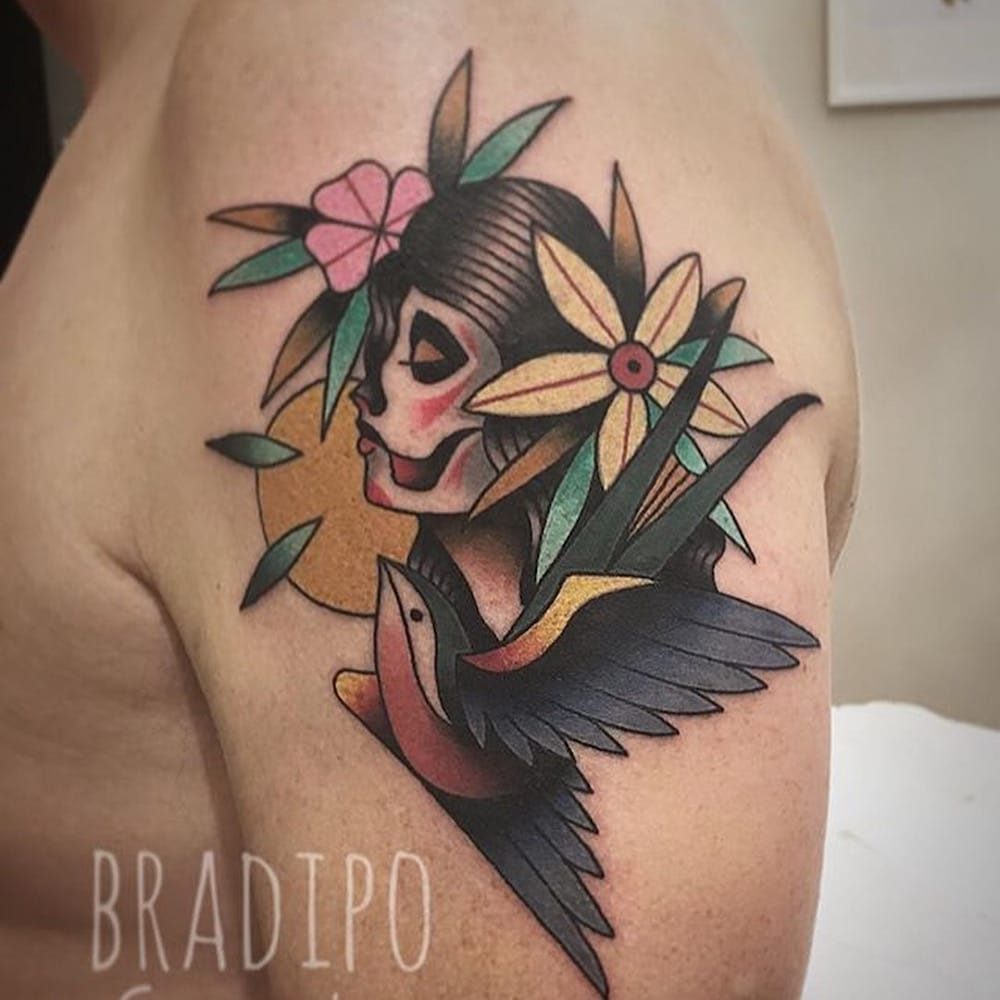 We went back one more time and Alice and I were a bit choked up to be honest. How do you say goodbye to people you've shared this deep, meaningful experience with? I know, I tend to read stuff into things, but I feel like it was truly wonderful to do this – it was the right time, the right place, with the right people. Thank you Sweaty Betty's! We will never forget you.
My daugher gave Paul advice on what to do to with his tattoos as we sampled wine from a box, some great conversation and stories, and a sweet couch.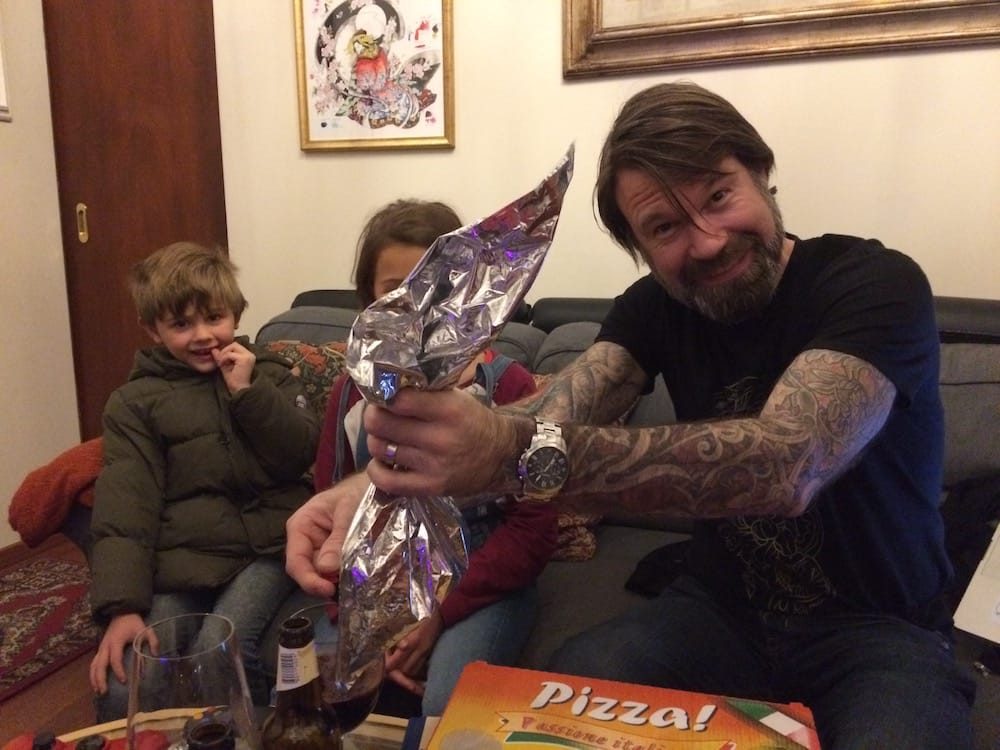 The following two tabs change content below.
Latest posts by Nathaniel Flick (see all)