Kapana is Plovdiv's "The Trap". A five-centuries old neighborhood known for its craftsmen and narrow streets. There were events every weekend and great cafes and restaurants. Can't speak much to restaurants since we mostly can't eat at any of them (we are gluten and milk free which makes things difficult) but we have a lot of coffee! We loved Monkey House and the music here was spectactular (I'm fond of the 70s funk they spin here).
First impressions of the Kapana district
Small and unassuming at first, we quickly fell in love with it mainly because it has all the things we like: walkable, small, street art, great cafes, creativity, and old stuff!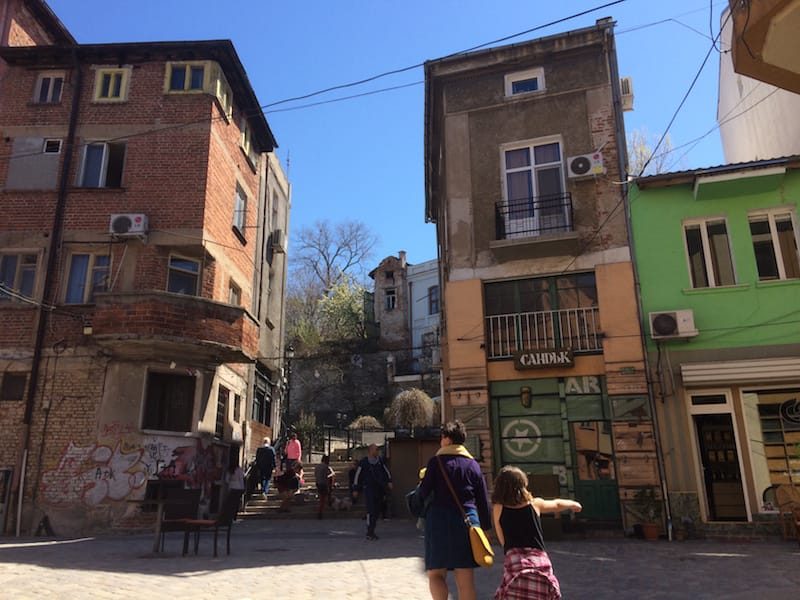 Sometimes street art is abstract but other times a direct and literal homage to something recognisable like these two amazing musicians who no longer grace us with their words and music: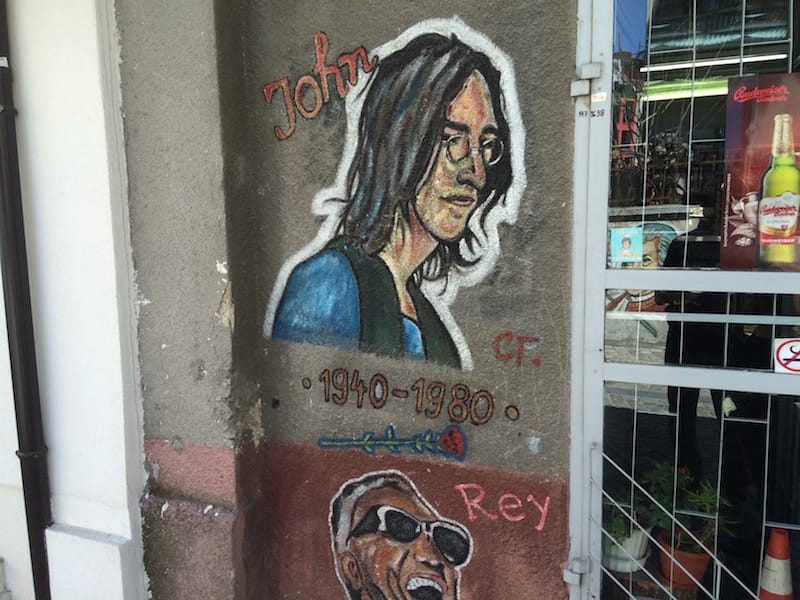 Every available wall and door is used for art: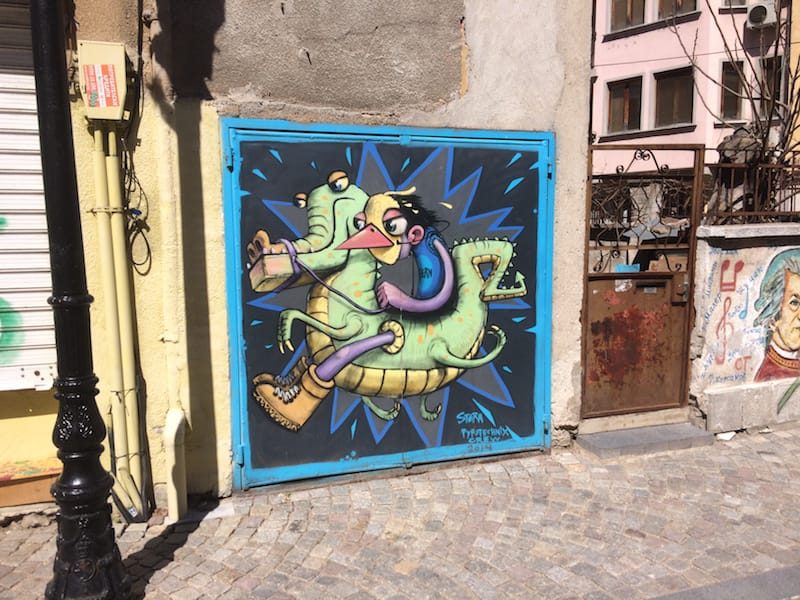 This building looked like an office and living space in one, and the mural on the wall made it even cooler. It reminded me of Seville a lot: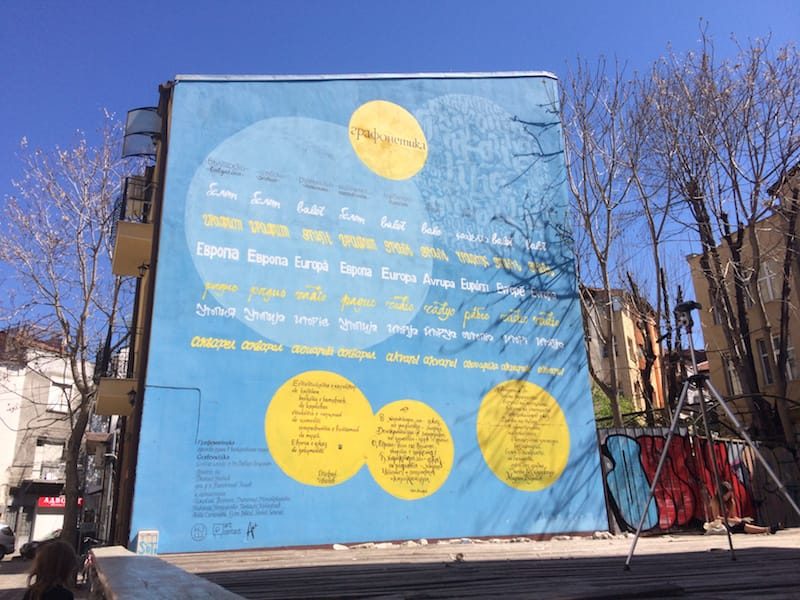 One of our Billa markets is on the other side of this building. It has more art in the same style as elsewhere in Kapana.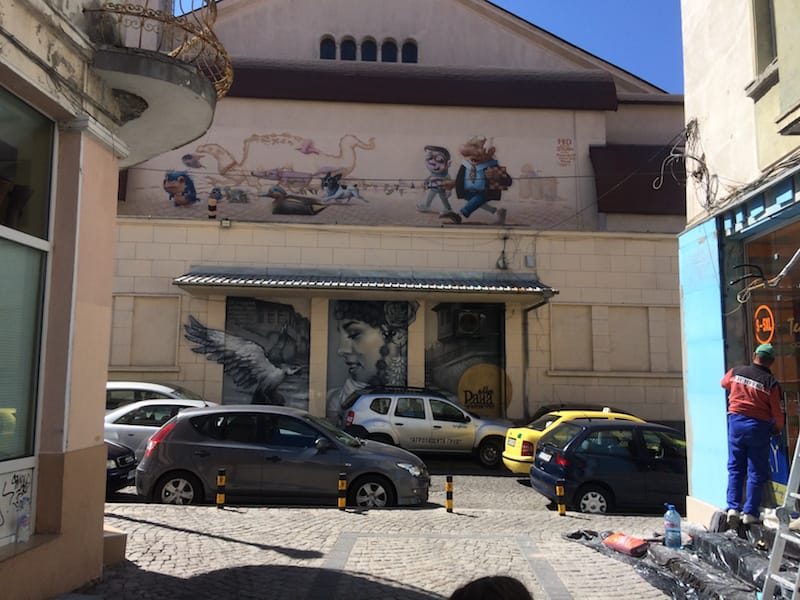 I'm a graphic designer at heart and love it when 1. I can see type in another language and 2. type in another character set (Cyrillic).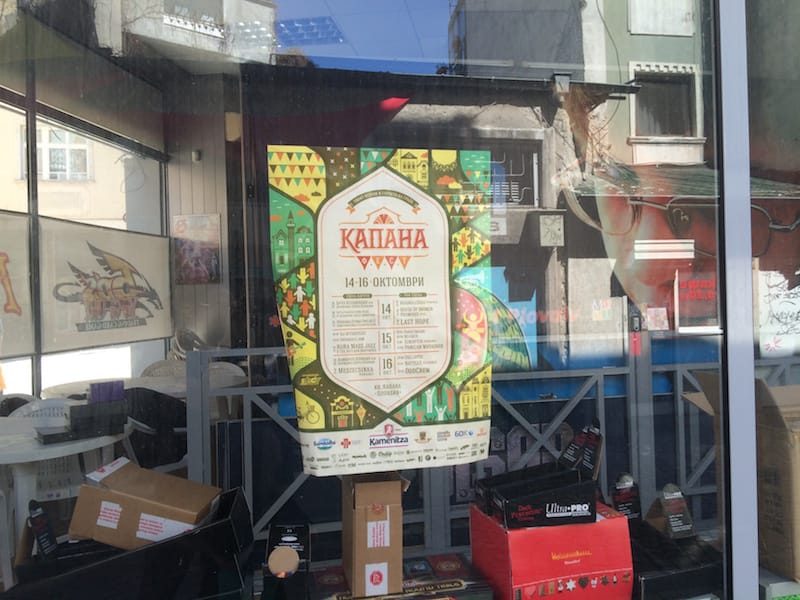 Set your inner bearded hipster free! This mural seems to say.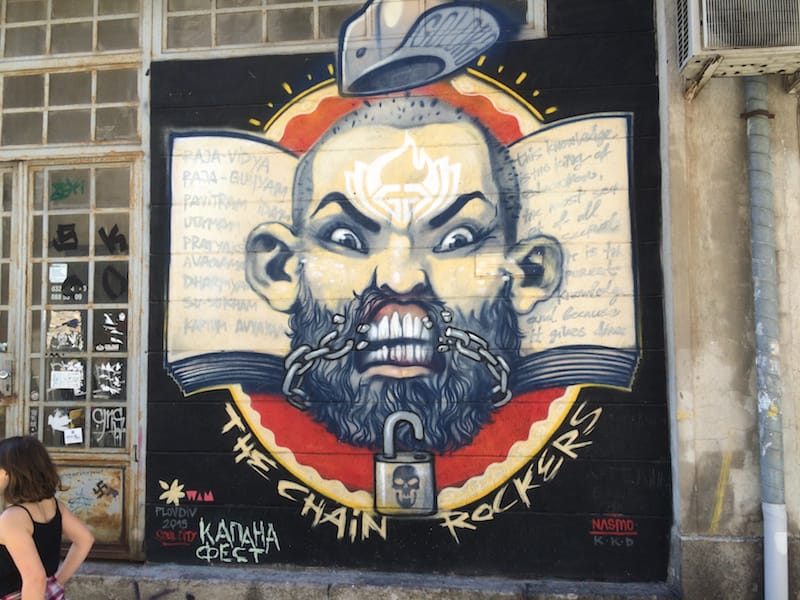 Even the poster advertisements were eye catching. They also helped me learn Bulgarski/Cyrillic.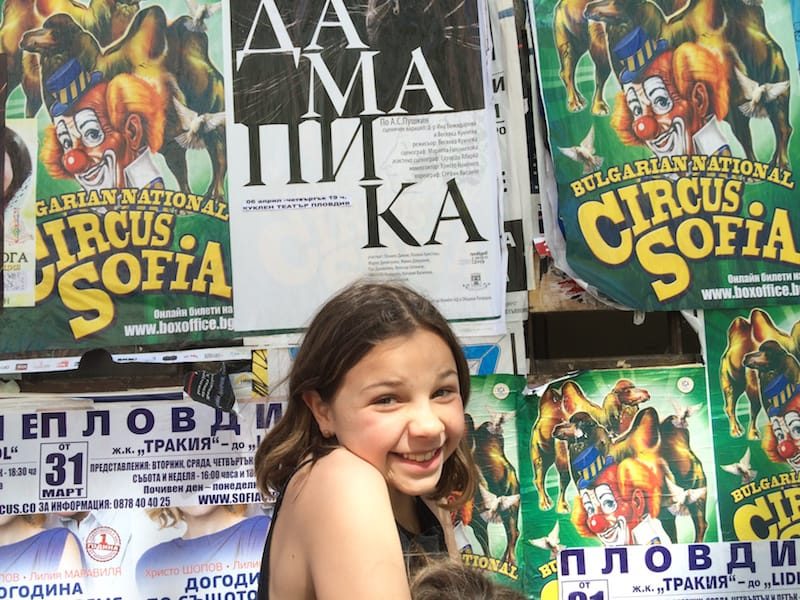 More street art. This would be an average brick wall without it!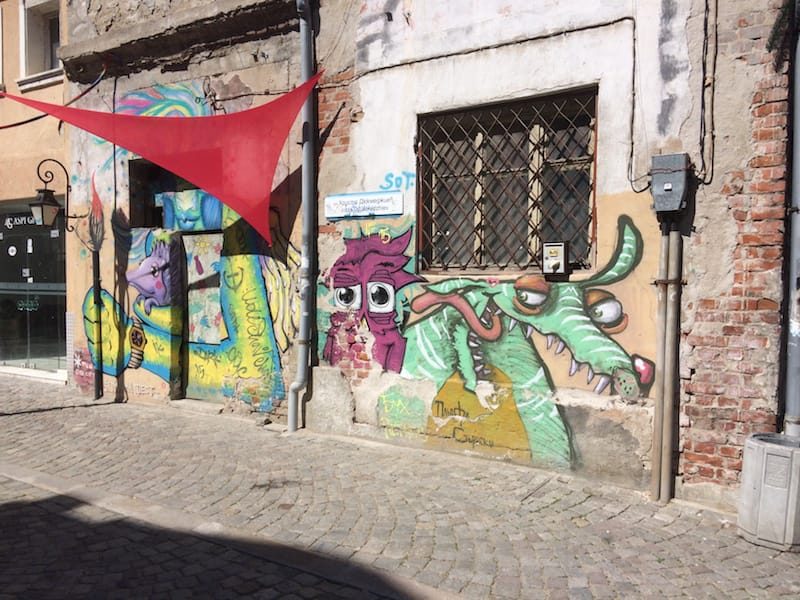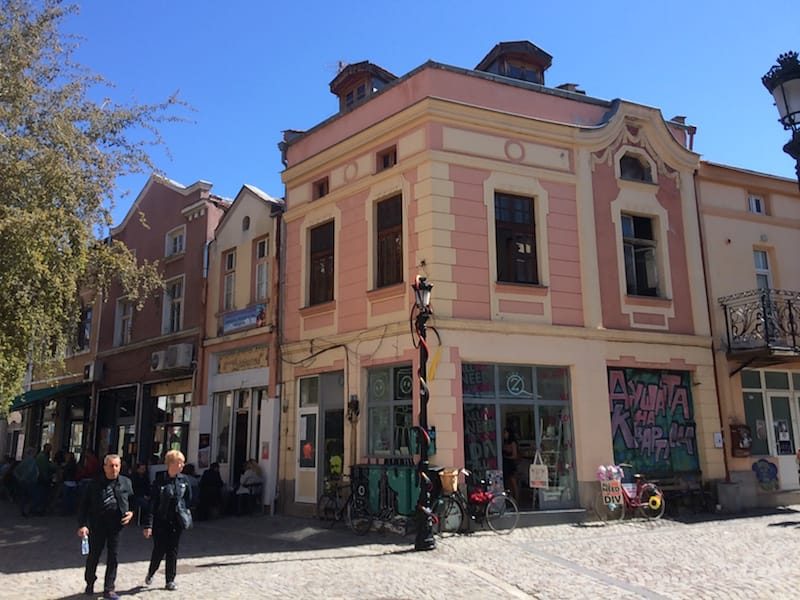 Kapana Crafts Faire
One week ago we went to the Kapana Crafts Faire and we got to talk to so many amazing people (all spoke English, which is always humbling). First I want to show this cool little alley that was set up, streamers attached to little bungie cords so they could be pulled and stretched without coming down and you could get lost; kind of like being under water.
The best part was the guy who played the right song at the right time. Check out the video after the photo below. Alice and I were just saying how happy and amazing things were at that moment and then he played the song "Happy". So good!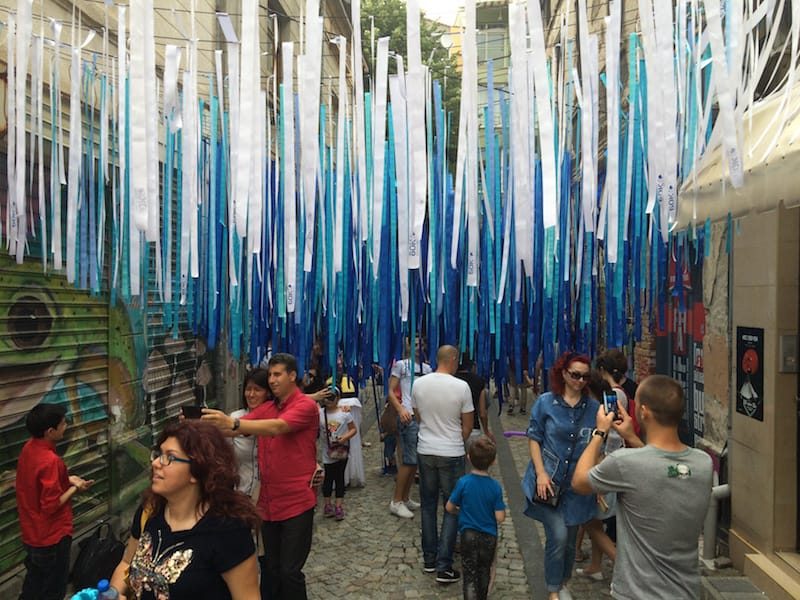 The video, everyone cheered when the song finished. What a great moment!:
What a Monstar was a highlight, I loved their stuff! Hand drawn art on shirts. I wanted to buy their Kapana shirt (see the poster design above) but it only came in a blue that doesn't work with my complexion. 🙂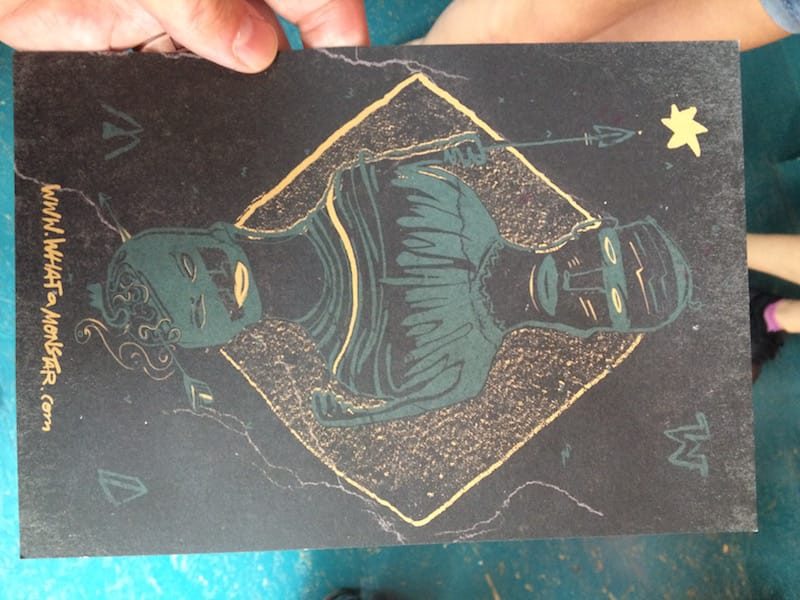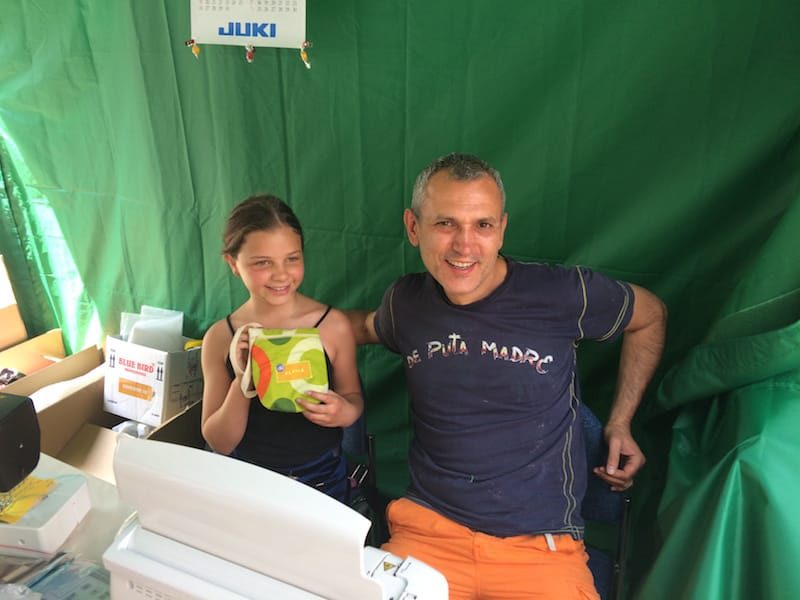 We made some great friends like Katerina and Vasil from Maevski Handmade
Bulgaria for two months was amazing, and we met so many amazing people. I want to especially thank these two gems from Maesvski Handmade, Katerina and Vasil. They were so warm and funny and welcoming, and they even let my daughter help "decorate" the display with the flowers they had on hand. We talked for at least 30 minutes about them, their lives, how they started the business and how they got there (they were from Sofia). Thank you!
A little about their creations, you can see the awesome lamps made from rope, old pipes, and they reclaim 100 year old wood from 100 year old houses, 200 year old wood, and repurpose it to lamps and miniature musical instruments. We couldn't buy anything but anticipate when we return to NZ we are going to be ordering some stuff from them to put in our starter house.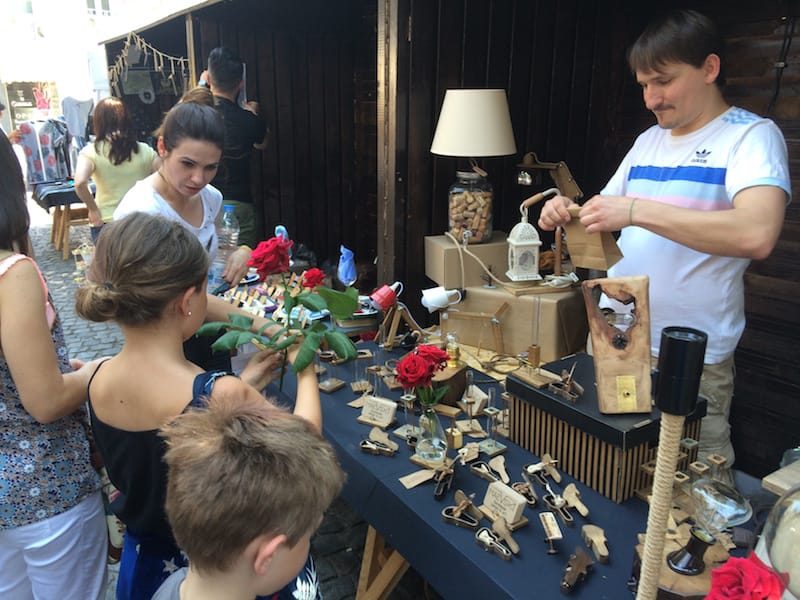 The entrance to the Kapana Crafts Faire
I love the little Kapana flags, they were everywhere in the Kapana district, and gave the vendor booths an air of fun. I can't believe how hard it was not to spend the rest of our Bulgarian Leva (their money). We ended up needing some of it to upgrade our tickets on the train to Sofia the next day. But that's a story for another time.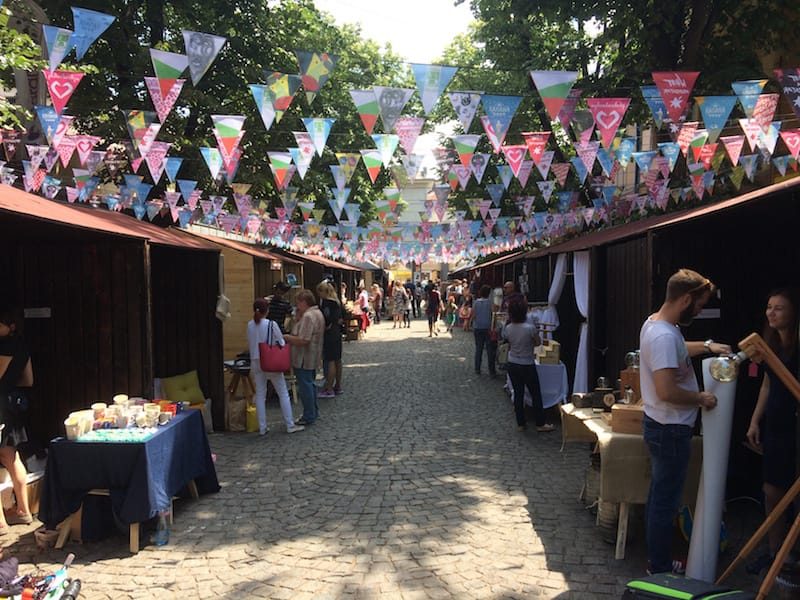 The following two tabs change content below.
Latest posts by Nathaniel Flick (see all)